We have already seen how Web Push Notifications can help your website or brand to improve Click Through Rates, boost sales, and customer engagement. We also saw the benefits of sending personalized push notification messages as they can make users more engaged and the chances of getting higher conversion are more. Send personalized push notifications for better response rates. There are many more push notifications hacks to increase engagement. You can start using push notifications for free by taking the trial for 14 days.
If you can make your website push notifications that have both the context of the user and is personalized, then you can be the winner. So how to create them? Here are some tips for creating contextual and personalized web push notification messages.
Tip 1: Embrace Autoresponder based Drip Marketing Campaign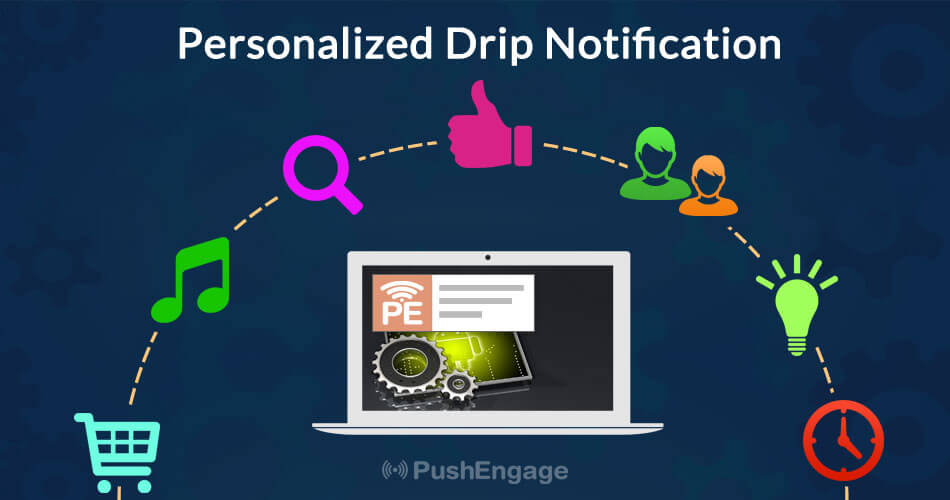 Drip campaigns will serve your purpose in creating the best contextual web push notification. All you need to do is send a notification to your user based on his action on the site. You can also create an on-boarding campaign using drip.
For example, a user lands on your website for buying a movie ticket and then leaves without buying. You can send him a notification half an hour later to remind him of his action. You can also give him the best offer or deal so that he completes his action. Drip notifications are a series of contextual notifications that nudge and nurture the customer and encourage them to complete the desired action.
If he is a new user, schedule drip notifications and slowly nurture your new user so that he comes to your loyal customer soon. The best part of drip notification is that you can start sending a series of welcome notifications. You can send the first one is at 30 minutes, the second one is after 1 day and so on and so forth.
Now while sending drip notifications make sure that your notification implies the context or the action that was performed by the user. This will enhance higher customer engagement and increase the conversion rate.
Tip 2: Segment First and then Target
The possibility of sending personalized notifications after segmenting your users will get you better results. This avoids the issue with scatter and pray, and reduces the unsubscribe rate.
So, before sending a personalized web push notification, it is always better to make a custom segmentation based on user activity on the site, and their preferences. For example, someone may want notifications only on their favorite Football club – Manchester United, so send them notifications on that only. In the E-commerce world, the customer who is searching for diapers and baby products is different than one searching for a laptop, so know them, segment them into different segments and send targeted notifications.
Remember targeted push notifications improve your CTR and lower the unsubscription rate. And if you send a personalized push notification to the target users, it enhances user retention. You can segment your users based on URL pattern, Geolocation, and the type of device used.
How can you create targeted user segments? Well, if a user lands on your website and browses a particular category of the product say jewelry, then you can segment the user under that category and can send him notifications on jewelry. Or a user lands on your website and buys a product say shoes or handbags or any makeup product. This becomes a personalized choice and then you can segment the user for the category he has made a purchase.
We also offer automatic segmentation capability in PushEngage for doing this. Or, if you get to know the location of the user, you can segment him under the same and then you can send targeted notifications.
Then you can send him to push notifications based on his personalized choice. It will increase the open rates of the push notifications sent and you can improve your conversion rate as well. So know your user and understand his behavior so that your notifications serve the purpose.
Tip 3: Make Abandoned Cart go Personalized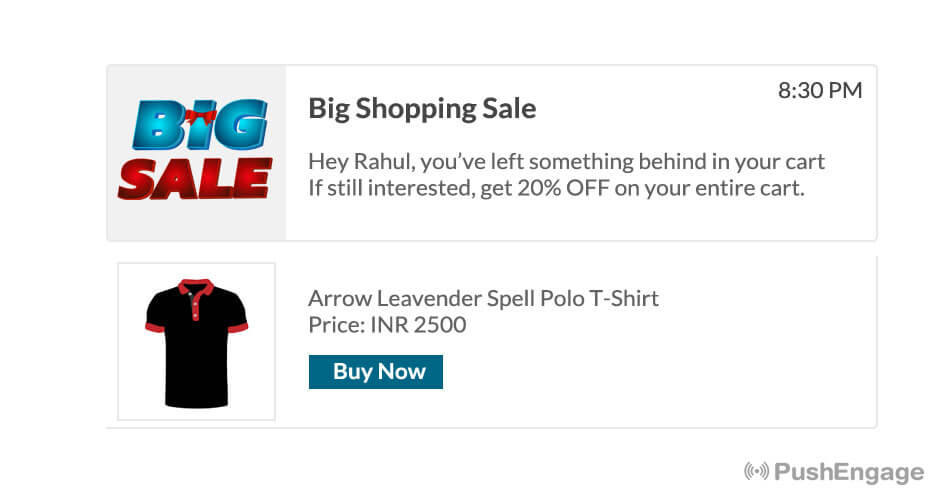 You are aware that you can convert your abandoned cart into customers with just a single click using the auto-trigger custom notification. Shooting a personalized custom notification by adding the details of the product, the price, the image of the product, etc can help you make the user reminded about the product in the abandoned cart to make the purchase completed.
Well, cart abandonment happens when a user comes to a website, checks for products, add them to the cart, and leaves the site without making a purchase. Cart abandonment is a major concern for the e-commerce platform and the average rate is 67.45% as per a report. This happens due to various reasons including price comparison, shipping charges, high price, non-friendly payment mode, etc. So, sending a personalized custom notification by setting an auto-trigger for an abandoned cart can increase your click and conversion rates.
We offer Personalized Abandon Cart campaigns, in PushEngage, so you can make use of them, and increase your conversion.
Tip 4: Let your notifications have Emojis, Large Images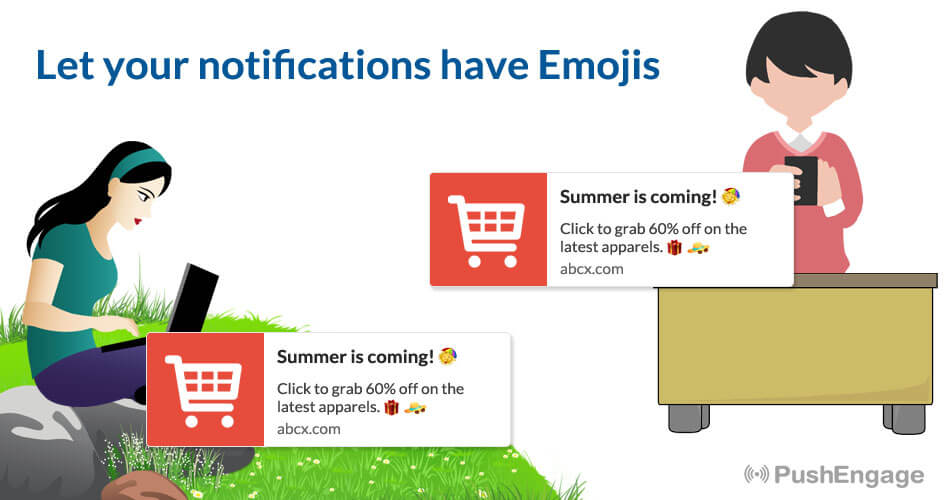 Life without Emojis has become impossible at least for the millennial. The conversation has taken a new level where Emojis speak that words cannot explain. Scientists claim that a person feels like seeing a human face as they see Emojis. Include Emojis and large images in your notifications and personalize them to show that you are really intended to give your user what he or she is looking for.
A previous study by PushEngage on Large image notification witnessed a 62% increase in CTR using web push notification when compared to the mobile app. In fact, Emojis evoke a bonding and makes the user click on the notification as it stands out resulting in higher customer engagement and conversion rate. Emojis can outperform even images and also improves customer retention resulting in increased CTR. So, add them to your notifications while sending personalized messages.
Conclusion
Sending contextual and personalized web push notifications gets you closer to your user. It enables the action you need from them thus resulting in better performance. Further, it reduces the unsubscribe rate of push subscribers, the elephant in the room that no one speaks about. Create a crisp and clear message for web push notifications to get a higher engagement rate.
Use the advanced push notification features from PushEngage of automatic segmentation, autoresponders, geo segmentation, automatic abandon cart notifications, trigger notifications, and use them while framing your web push notifications so that they serve the purpose of improving your website performance.