Industry: Search & Discovery of Local Business Listings
Objective: Re-engaging with site-users
About Asklaila
AskLaila is one of the leading platforms for local business listing in India for consumers, with over 1M+ visits/month. If you are looking for anything starting from car dealers, best shopping place, skin clinics to cellphone repair shop or bike service centers, Asklaila has got it covered.
Founded in 2006, Asklaila has information about every big and small city across India. You will get information related to all kinds of daily services at Asklaila. If you are new to the city, then Asklaila will come in handy to get you to the nearest mall, ATM, laundry, gym and everything else.
Asklaila has gone global and is now available in Singapore, Malaysia, Qatar & UAE.
Asklaila is a discovery platform for local services for free to users and lead generation for local business in return. They work with the local business in listing their services at Asklaila for the users.
Concern
Asklaila receives more than 1 million visits for various services. User searches for the various services that are listed at Asklaila. It's a free service and users do not need to register at Asklaila to get information related to any business.
However even though Asklaila is receiving more than a million visits, it was getting difficult to re-engage with non-registered users.
Asklaila was looking for a product which could help them:
To Re-engage with users
To Increase their customer base
How PushEngage Handled It
Asklaila decided to use Web Push Notifications and integrated PushEngage for the same. Using PushEngage Web Push Notifications, they were not only able to achieve their goal but it also helped them to increase their subscription rate. They optimized their opt-in which lead to increase in push notification opt-in rate.
Strategy Implemented Using PushEngage Web Push Notifications:
Segment The Visitor Based On City And Device Type
Reason – Asklaila offers city based information. Eg: Laundry services in Delhi.
Using PushEngage, they were able to send Push Notifications to Desktop and Mobile browsers. So Asklaila decided to segment users based on device type to understand the best way to reach them.

Monitor The Performance And Re-Sent Well-Performing Notifications
With PushEngage dashboard, Asklaila could see which are the best performing notifications. Notifications which resulted in high CTR were then reused.
Using Large Image Notifications For Grabbing Attention
Using PushEngage, Asklaila was able to send large image (360x240px) in their notifications. Asklaila was able to grab immediate attention of the visitor and observed better conversions.
*Recently we have done the study on "The Impact of Large Image or Rich Notifications in Web Push Notifications – An Industry Wise Study" which shows up to 62% increase in CTR using Large Image in notifications.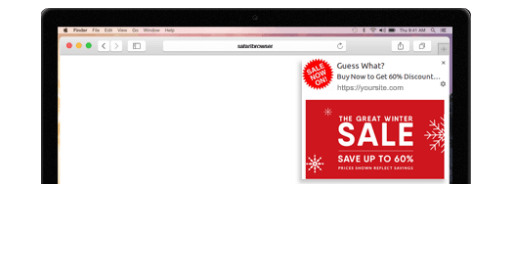 "We have used large image notifications in a few notifications where an image could grab users' immediate attention and observed better conversion in a few campaigns – Nitin from Asklaila"
Send In Different Time Slots To Find The Right Time
Asklaila used the scheduling feature to send notifications on different time slots. This helped them to identify the best time to reach their visitors.

"We've been successfully running campaigns for the education sector, offering various MBA / UPSC and other Courses. We were able to build good traction on these campaigns using PushEngage – Nitin from Asklaila"
Results Talk
As compared to Traditional channels – Email, Push Notifications gave 100% increase in CTR.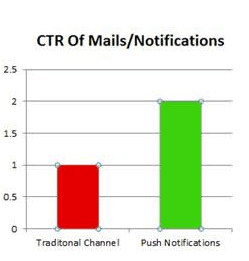 The registration rate using PushEngage has increased by 300%.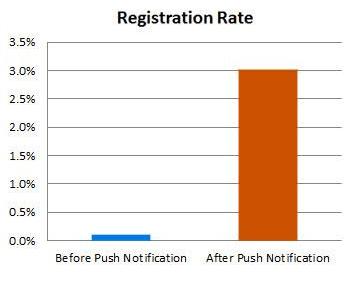 Future Plan
PushEngage offers a lot of exclusive features like Auto Segmentation, Drip Notifications. With positive results achieved, Asklaila is planning to use the other advanced features in their future marketing strategy.
"PushEngage offers multiple features geared towards higher CTR, better engagement, higher registration rate. We plan on designing some re-engaging campaigns using those – Nitin from Asklaila"
Key Achievements
As compared to the newsletter, Push Notifications have 100% higher CTR
Opt-in for Push Notifications is 300% higher than newsletter opt-in
215k registered subscribers for Notifications and adding 5k subscribers every week
What Asklaila thinks about PushEngage
"With PushEngage browser notifications, we've been able to reach out users who are not active on the site and provide them with helpful offers or information which is relevant to them. This capability of re-engaging the users add a lot of value for us. The integration is really simple and one can get going with push notifications on their site within 10 mins – Nitin from Asklaila"

Another feature, Drip Web Push Notifications, which is being used by many websites has seen improved CTR. Intex has shown a tremendous increase in their CTR using Drip Push Notifications. If you are still deciding on push notification service provider, check out the top features of push notification at PushEngage.