One of the key performance indicator of any website is bounce rate. Increase in bounce rate indicates lack of customer re-engagement. Do you want to know the tactics to reduce bounce rate in eCommerce using push notifications? In this article, we will share some of the proven tips that you can execute on your website using push notifications.
Web Push Notifications are clickable messages sent by a website to the user browser. It can be accessed on desktop and mobile browsers, and are similar to mobile push app services. Chrome push notifications are indeed a great relief to e-commerce players and play a vital role in delivering exemplary results for online stores. Optimizing the right Push Notification campaign strategy for E-commerce websites can never stop you from reaping success. You should also optimize your opt-in to get more subscribers for your push notification. Apart from Push Notification, there are many tools necessary for an e-commerce business.
A higher bounce rate is scary if you own an e-commerce store, as it has an impact on several things, including your organic search ranking. One of the important e-commerce marketing strategies is to reduce the bounce rate. If you are facing an increased bounce rate for your website, then you need to check the content of your landing pages, your site, your page load times and consider improving all of the factors. Remember, the average bounce rate of an e-commerce website is 40% and so if as a benchmark you can keep your website bounce rate lesser than this figure then you are doing good.
Well, if you have tried every bit of your knowledge to lower it down and still have not succeeded in it, you can stop worrying. Web Push Notifications can get your users to come back, or increase repeat visitors. This will increase the percentage of users who are familiar with your site and are really coming back to engage with your website. This, in turn, can mean a lower bounce rate for your site.
There are various channels of customer communication for an e-commerce platform, which includes Email, SMS, Social Media and the most recent one is Web Push Notification. This is more viable and easy for the E-commerce platform as it shares communication instantly across all devices including desktop, mobile, and tablet. According to a report, desktops still have 42% usage of the total internet time and with web push notifications, you are directly delivering your messages instantly to these users.
Web Push Notifications are a better communication channel for businesses due to superior performance over email, and also business can now send notifications, without spending much on building an app. As far as E-Commerce is concerned, Push Notifications can be used to drive in more sales from their existing users as and also they can nurture new users and convert them to loyal subscribers by optimizing timely Push Notification campaigns.
Tips to reduce bounce rate in eCommerce using push notifications
Send clear, crisp, persuasive push messages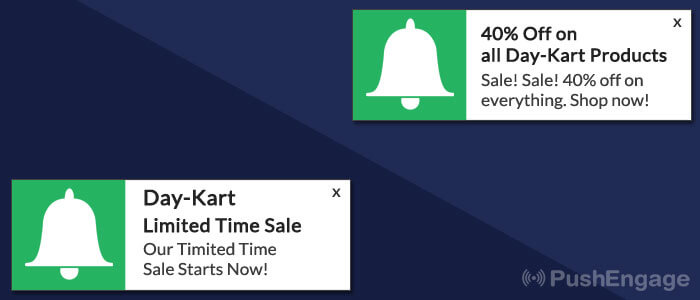 Push notifications have character limitation and so you should be careful in crafting your message. Send a clear and crisp message as your Push Notification. This will help the users to know about a sale, offer or a deal. Try to send a persuasive message to create an urgency to grab the deal or offer. If they are in need of the offer, they are sure not to miss the chance. In this way, it can reduce the bounce rate to an extent.
Right timing
You can send website push notifications to your users when they are most active. In this way, you are likely to get more responses from them and they will reach your website for a purpose and so they would be more engaged with your content. But, make sure you do not send the notification during the odd hours of the day. It can even lead to an unsubscription! To do this, you can use geo-segmentation and send it according to the customer time zone in PushEngage.
Segmentation of subscribers
Push Notification can be sent to a group of segmented users based on their browsing and purchase history. In this way, you will send the right notification to the right set of people who are looking out for the kind of offers you will be sending. In this way, you can make people land on the right offers, deals or sale, offering them the right coupon to make a sale happen. Use segmentation for your e-commerce push subscribers to get a better higher click rate.
PushEngage offers Automatic Segmentation that will help e-commerce websites to segment users based on their browsing pattern, or based on any other tag you may want to add. This also reduces the un-subscription rate, to increase engagement, page views, to increase sale, etc. You can send exclusive coupons or offers or referral discounts to these targeted users that will make them stay on your website, thus reducing the bounce rate.
Personalized cart abandoned push notifications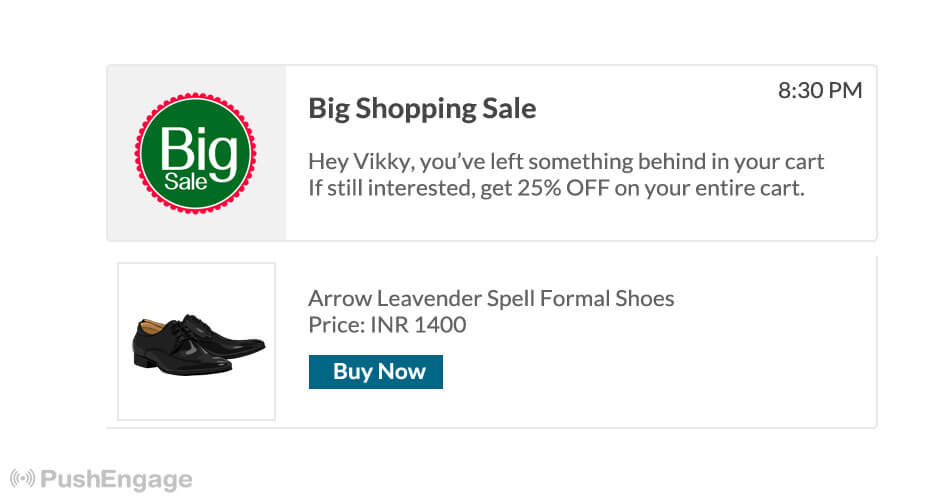 Many a time, it happens that a visitor visits your website, likes a product and adds it to the cart, and then forgets about it. Later, they might buy it from another site and then completely forgets about you. To avoid this, you can send a personalized abandoned cart notification that will remind the user about the product and can even give them a persuasive offer to make the purchase happen. This is sure to create a positive impact and they will come to your website often. You can set an auto-trigger for an abandoned cart and can even send a customized notification to your users that can entice them to make a purchase. This process is made easy in PushEngage and you can do it in 10 minutes.
Targeted notifications
Avoid sending generic notifications. Users are already receiving loads of push notifications and if you send irrelevant notification, chances of unsubscribe increases.
Send relevant notifications to targeted segment. It will increase re-engagement and improve bounce rate.
Expiry
Never miss to put expiry on notifications. Push notifications are delivered right on the browser. If the user opens browser after a week, he will be bombarded with push notifications. In case he clicks on a notification about Flash Sale which has already expired, user will feel disappointed and cheated and will immediately leave the site. This leads to increase in bounce rate.
Mention expiry to every notification that you sent. This way user will not get any of the outdated push notification when he logs in after a long gap.
Conclusion
So, start sending Browser Push Notifications that are contextual, personal and timely, if you are an eCommerce site to reduce the bounce rate of your website. Keep these tips in mind as you use Web Push Notifications. Stay tuned for our blog posts for all the latest updates on Web Push Notifications, new features at PushEngage and how you can improve your business and take it to the next level here. Start using the push notification service to improve your engagement rate.