Do you know how to use web push notifications on eCommerce websites? In this article, we will show the best practices to use push notifications in eCommerce sites.
E-commerce business uses a variety of ways to attract customers as well as to engage them. It includes many channels – Email, Social media, Display ads & so on. But these channels would reach a saturation stage quickly and generates a mediocre result since everyone relies on the same channels. You should use the necessary tools needed for an e-commerce website. Push Notification is one such tool. If you are an e-learning website, you can check out the Browser Push Notifications Guide For eLearning Companies for detailed analysis.
That's why we have listed a new marketing tactic that you could try out – Browser Push Notifications For E-Commerce. If you are wondering what is browser notification, then keep reading on how it helps to improve on e-commerce sales.
Browser or Web Push Notifications are messages that can reach the audience when they are not on your website. Website push notifications are clickable messages sent by a website to their subscribers' browsers. They work in a similar fashion on mobile app push notifications except that they work on websites instead of apps and can be accessed on all devices (desktop, mobile, tablet, etc).
While app push notifications are limited to mobile devices and tablets, website push notifications also cover desktop and mobile browsers. Desktop usage still accounts for 42% of total internet time. Web Push Notifications deliver the power of real-time push notifications to this 42% of internet users.
Web Push Notification is a welcome feature among marketers who like to target the users again. It is becoming a new marketing channel and its greatest advantage is to stay connected with customers even after they leave the website.
The ability to send personalized notifications to individuals make browser push notifications to stand out from other channels since High relevancy means high conversion. For subscribing to web push notifications, the user does not have to provide their contact information which makes it easier and less time-consuming. Hence the chances of a user subscribing to your website notifications are much higher.
Subscribers that click on a push notification can be sent to:
Shopping Cart – an abandoned shopping cart
Content – new blog post, podcast or video
Offers – Announces a new offer or sale
Survey/Poll – feedback form
The various ways you can use Push Notifications if you are an E-commerce company are the following:
1. Welcome Drip Notifications
Every Retail E-commerce business is finding difficult to acquire new customers each time. Businesses are responding to this by increasing their focus on retaining customers in an effort to generate maximum profit from existing customers. An e-commerce website should start trigger campaign to welcome new subscribers.
The 1st step is to engage with your subscribers. One of the best ways is to start a Drip Notification Campaign. Drip Notification campaign is a series of notification sent at regular interval.
How to set up Welcome Notification Drip:
From PushEngage dashboard, go to Automation -> Create Drip Responders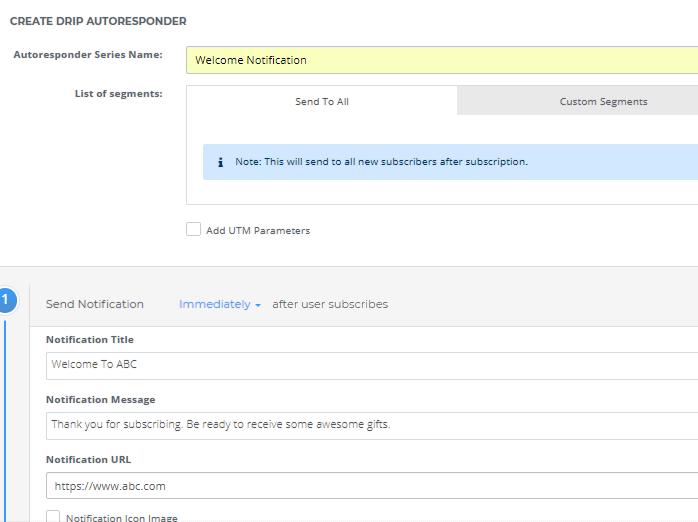 Like above you can create a series of notification under Welcome Notification drip. Schedule them to be sent after a certain interval. Once done, go ahead and launch.
It's that simple to launch Welcome Notification Drip and go live within a few minutes.
For any e-commerce company, you can set your Drip Welcome Notification Campaign to guide user about your website and also towards their first purchase. Unless you build confidence in users mind, your conversion rate will be low. You can build your brand and trust with Welcome Notification Campaign. You can check out the below Welcome Notification Drip Campaign For E-Commerce: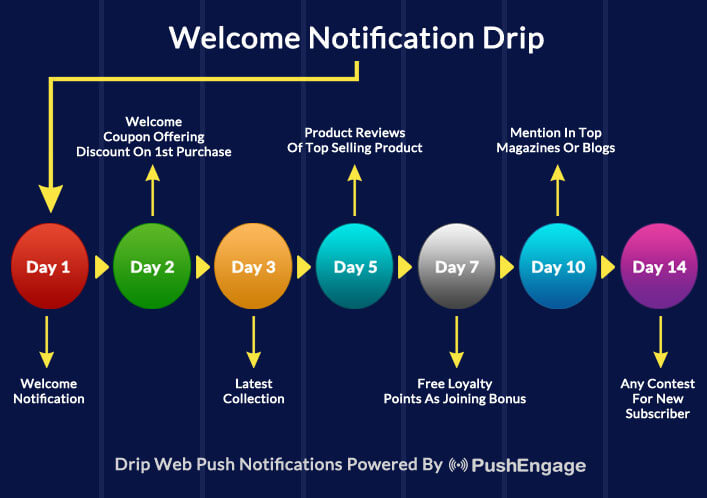 2. Browser Notifications for Cross-Sell For E-Commerce
People are right about their needs and believe the products can satisfy those needs. Sometimes, your customers may be ignorant about a better choice that is available. If cross-selling techniques are done in the right way, it will enhance customers to take better decisions.
As per Amazon, the e-commerce giant, 35% of their sales are happening by cross-selling.
Browser Push Notifications help you to target your customers for selling more. Once they subscribe, with right messages to the right people, your notifications will charm your customers. Indeed, customers are able to receive your communication even after leaving the website. The probability of selling to existing customers is 60 to 70%.
" Here is a simple and powerful rule – always give people more than they expect to get " – Nelson Boswell.
How to set up Cross Sell Push Notifications:
With PushEngage, you can easily do Cross-Sell for your e-commerce site. In three steps, you can set up your Cross Sell Push Notification campaign:
Create a segment based on category and add a user to the relevant segment when they make a purchase
Identify product or product list to cross-promote under each segment
Create Drip Notification for each segment and send the relevant product or product list to cross promote
From PushEngage dashboard, go to Segmentation, and create the segments:
Next, create a Drip for the respective segments to trigger Cross Promotion Notification. For this from PushEngage dashboard, go to Automation -> Create Drip Autoresponder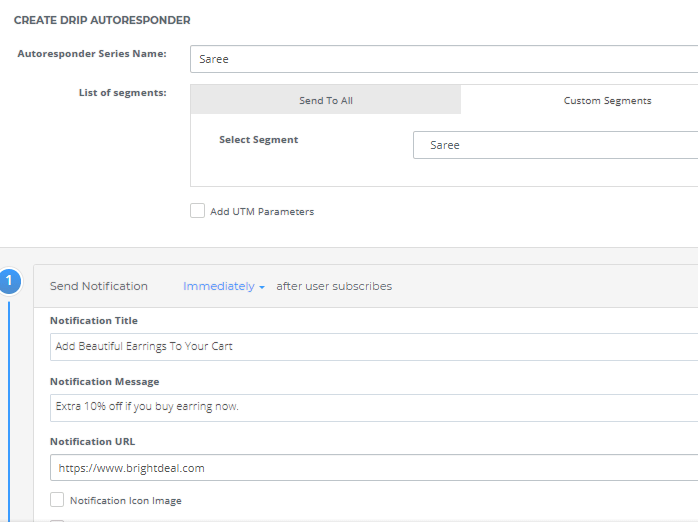 Here is an example of Cross Promotion of an e-commerce product:
You have set up a drip under Ethnic Saree with Ethnic Jewellery collection. When a user makes a purchase of any ethnic saree, you start your drip sending ethnic jewelry collection to your user. You can include some discount as well to convince the user to make the purchase.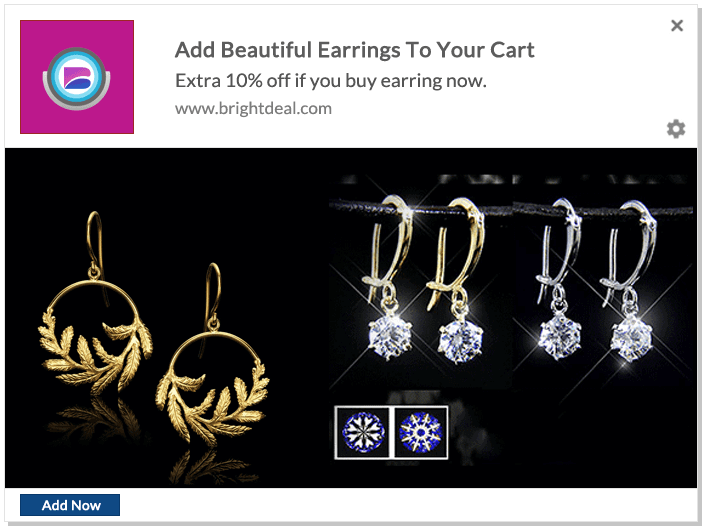 3. Shopping Cart Abandonment Notifications For E-Commerce
You are losing money because of shoppers leaving products in your cart. But you're not alone. According to stats, 67.45% of shopping carts are abandoned before they're completed.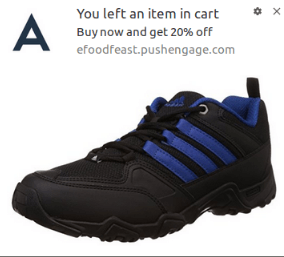 Make your customers feel how important they are to you and this will, in turn, provoke them to complete their transactions. Either a discount for their purchase or offering a free shipping or any compelling offer would make them reconsider the purchase.
Browser-based Abandoned cart push notification will help you to do this in a much better way than any other channels. It is the simplest and yet very effective way to bring back your customers to complete a purchase. Customers can even get personalized web push notifications and offer right on their browsers, either on desktop or mobile.
This increases the chance of a user coming back to your site as the click rates of browser push are much higher than emails, and you are better off doing this campaign in browser push as compared to email.
How to set up Abandon Cart Notifications:
From PushEngage Dashboard, you go to Automation -> Create Abandon Cart Notifications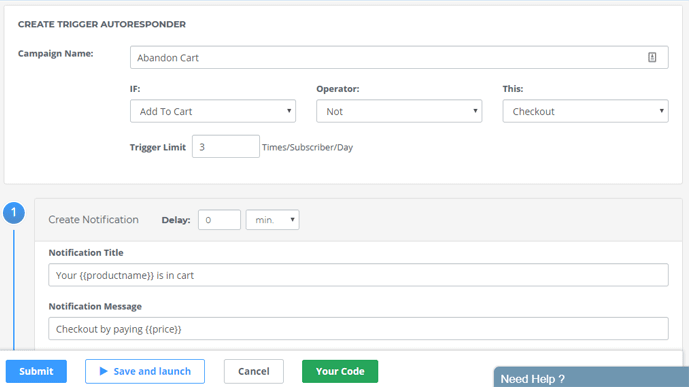 Next, put the Code and your Abandon Cart Notification setting is done.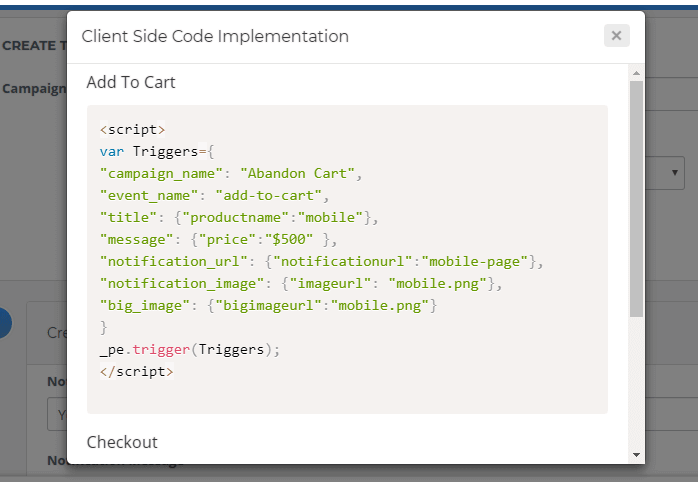 Thus the unique feature of personalized push notification helps you to pull back the lost customers. You can see the below example of Abandon Cart Push Notification:
The user has added a pair of Shoes in his cart but forgot to complete the transaction. You can send notifications about the abandon cart and land him on the payment page.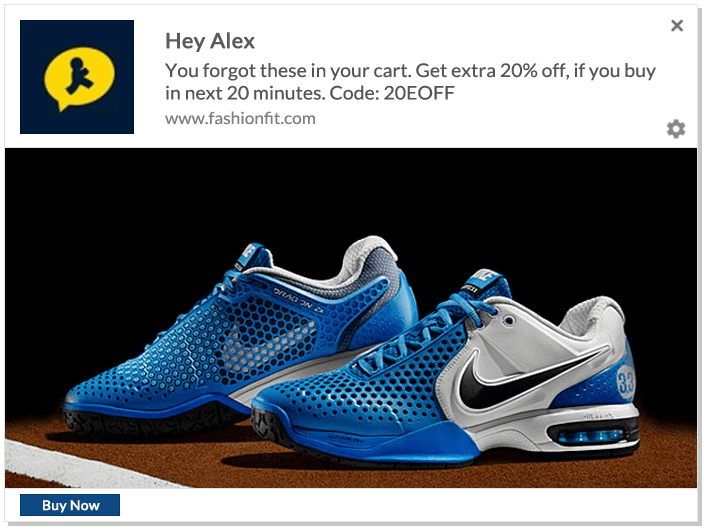 4. Web Push Notifications for Browser Abandonment
Many times user browses products but didn't make any purchase. In such cases, the user has shown interest but hasn't made up his mind to shop. You can target such users with well-crafted push notifications.
Bringing customer to your site is the top funnel of marketing. And the final funnel is conversion. Now that you have brought the user to your website, you should always capitalize on that even if the user has just browsed for certain product or category. With Browse Abandonment feature, you can target all such user with custom Push Notification.
How To Setup Browser Abandonment Notifications:
From PushEngage Dashboard, you go to Automation -> Create Browse Abandonment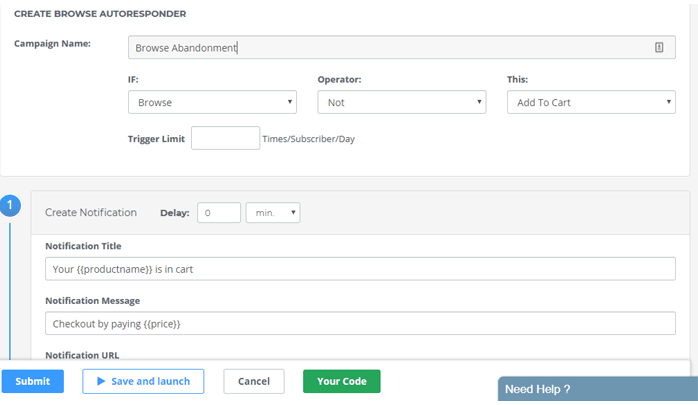 Next, insert the relevant code and your Browse Abandonment Push Notification Setting is done.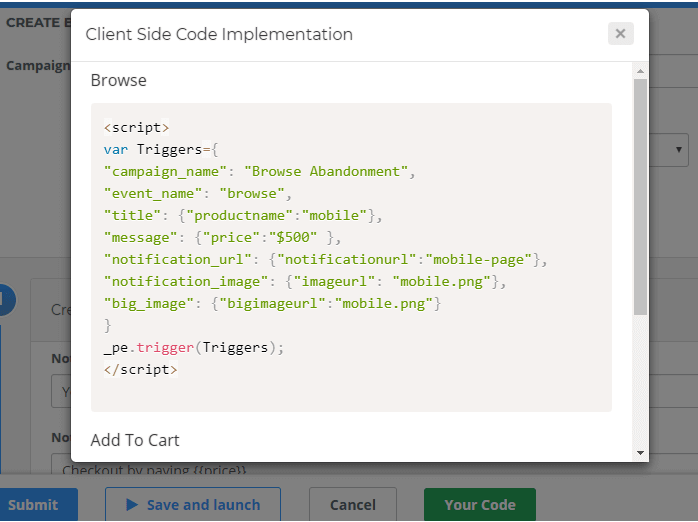 Check the below example for a clear idea:
The user came to your site and searched for mobile phone and then went to Samsung mobiles. However, he didn't make any purchase. PushEngage will record those data which can now be used to send Browser Push Notification.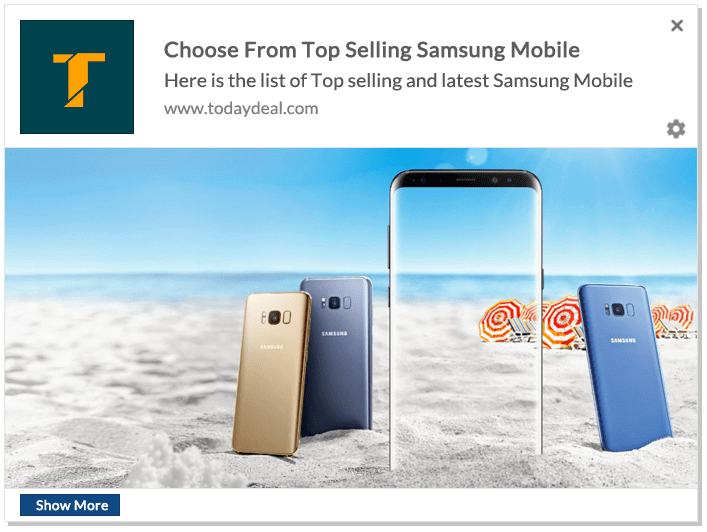 Best Practices to optimize web push notifications
Browser Push notifications appear on the browser of the user while he is doing something, which means we are interrupting the user. The notification should be hence, important, urgent and contextual/personalize for the user to feel happy about receiving the notification. Here are some of the best practices to make sure you achieve that –
The significance of the message– Push notifications usually have character limits which can vary according to the device type – Desktop or Mobile. The copywriting thus becomes important as the words are limited and you need to pull it off without compromising on the effectiveness of the notifications. One of the critical factors to keep in mind is the importance of the message to be sent through the notification. Customers are bombarded with a lot of marketing offers daily through various channels and you don't want to add to that already huge clutter by sending an inappropriate message to your subscriber that goes unread. Choose your messages carefully and make sure they are tailored to your customer's needs with zero risks of seeming irrelevant.
Crisp and clear content- It's essential for push notification copywriters to write crisp, clear messages, which capture the essence they are trying to communicate. They should identify the most important feature of the offer/communication your users would like to know and would induce them to click on the message. The content should reflect urgency as rightly stated by The Psychology of Persuasion, we are more motivated by the idea of potential loss than of potential gain.
Segmentation – Segmentation of subscribers in e-commerce is very important to get better results from push notification campaigns. Segment your push subscribers into different buckets as narrowly as possible to design custom messages for them which will ensure a minimum number of unsubscribes. You just cannot afford to send any inappropriate messages to your users as opt-in out is so simple and there is no way to ensure that you get your users back. There are different kinds of ways of doing this, one of which is behavioral segmentation which refers to putting subscribers into different buckets based on their on-page activities like the type of pages viewed, the number of views of a particular page, etc. Another effective way is to ask at the time of opt-in, the kind of notifications the subscribers would like to receive. PushEngage offers several ways of segmenting your user including geo-segmentation, device type, etc.
Limit the messages -Typically, you should send no more than one Browser Push per day to avoid the risk of a user unsubscribing to the notifications. For users who have ignored your opt-in request, wait at least a week before you reach out again with another request.
With push notifications, you can re-engage with your users. Re-engagement is one of the effective ways to optimize the website for conversion rates. Follow the web push guide for eCommerce to maximize re-engagement and conversions.
Hope these practices will help you in your e-commerce marketing journey. Sign up for PushEngage to get started.