Looking for a quick guide to add local business Schema in WordPress?
If you're running a brick and mortar business and marketing on search engines to get more footfalls to your store, then local business Schema is going to be super helpful for you. But, how do you do it?
Isn't Schema a lot of code snippets? Do you need to write code to add Schema to your site? Should you hire a developer?
The short answer is: No!
You can simply install a WordPress plugin to add local business Schema. And in this article, we're going to show you how.
Let's get started.
Step #1: Select a Local Business Schema WordPress Plugin
Before you can add local business Schema to your WordPress site, you need to pick a WordPress plugin. We recommend using All In One SEO.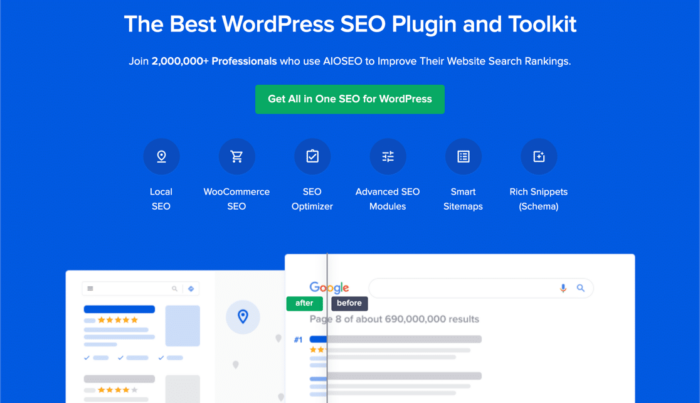 All in One SEO (AIOSEO) is one of the most acclaimed SEO plugins in the WordPress community. The original version was completely revamped to add a ton of new features and addons. So, if you used AIOSEO in the past you need to check out the plugin once again.
Not only does AIOSEO have SEO features powerful enough to implement the latest SEO best practices, but you also get advanced SEO settings to resolve specific SEO issues straight out of the box. This includes:
Local SEO modules for small businesses with a local audience
WooCommerce SEO for online stores
An SEO optimizer inside your WordPress editor
Smart Sitemaps for instant indexing on Search Engines
A Schema plugin to get your content to rank in the Rich Snippets
And a lot more!
In short: All in One SEO enables you to properly set up WordPress SEO without ever having to hire an expert. And if the 3+ million customers of All in One SEO are to be believed (us included), AIOSEO is a fantastic Search Engine Optimization software for every SEO requirement.
It's perfect for bloggers and small business owners because it helps you take care of SEO without having to hire a professional.
Remember: You can only integrate the Google Search Console with All in One SEO. If you need more detailed website analytics, you should consider installing the MonsterInsights plugin to install Google Analytics to your WordPress site.
Step #2: Add Location Schema (Single Location Business)
Once you've installed AIOSEO, go to the AIOSEO menu » Local SEO. This will open a page where you can input your location and business information.

Next, you need to select whether your business is in one location or many.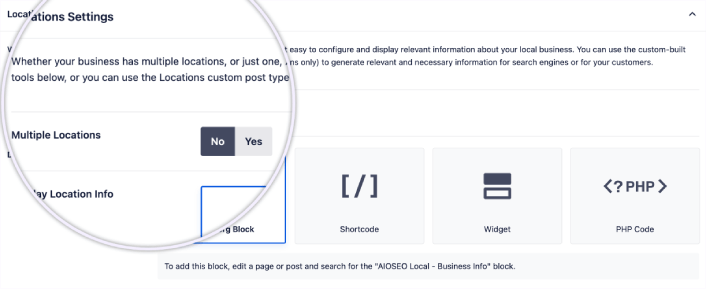 If yours is a single-location business, leave the Multiple Locations toggle set to No.
You can also choose whether you want your location information to be displayed as a:
Gutenberg Block
Shortcode
Widget
PHP code
Then, add other business information like name, logo (image), business type, and address.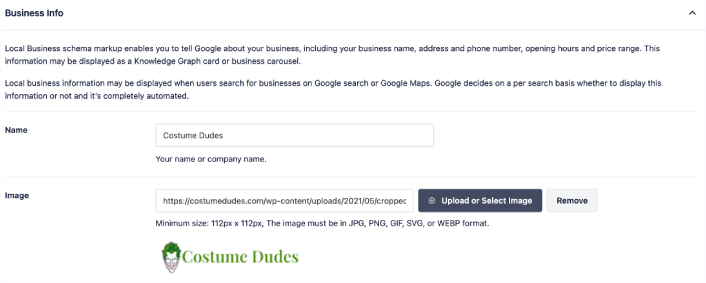 You can also add other information like a map of your location (more on this in a moment), contact information, VAT and Tax IDs, payment information, and the areas you serve.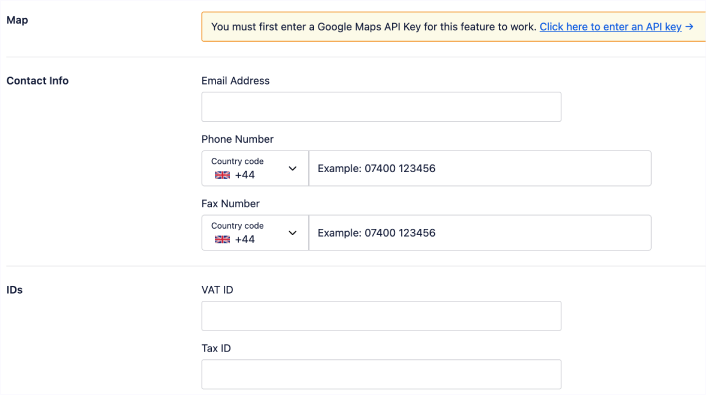 You can also add your payment info under Payment Info and showcase your store locations under Areas Served.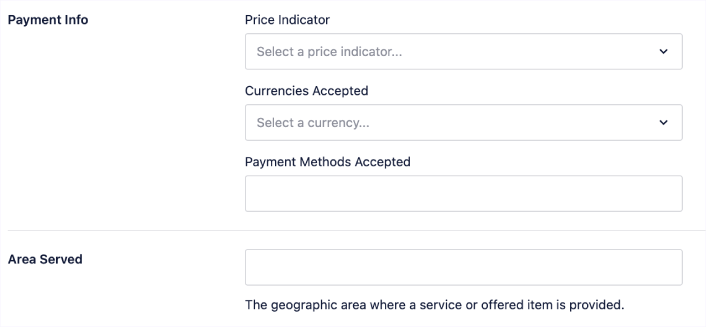 When you're done, go ahead and hit the Save Changes button.
Step #3: Add Opening Hours
The next step to adding Local Business schema is to add your business hours. Go to the AIOSEO menu » Local SEO » Opening Hours. This will open a window where you can add your opening hours.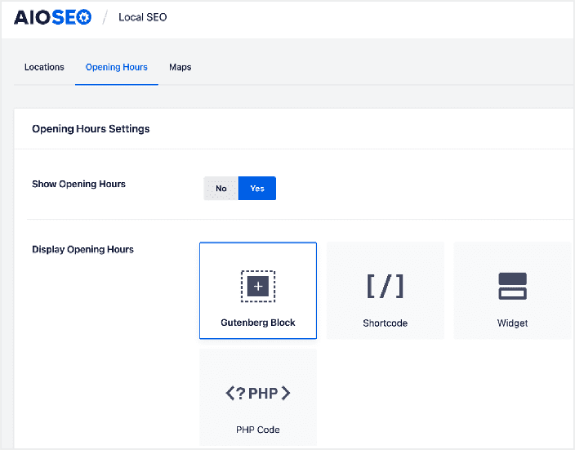 Set the Show Opening Hours toggle to Yes, and you can get options for displaying your opening hours.
If your business is open 24 hours, you can set the toggle to Open 24/7, and that's it. You've added business hours to your Local Business schema.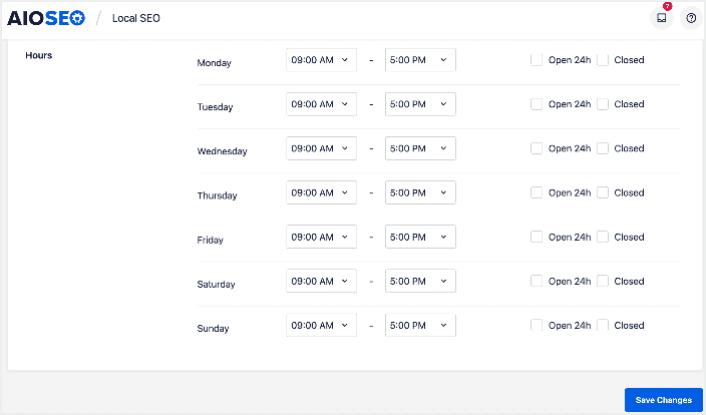 Once you're done, click Save Changes, and your operating hours will be set.
Step #4: Add Google Maps
The final step to setting your Local Business schema is adding Google Maps, so you can visually display your location. To do that, go to the AIOSEO menu » Local SEO » Maps.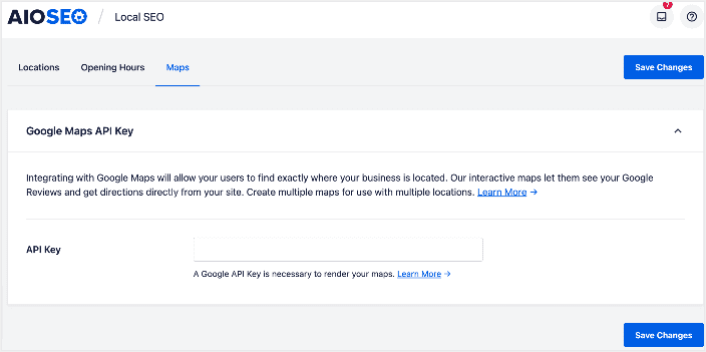 You'll have to add a Google Maps API key in the API Key field for search engines to render your map.
Once done, click Save Changes.
And that's it!
What to do After Adding Local Business Schema in WordPress
Adding local business schema is only one part of the puzzle. Our top recommendation is to use All in One SEO to optimize your website content. The right tools can help you with getting repeat traffic, engagement, and sales. For that, we recommend using push campaigns.
Push notifications can be a powerful marketing tool for growing businesses. Not convinced? Check out these epic resources:
We recommend using PushEngage to create your push notification campaigns. PushEngage is the #1 push notification software in the world. So, if you haven't already, get started with PushEngage today!