Looking for the best email log plugin in the market?
Email log plugins serve as a comprehensive record-keeping tool for all emails sent from your WordPress site. You can use them for:
Troubleshooting: Email logs enable you to identify and address any issues with your WordPress emails. By tracking the status and details of each sent email, you can quickly troubleshoot a lot of common errors.
Records Management: Keeping a log of all sent emails is great for maintaining accurate records. Whether it's for compliance, legal purposes, or simply archiving communication, the right email log plugin has you covered.
Email log plugins play a crucial role in enhancing the functionality and reliability of your WordPress site's email system. You get both peace of mind and effective email management.
But which plugin do you choose?
Can you easily set it up and get started? Is it even affordable? How effective is the plugin? What kind of features do you get? There are so many questions and not enough resources out there with the right answers.
In this article, we're listing out the best WordPress email log plugins in the business. Stay with us till the end, and we'll tell you our favorite ones.
Let's dive in.
How to Choose an Email Log Plugin?
There must be over a thousand different WordPress email log plugins out there. So, how did we get to this specific list of plugins? What do the best email plugins have in common? We made our choices based on the following factors:
PushEngage is the #1 push notifications plugin in the world. Get it for free!
Comprehensive Logging: Look for a plugin that captures and records all essential details of sent emails, including sender and recipient addresses, subject lines, content, delivery status, timestamps, and any relevant error messages.
Search and Filtering Capabilities: An effective email log plugin should offer robust search and filtering options. This allows you to quickly locate specific emails based on various criteria such as email addresses, subjects, content, timestamps, and status.
User-Friendly Interface: Opt for a plugin that presents the email log information in a clear and organized manner. A user-friendly interface enhances usability and makes it easier to navigate through the email records.
Email Status Indicators: Make sure the plugin provides visual indicators or color-coded symbols to differentiate between successful and failed email deliveries. This helps you grasp the status of emails at a glance.
Export and Backup Options: Consider a plugin that allows you to export email logs to different formats (e.g., CSV) and offers backup options. This ensures you can keep external copies of your email records for safekeeping.
Privacy and Security: Ensure that the plugin adheres to security best practices and doesn't compromise the privacy of your email data.
Compatibility and Updates: Check that the plugin is compatible with your WordPress version and other installed plugins. Additionally, verify that it receives regular updates to stay compatible with future WordPress releases.
Performance Impact: Choose a plugin that is lightweight and doesn't significantly impact your site's performance. A well-optimized plugin should efficiently handle email logging without slowing down your website.
Support and Documentation: Look for plugins with good support from the developers and a well-documented user guide. This ensures you can seek help or find solutions if you encounter any issues.
User Reviews and Ratings: Read user reviews and ratings for the plugin to gauge its overall performance and reliability based on the experiences of other users.
Now that we have a common understanding of the type of plugins we're shortlisting, let's check out the plugins.
Best WordPress Email Log Plugin
We've already picked out the best email log plugin for a WordPress site. Now, we will go through our top picks and wrap things up with the plugins we use and can wholeheartedly recommend over the rest.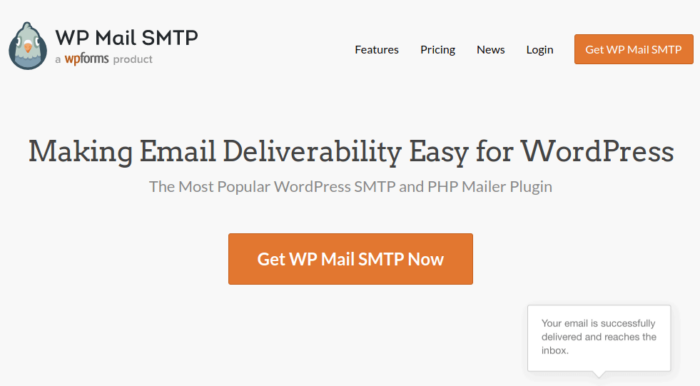 WP Mail SMTP is one of the best email log plugins in the world. Using WP Mail SMTP removes some of the biggest email deliverability issues in WordPress. The default method for WordPress sites to send email can get flagged as spam. And that's if they get delivered in the first place.
WP Mail SMTP can also come in handy when:
your hosting doesn't support the mail() function and WordPress can't send email
your server isn't configured properly to deliver mail from your WordPress site
you want to send your business emails via Gmail or Google Apps
enquiry messages from your WordPress forms never get sent to your inbox
The email log screen provides a wealth of useful information, allowing you to effortlessly check the status of emails sent from your site. The log information in WP Mail SMTP includes:
Status: Red and green symbols indicate successful or failed email deliveries.
Subject: The email subject line.
From: The sender's email address.
To: The recipient's email address.
Source: The WordPress plugin responsible for creating the email.
Mailer: The mailer service used for email delivery.
Date Sent: The date and time the email was sent.
This search functionality makes finding specific emails a breeze. You can run highly valuable, quick searches based on various criteria:
Email address
Subject
Email content
Error message
Source
And more!
Get started with WP Mail SMTP today!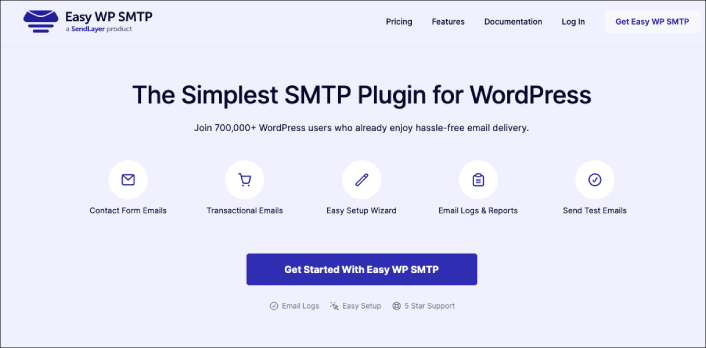 Easy WP SMTP is a powerful SMTP and email log plugin.
Let's talk about Easy WP SMTP, Sendlayer's cool WordPress SMTP and email log plugin. First off, it works great with other email services as well. The free version of this plugin doesn't include email logging features, but if you opt for one of the paid plans, you get access to email logging and reports.
So, it's worth considering if you're into keeping track of your email activities.
Now, what impressed us was the plugin's super comprehensive and organized log layout. It's a breeze to search, sort, and filter through the log. You get all the essential details you need, like the email subject, sender email, recipient email, the plugin that sent the email, the mailer service, and the date and time the email was sent.
And hey, it even shows if the email was opened or if any links were clicked from it. Talk about thorough!
The search feature isn't as advanced as WP Mail SMTP, but it still gets the job done. You can search for email addresses, subjects, headers, and even the content of the emails. Not too shabby!
Now, here's a nifty feature we really liked – the email reporting. It's so visually appealing with those color-coded graphs showing the number of emails sent, opened, and clicked each day. It's like getting a clear picture of your email performance at a glance.
One thing to keep in mind, though, is that while this plugin has similar functionality to WP Mail SMTP, its search function is not as fancy. Also, as an SMTP plugin, it does come with some advanced features that might be a bit confusing for non-technical users.
But all in all, if you're looking for a solid SMTP and email log plugin with detailed logs and cool reporting, Easy WP SMTP might just be the one for you!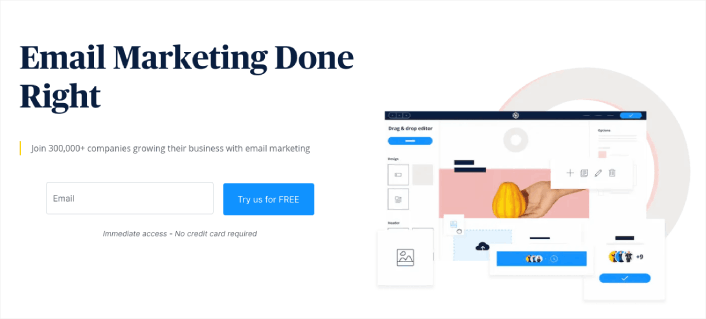 Brevo is a popular WordPress email plugin. You can use Brevo to send automated emails and SMS campaigns alike.
You can easily create triggers for your autoresponders, such as welcome messages, cart abandonment recovery messages, price drop alerts, and more! Here's a quick overview of why Brevo is a top choice on this list:
User-friendly email editor
Option to create landing pages
SMS marketing and live chat features
Integrates email list opt-in forms on your site
Automated emails for targeted contacts
Social media integrations
But that's not all. Brevo also comes with a fully searchable email log. So, besides being a powerful email marketing tool, it's also a really great email management tool.
Brevo is best known for its capabilities to send transactional emails and SMS campaigns. So, naturally, you can easily filter your transactional logs over a period of time, by sender, by tag, and by event (sent, opened, unsubscribed). You can also:
View the transactional email details,
Preview the transactional email,
View the transactional email history,
View the links that were clicked in the transactional email,
Resend the transactional email,
Manually delete the transactional logs.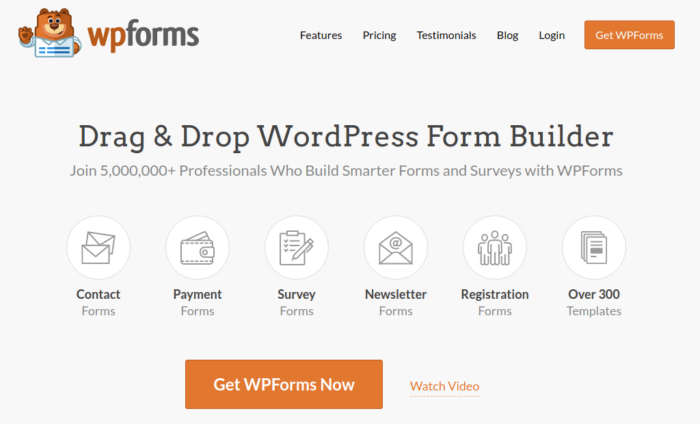 WPForms is the most powerful drag-and-drop WordPress form builder. Using the plugin, it's super easy to build a fully custom form for your WordPress site in a few minutes.
And when we say custom forms, we really do mean it.
You can also send automated emails on form submission. So, WPForms also comes with its own range of email logging. Every automated response sent by any form built with WPForms is entirely trackable. On top of that, you can also track any activity in your email optins, which is a pretty rare feature.
WPForms can create logs for:
Conditional Logic
Entries
Errors
Payment
Providers
Security
Spam
WPForms can help you create any type of contact form, payment form, survey form, registration form, and newsletter optin form you can think of. The best part? They have over 300 templates in the Pro version that are proven to work. You can instantly import these templates and launch the form in minutes.
We wrote a full review of WPForms. You can check out later. For now, here's a quick look at what you get with WPForms:
Beginner-friendly form builder
Pre-built subscription form templates
Email notifications and confirmations
Spam protection features
Built-in contacts management system
Lightning-fast customer support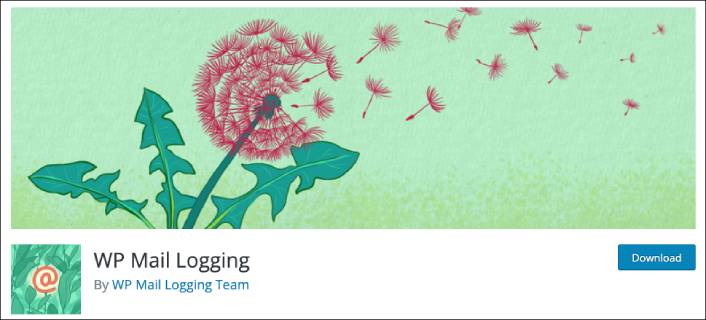 WP Mail Logging is a powerful email log plugin for WordPress. It's a simple WordPress email plugin to keep a record of emails sent from your site and catch any errors.
When you check out the email log, you'll see some basic info, like when each email was sent, who received it, the subject, any attachments, and if there were any error messages. It's handy to have all that in one place for easy browsing.
But, here's the catch – it's got fewer details compared to the WP Mail SMTP plugin. You won't be able to see the sender's email or which plugin actually created the email. And those bits of info can be pretty useful, especially when you're troubleshooting any email issues.
The search feature is there, but it's pretty basic. You can only search by the subject and content of the emails. So, if you're looking for emails sent to a specific user, you're out of luck. Also, the sorting is cool by date, but there's no filtering option for display.
On the bright side, there's one cool feature in this plugin that some other free email log plugins lack – you can bulk resend emails right from the log. This comes in handy when you have a bunch of emails failing due to some temporary glitch.
Overall, it's got some useful stuff, but it's not the most feature-packed option out there. If you're looking for a free, lightweight plugin, it might just do the trick!
Which of These WordPress Email Plugins is Right for You?
It's time for us to declare which of these is the best WordPress email plugin.
And there's no simple answer.
If you need a trustworthy email marketing service, we recommend using Constant Contact. And if you want to skyrocket your email marketing list, you should definitely get OptinMonster. But if you're also looking to diversify your marketing channels, you should use PushEngage to send push notifications.
Push notifications are powerful marketing tools that can help you get repeat traffic, engagement, and sales. If you're new to push notifications, check out these epic resources:
And if you haven't already, get started with PushEngage today to get to the next level!