Looking for the best quiz builder for WordPress in the market?
The right quiz builder can boost your engagement really quickly. But which plugin do you choose?
Can you easily set it up and get started? Is it even affordable? How effective is the plugin? What kind of features do you get? There are so many questions and not enough resources out there with the right answers.
In this article, we're listing out the best quiz builders for WordPress sites. Stay with us till the end, and we'll tell you our favorite ones.
Let's dive in.
How to Choose the Best Quiz Builder for WordPress?
There must be over a thousand different WordPress quiz builder plugins out there. So, how did we get to this specific list of plugins? What do the best email plugins have in common?
Picking the right quiz builder for your WordPress website is like choosing the perfect tool for a fun puzzle. Let me break it down for you in simple terms.
We made our choices based on the following factors:
PushEngage is the #1 push notifications plugin in the world. Get it for free!
Ease of Use: Think about how easy it is to use the quiz builder. You don't want to struggle with a complicated puzzle, right? Look for one that has a user-friendly interface and doesn't require you to be a tech wizard.
Features that Fit: Just like picking puzzle pieces that fit together, choose a quiz builder with features that match what you need. Do you want multiple-choice questions, image-based answers, or something fancier? Make sure the builder can do what you're looking for.
Customization: Puzzles are more fun when you can personalize them. Similarly, a good quiz builder should let you customize the look and feel of your quiz to match your website's style.
Responsiveness: Imagine if your puzzle pieces didn't fit well together – that would be frustrating! Your quiz should look good and work well on all types of devices, like phones, tablets, and computers.
Result Options: After solving a puzzle, you get a satisfying picture. With quizzes, you want to show results too. Make sure the quiz builder lets you create result pages that share feedback based on users' answers.
Integration with WordPress: It's like making sure your puzzle board is the right size for the puzzle – your quiz builder should seamlessly fit into your WordPress website. Check if it's compatible and works smoothly.
Support and Updates: Sometimes puzzles get tricky, and you might need help. A good quiz builder should have reliable support and regular updates to fix any issues and keep things fresh.
Performance: You wouldn't enjoy a puzzle if it was slow and laggy. Likewise, your quiz shouldn't slow down your website's speed. Look for a builder that's optimized for performance.
Reviews and Ratings: Just like checking if others liked a puzzle before buying it, read reviews and ratings about different quiz builders. This can give you insights into real users' experiences.
Price: Puzzles come at different prices, and so do quiz builders. Make sure the one you choose fits your budget. Some might offer free versions with limited features, while others require a payment for full access.
Trial Period: It's like testing if puzzle pieces fit before committing to the whole thing. See if the quiz builder offers a trial period, so you can play around and see if it's a good fit.
Remember, finding the best quiz builder is like solving a puzzle itself. Take your time, explore your options, and choose the one that makes creating quizzes for your WordPress site a fun and enjoyable experience!
Now that we have a common understanding of the type of plugins we're shortlisting, let's check out the plugins.
Best Quiz Builder for WordPress
We've already picked out the best quiz builder for a WordPress site. Now, we will go through our top picks and wrap things up with the plugins we use and can wholeheartedly recommend over the rest.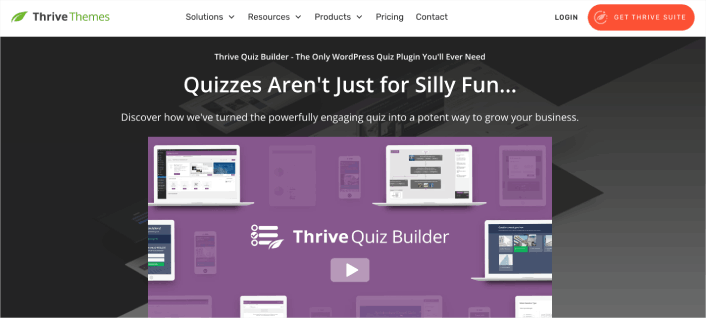 Thrive Quiz Builder is the best quiz builder for WordPress without a doubt.
Over 21,000+ website owners are using it, and they're not tech geniuses either. You can make super fancy quizzes without any code!
There are 5 cool types of quizzes you can create: right or wrong, number-based, percentage-based, personality, and survey. It's like having a bunch of quiz flavors to choose from.
Starting from scratch? Cool. Want a head start? That's cool too. They have ready-made quiz templates, so you're covered either way.
Creating questions and answers is as easy as pie with their user-friendly builder. Arrange them just the way you like, and your quiz will be smooth like a breeze.
Guess what else? If your quiz asks one question based on the answer to the previous one, no problem! Thrive Quiz Builder can do that too. It's like the quiz is chatting with your visitors.
Oh, and after people finish your quiz, you can give them special results that fit their answers. It's like having a custom high-five for each person!
Want to grow your email list? Boom! Add a gate that asks folks for their info before showing the results. Smart, right?
Don't even get me started on analytics! You'll know how many people start and finish your quizzes. Plus, you'll see where they drop off. It's like magic feedback to make your quizzes even better.
And wait, there's more! You can design badges, give different weight to questions, test different versions, and more cool stuff.
So there you have it, Thrive Quiz Builder is the quiz-making wizard you need for your WordPress journey!
Get started with Thrive Quiz Builder today!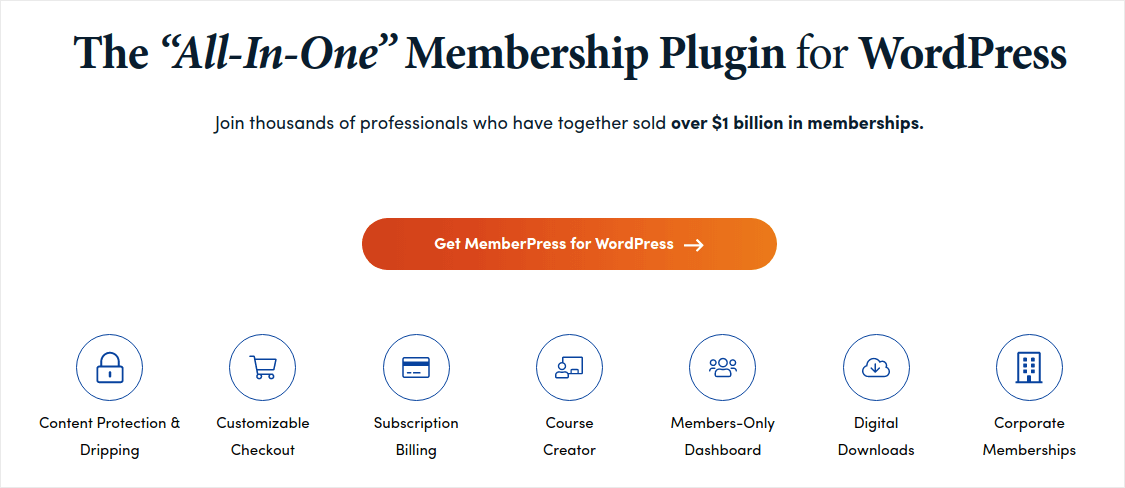 MemberPress is one of the easiest WordPress membership site plugins to use. It also comes with an entire suite of great features to help you grow and monetize your members' community.
Of course, that comes with quizzes, polls, and surveys. No need to be a tech whiz – the quiz builder comes with ready-to-use question types like multiple choice, true or false, and even short answers. It's like having a bunch of building blocks to make any kind of quiz you want.
And get this: there's a drag-and-drop builder! It's just like putting together a cool LEGO creation, you can easily make your quiz look and work just the way you imagine.
Now, imagine guiding your students through your quizzes like a friendly tour guide. This quiz maker has a built-in progress tracker. You'll know who's zooming through the quizzes and who's taking their time.
But that's not all. It's like having a detective by your side. You can see which quizzes are a hit and which ones need a little extra love. So you can keep making awesome quizzes that everyone loves. It gets even better. With a simple switch, you create these cool branded certificates as rewards.
Ever wanted to control who gets to join your quiz party? Well, you can! Since MemberPress is a membership plugin, you can make premium quizzes that only special people (like paying members) can access.
Whether you're teaching online or creating quizzes for fun, MemberPress is like the superhero of WordPress quiz plugins. It's got all the tools for any kind of quiz adventure you're dreaming of!
Get started with MemberPress now!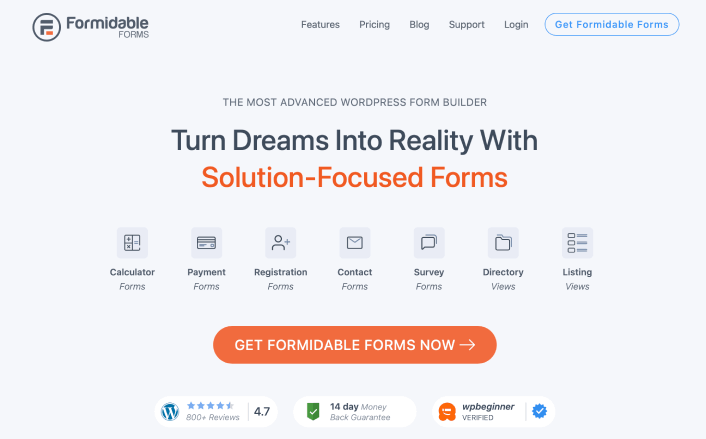 Formidable Forms has one of the best quiz builder addons for WordPress. Get ready to discover the ultimate WordPress form builder – Formidable Forms! It's like having a super tool for making forms that are way cooler than just simple contact forms.
Picture this: a simple drag-and-drop form builder that's as powerful as a superhero. You can make forms that do more than you imagine, without any tech fuss.
Starting from scratch? Sure thing! Or, if you like, pick from awesome form templates to get a head start.
Quizzes? Oh, it's got you covered. From funky Buzzfeed-style outcomes to personality quizzes, math challenges, and geography brain-teasers, you can make 'em all.
Automatic scoring? Yep, Formidable Forms can do that. Or, if you're feeling creative, make your own scoring system. After someone takes your quiz, you can email the score or show it in a fancy success message.
And the score? You can show it in different ways: how many answers they got right, a letter grade, percentage of correctness – you name it.
Hold on, there's more! Ever seen quizzes that change based on answers? That's possible with smart conditional logic. Radio button images, flexible designs, and custom HTML? Yep, it's got those too.
Integrations? Oh boy, it's like a party! Connect with Zapier, email pros like AWeber, Google Analytics pals like MonsterInsights, and a whole bunch more.
Formidable Forms isn't just a form maker – it's like a form magician. Your quizzes will be interactive, snazzy, and totally you. Time to make your forms awesome!
Get started with Formidable Forms.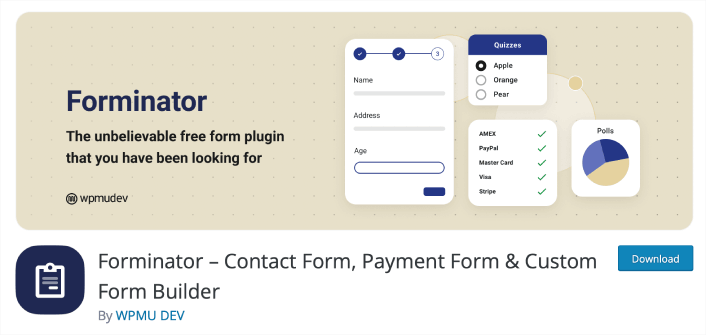 Forminator is a no code contact form builder for WordPress, but it's less visual than the other top plugins on this list. In simple terms, you get a ton of powerful features, but it's difficult to use. You won't get a proper preview of the form until you're done building it.
Of course, you also get powerful templates for quizzes as well.
What redeems Forminator is that you do get an advanced form builder. So, it can rival the performance of any WordPress form builder with features such as:
Templates for forms, polls, and quizzes
Calculations to create order forms, quote forms, and more
Payment integrations with Stripe and PayPal
Marketing integrations to connect your forms to email lists
And more! Forminator is also pretty budget-friendly. So, if you need powerful forms on a tight budget, you should definitely check out this form plugin.
Timed quizzes
Score-based results pages
Incorrect/correct, points-based, or unscored grading systems
Results emailed to you
Integration with popular Customer Relationship Management (CRM) platforms
Social sharing
In-quiz hints
User login requirements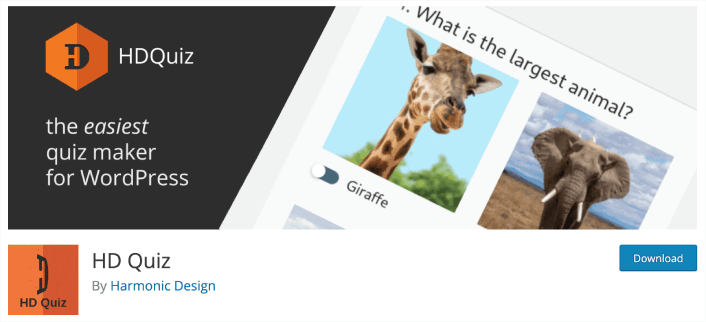 HD Quiz is one the best quiz builder plugins for WordPress. The coolest bit is that you can get started for free.
Hold onto your hat, because HD Quiz is here to kick-start your quiz-making adventure on WordPress, and the best part? It's totally free and easy-peasy!
Think of it as your trusty sidekick. Its simple design means you won't get tangled up trying to figure things out. Just click a few buttons, and boom! You've got yourself a new quiz with questions ready to roll.
In the question zone, you've got choices – up to ten of 'em! You can even add cool pictures to jazz up your questions. And guess what? You can personalize the helpful little pop-ups that show up when folks hover over your questions.
Don't let the free tag fool you – HD Quiz packs a punch. You can recycle questions for different quizzes, let users share their results on social media, and even set timers to make quizzes more exciting.
Ready for some extra magic? You can have pictures as multiple-choice answers, import questions like a breeze using CSV files, and even translate your quiz for different languages – all right from the settings!
Feeling wild? Shuffle your questions in random order. Worried about phones and tablets? HD Quiz has your back with touch-friendly answers.
Here's the scoop: while HD Quiz is awesome for boosting engagement and creating a social media buzz, it might not be your best buddy if you're looking to gather lots of user info.
But don't worry, you've got options! You can level up with add-ons that give your quizzes a stylish makeover and let you save participants' results.
So there you have it – HD Quiz is like the quiz wizard that brings your WordPress site to life with fun and excitement. Give it a whirl and watch your engagement soar!
Which One's the Best Quiz Builder for WordPress?
Hands down, the best quiz builder for WordPress is Thrive Quiz Builder. If you compare by pricing, the features, the customer support, ease of use, and performance, it's not even a contest.
Now, all you have to do is send more traffic to your quiz and watch your visitors go giddy over your quiz. One cool way to grow repeat traffic and engagement on your site is to send push notification campaigns.
Push notifications are powerful marketing tools that can help you get repeat traffic, engagement, and sales. If you're new to push notifications, check out these epic resources:
And if you haven't already, get started with PushEngage today to get to the next level!