Do you want to know why cart abandonment push notification is a mush-have for eCommerce? In this article, we will share the reasons why you should use a cart abandonment campaign.
Cart abandonment is a common occurrence on any e-commerce website. After person visits, a website browses the items available and adds it to the shopping cart. If he leaves the website/page without completing the purchase, and thus abandons the cart. According to a study by Baymard Institute the average cart abandonment rate is 69.57%. Which means three out of four user leaves the cart abandoned. Thus having a campaign that can convert these likely buyers is a must for E-commerce sites. If you are looking to increase revenue using the cart abandonment campaign, then it's the right time to implement push notifications. You can use website notifications to create a cart abandonment campaign.
Abandonment rate's calculation is as follows:-
Abandonment rate = Number of abandoned shopping cart / Number of completed transactions
According to a report from salecycle.com here's industry wise breakdown of people who abandoned their cart.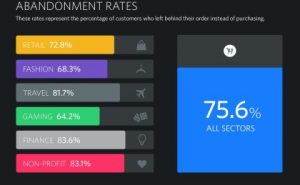 There can be several reasons for a customer to abandon their shopping cart. "What made a customer visit your website?". If you get an accurate answer for this then you are likely to understand the root cause for cart Abandonment Rate. Here is a report from Baymard that shows the top reasons for cart abandonment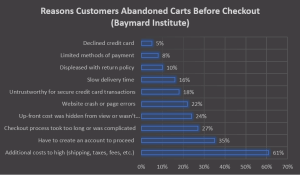 Why Is Abandon Cart Notifications A Must-Have for E-commerce Sites?
The average percentage of people leaving items in their cart is 75.6% in all the industries. To recover abandoned cart retailers make use of E-mails and SMS to send a reminder.
Our recent research says that push notifications can have 3x to 10x higher returns over E-mails. With push messages, you get a chance to send messaged to a user in real-time.
The average time for recipients to view an email message is as long as 6.4 hours. Push notification comes in real-time so it acts as the better reminder and pops-up so the user definitely views it.
Thus, Push notifications are, therefore, a better option for abandoned cart recovery.
How Important Is Email Marketing And Why To Use Push Notifications Over It?
SalesCycle gave the conversion rate with respect to the time of cart abandonment through emails. This shows sending the email within the first hour is most important. The real-time nature of push notifications and higher viewability make it a better channel for such a message.
33% of opened emails go on to purchase, so by increasing the open rates by using a channel like Web Push retailer can benefit a lot more.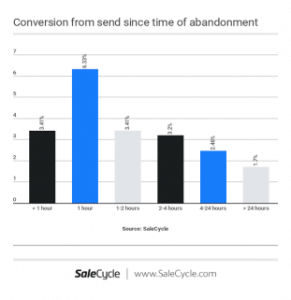 But push notifications has better CTR than email. We made a funnel for both email and push notifications used for bulk sending and results show the difference.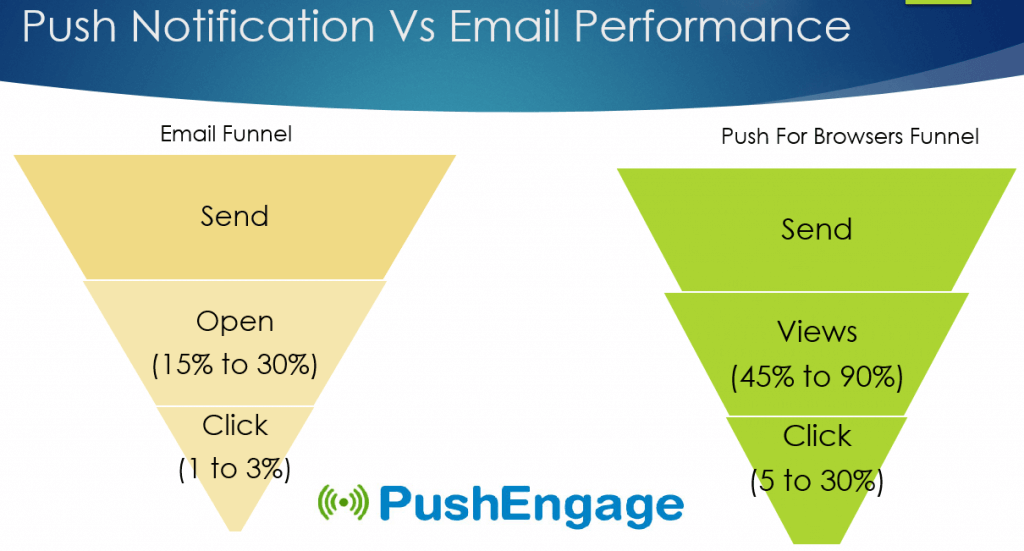 To increase the conversion rate, the reach of the marketing campaign is important. As compared to email, web push offers a 5X higher reach for cart abandonment campaigns. With increased reach, the conversion rate also increases.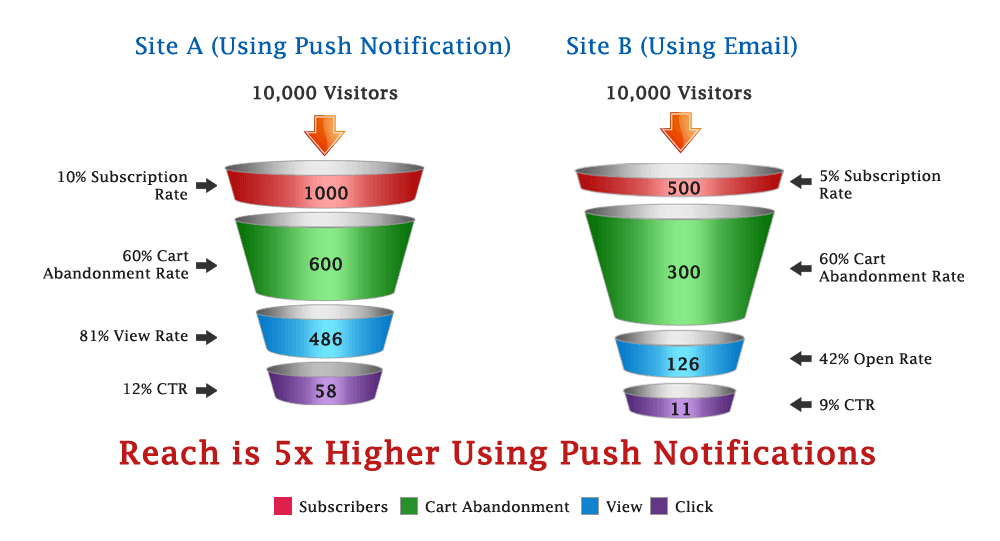 It may sound hard to retarget the customers to complete the purchase using web push notifications and reduce cart abandonment.
PushEngage offers an easy to implement Cart Abandonment Web Push Notification For E-Commerce. PushEngage offers two easy ways to implement a cart abandonment campaign:
This notification can be personalized and can include the specific abandoned product name, price, specific URL of the product and cart, specific Product image in the notification.
You can also watch this video which explains step by step instructions of creating Abandon Cart Push Notifications:
Using push notifications you can effectively reduce cart abandonment of your website.
Wicked Weasel is generating $2K to $4K using cart abandonment campaigns only. It's very powerful. If you are not using cart abandonment, you are leaving a lot of revenue on the table.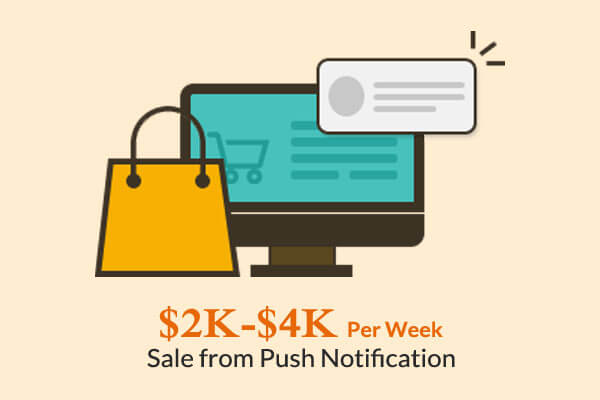 Here is what Vikas Mittal, Head Operations, of Bollywoodkart, said about Abandoned Cart Push Notification:
"Experience using an abandoned cart is very good. In fact, it's a must for any e-commerce website nowadays."
Another e-commerce site Superjeweler is also using the Cart Abandonment campaign to recover lost. The below graphs shows the impact of the cart abandonment push notification campaign on sale. Check out the case study for more details.

We have done another case study on the impact of cart abandonment. Mydeal got a 20% increase in cart abandonment campaign using push notifications.