About MyDeal.com.au
MyDeal.com.au is an Australian retail marketplace, connecting millions of consumers with thousands of Australian retailers. Brimming with over 200,000 products and 2,000 lifestyle departments, our sellers compete to provide you with the best prices across an extensive range of Furniture, Home & Garden, Fashion, Tools & Equipment, Electronics, and Baby & Kids products.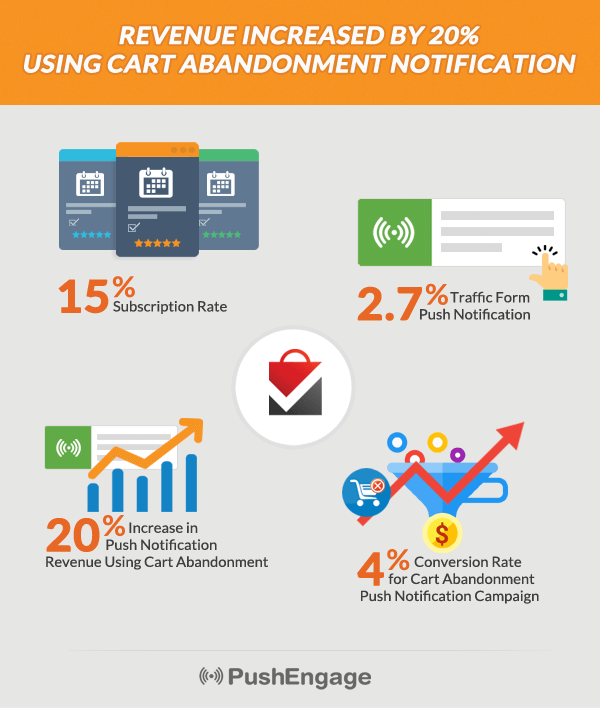 Marketing Challenge
MyDeal was already using different marketing channels like e-mail, ads, content and more. They were looking for another marketing channel that can add value to their marketing mix with proven results.
The tool should be:
Easy to integrate
Easy to use
Advanced feature for e-commerce
Easy to scale when needed
How PushEngage handled it
PushEngage has everything that any e-commerce marketing channel should have. This was the channel that was not used by MyDeal.com.au. Mydeal started using push notification for the website. Some of the top features which are a must-have for e-commerce business:
PushEngage enabled MyDeal to tap into the website users on the spot and bring bulk traffic at any given time.
Impact of using PushEngage
Mydeal was not only looking for a tool to add to their marketing mix but which can perform as well. PushEngage has many features which are must-have for any e-commerce websites:
Cart Abandonment Notifications
Triggered Notifications
Dynamic Segmentation
Drip Notification Campaign
Impact on Subscription Rate
PushEngage offers up-to 7 different types of Push Notification Opt-in.
MyDeal.com.au saw 15% subscription rate for push notification service
Impact on Abandoned Cart Recovery
Cart Abandonment is one of the most common issues of every online business. With PushEngage, you can easily set up your Cart Abandonment Notification using GTM or without GTM.
MyDeal.com.au saw 4% Conversion Rate for Cart Abandonment Push Notification Campaign
Impact on Traffic
The chance of a user clicking the notification is high as Web Push Notifications are delivered in real-time to the user's browser.
MyDeal.com.au say 2.5% of overall traffic coming for Push Notifications
Impact on Revenue
One of the best ways to recover lost sales is by using the Cart Abandonment campaign.
MyDeal..com.au saw a 20% increase in Push Notification revenue using Cart Abandonment Notification
What MyDeal.com.au has to say about PushEngage –
"Push Notification is a great medium to bring in bulk traffic especially for sales events like Christmas day sales or boxing day. As Christmas day sales initiate at a specific time and almost all major retailers use this event to promote their sales. With Push Notifications, you can straight away bring the user in before the official launch time."
One of the most important Push Notification campaigns used by MyDeal.com.au is Cart Abandonment Notification. It has shown an impact on overall revenue and traffic. As per MyDeal.com.au, the key strategy of getting the higher conversion on the Cart Abandonment campaign is – It is all about showing the product that users are interested in again and again through different mediums. We have set up cart abandonment to be triggered once after an hour (while it is still fresh). The key for us is that we don't trigger all of these cart abandonment messages at once; we have set up separate delays for all channels to maximize the chance of a conversion.