Do you want to know the best conversion optimization tactics for eCommerce? In this article, we are going to share a list of only the best and proven conversion optimization tactics you can implement. You will see that the tactics are very simple and yet powerful. Though they are easy, most of the eCommerce website miss to implement it.

One of the most important factors to increase your revenue is conversion. You have created a beautiful website and listed all your products. All the tools necessary for running an e-commerce website are added. You have also done SEO for your e-commerce site. You set your Facebook ads and started promoting your website. Traffic started flowing to your website. You have also optimized your website to increase your push subscription rate. However, the conversion of the website remains low. Implement e-commerce conversion optimization tactics.
You are getting a lot of visitors to your website but very few are converting. Converting means visitors are making the purchase. But your website really has nice products and a clean design. So what exactly the problem could be?
Creating a website and listing all your products is not going to make the business profitable unless visitors who come to your website make a purchase. It's important to understand that getting high traffic to your website doesn't mean your conversion will also increase. You need to optimize your e-commerce website for conversions.
The top 10 conversion optimization tactics for eCommerce
These are fairly simple tactics with higher impact on conversions:
High-Quality Images
The 1st most important thing for any e-commerce website is the product image. As it is said – People often say 'A picture is worth a thousand words'. Online shopping is all about the visual experience. If the images are of high quality and clarity creates a positive impact on the user's mind. If the images are of poor quality, it creates an impression that the website is trying to cheat them and hence not showing a clear picture. In today's world, people love to share with each other. If you show a high-quality image, chances of user sharing with their friends increase and so are the chances of conversion. You can use the photo editing tools to create a crisp and clear photo. Product images should include:
Color
Size
Display from multiple angles
Product in use if possible under different scenario
Below is an example from Amazon: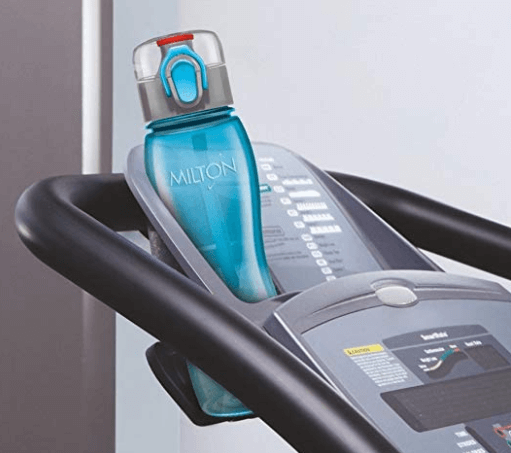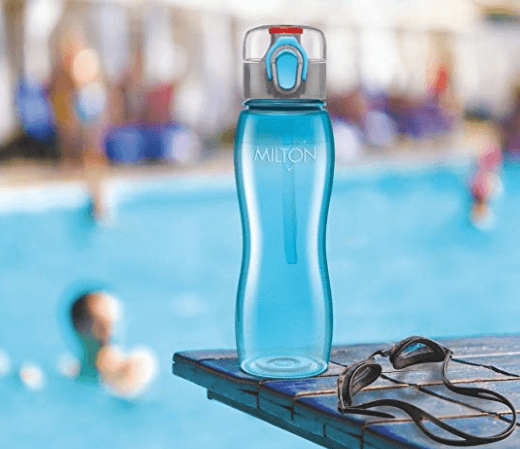 Product Copy
A clear copy or description of the product is very important for every online business. Your product copy is your sales pitch. Give every single detail about your product in a clear manner. This will have a direct impact on the buying decision and an easy conversion optimization tactics for ecommerce. The product description should include:
Dimensions – Mention the dimension of the product including weight. You can also show a reference image to convey the size of the product
Materials – What is the material used in the product
Safety – If your product is for kids or related to food items, do mention if the necessary product standards like BPA free
Usage – Do mention the various usage of the product. For e.g.; if the product is oven safe or detergent safe
Video: Include product videos to showcase the product. Video helps to create confidence among users.
Benefits – Clear mention of the benefits of the product. Mention about the benefits of different features of the product
Care instructions – Mention details on how to care for the product
One important thing to mention in the product description is the Benefit. Don't get confused with benefits and features. If you mention – Tampered Glass, a product feature. Now, this doesn't convey what is the use of having Tampered Glass. The description should say – Made of Tempered Glass, the product is scratch-resistant, heat resistant and easy to maintain. Always convey the benefit of the feature. Below is an example from Amazon product copy. Look how the feature is expressed in terms of benefit.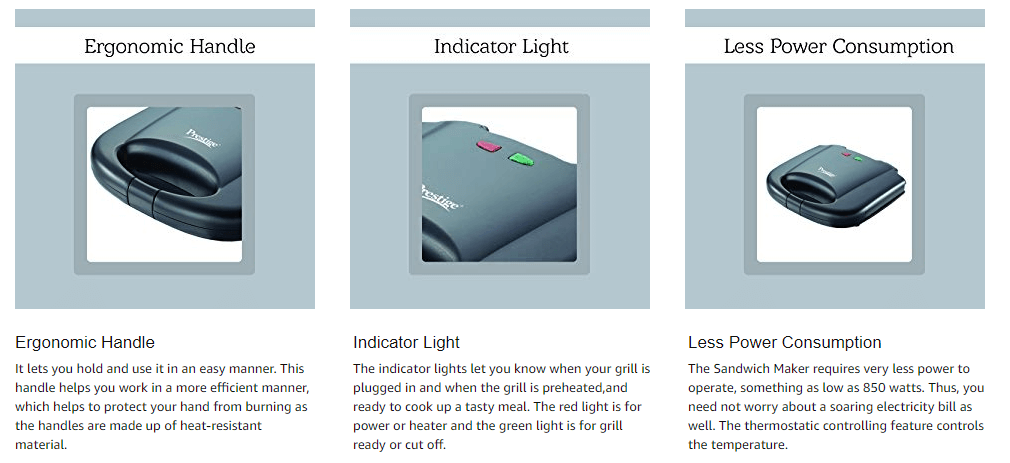 Limit the Choice
As it is said – "The Paradox of Choice – More choices leads to fewer decisions". In e-commerce, choices mean the variety of the same product. For e.g., if you are selling mobile phones and offering options in terms of – colours, battery size, include/exclude headphones, include/exclude cases and more. With so many choices to choose from, the customer will get confused. However, when you limit the choice there will be less distraction and customers will be more focused on making the decision to buy or not. This is by far the most effective conversion optimization tactics for ecommerce.
[tweetshare tweet="Lesser the product option, faster is the buying decision" username="PushEngage"]
Re-Engagement with User
Most of the time people don't convert in a single visit. They may view the product and even add the product to the cart, but may not convert. As per the study, the average cart abandonment rate is around 67.45% which is a big number. In such cases, you need to re-engage with the customer. Re-engagement is a good strategy for higher conversions. One of the best ways to reach out to the visitor is through Web Push Notification as it is delivered directly on the browser even when the user is not live on your website.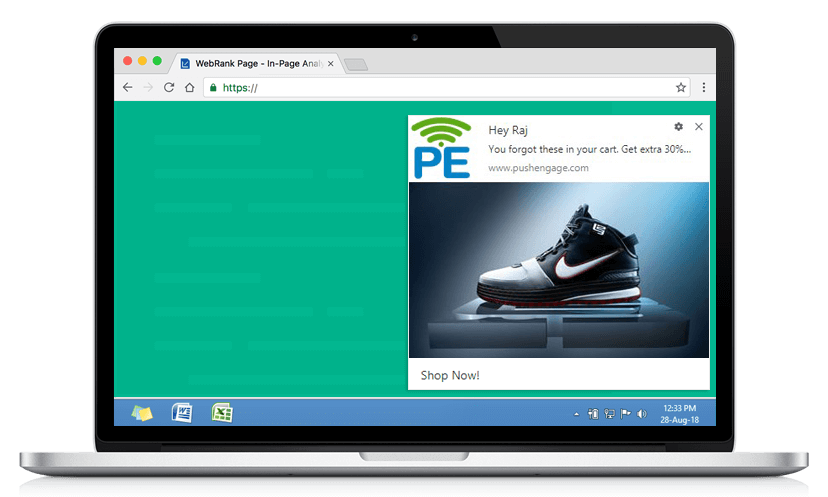 Using Push Notification, you can create cart abandonment notification, browse abandonment notification, drip campaign to re-engage with visitors. One of the top e-commerce sites of Australia got a 20% increase in revenue using Cart Abandonment Notifications which shows the benefit of using the Web Push Notification tool.

Clear Checkout Flow without Distraction
The checkout flow is the final page of your conversion cycle. Keep the checkout flow simple and straightforward without any distractions. You checkout pages should include:
Product Image and detail with product URL
Final product price after any discount or charges
Product delivery address
Payment options
In your final checkout flow, you can limit the navigation. When the user is the checkout flow, it means that the user has shown the intention of making the purchase. On this page disable the navigation, which means that the next step available on this page is the payment. This way you are limiting the option to the customer of going back to payment flow or to the website but proceed to payment. Amazon, which is one of the top online retailers of the world, does the same. Below is the final check outflow: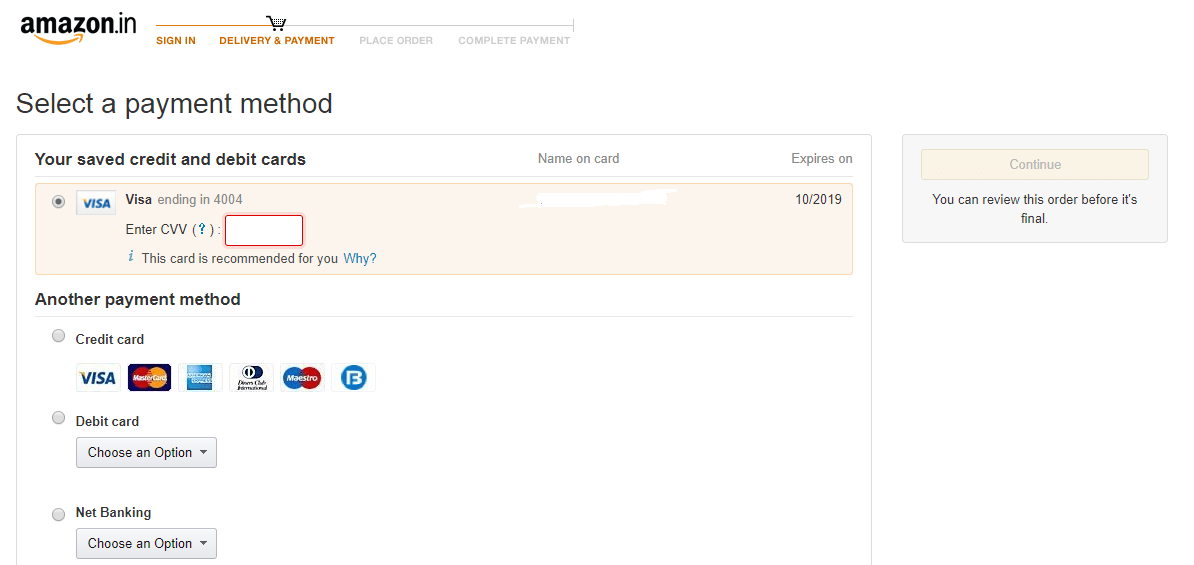 This way you are limiting the distractions to the visitor who is about to covert.
Trust Factor
If you want the user to make a purchase, you need to build trust in the visitor's mind. The visitor should feel safe when they do a transaction on your website. You need to show your credibility to the visitor to build confidence and trust among them. Below are the ways you can build trust:
Clear contact details – Your contact details should have your e-mail address, contact number, physical address
Trust Badges – You should also display the trust badges which users are familiar with. Below is an example of the trust badge.

Check out the result of a survey done by Baymard on trust badges.

SSL Certificate: Get your SSL certificate for your website. In case you don't have SSL certification, Google will flag your website as unsafe.

Ratings & Product Reviews
In today's internet era, everybody looks for review before making the final purchase. Product reviews and ratings help the customer to decide on the purchase. A study by Reevo indicates an increase of 4.6% in conversion rates with Product Reviews. Also, another study done by Brigtlocal indicates that 88% considers online reviews as a personal recommendation.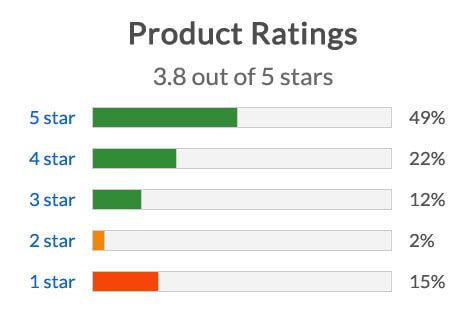 So now you understand how important is product reviews & ratings for conversion. It's always good to ask your customers to give a review once they make the purchase. You can offer points when a customer gives a review. Be open to negative reviews as well and this will help you to address the issue related to your product.
Sticky Add To Cart / Buy Now Button
One way to ease the process of adding the product to the cart and checkout is by making this "Call to Action" button prevalent on the website. Below are the three main "Call To Action" buttons:
Add To Cart/Buy Now: Make the "Add To Cart" button sticky. Usually, the product pages are long and the user will scroll down to get more details. Create a sticky "Add To Cart" so that it will be all-time visible to the user even when they scroll down.
Checkout Button: Keep the "Checkout" button sticky too and show at the top of the page. It should be visible to the user across any page on the website. Sticky "Check Out" button helps the user to know what products are there in the cart and conversion becomes easier.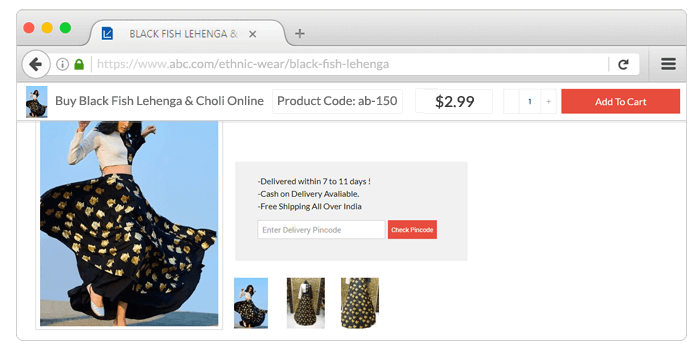 Also, keep your "Call To Action" button should be in a different color and a little bigger than other buttons. This helps the user to identify which button to click to make the purchase.
Offer Coupon Code or Discount
Everybody loves a discount. Coupon codes are one of the easy ways to attract customers. You can use coupon codes strategically to increase your website conversion rate. Below are some of the best ways to start using coupon codes:
Re-targeting and Abandoned Cart Recovery: In your cart abandonment or re-targeting campaign, offer coupon codes to the user. Also, make the coupon code time-bound so the user can complete his purchase early. Coupon code gives them a reason to come back to your website to complete the purchase.
New user coupon: When someone registers on your website, send a welcome coupon. Users are a little hesitant about making transactions on any new site. You can offer the discount coupon code for 1st-time purchase. This will lessen the anxiety user may have about your website and may make their 1st
Loyalty Programs: Create loyalty points every time the user makes a purchase. Offer them loyalty coupons that they can use in their transactions. This will help you to increase your conversion rate from old customers. Loyalty programs in e-commerce lead to increased customer lifetime value as well.
Referral programs: You can also create coupon codes for your referral programs. If the user shares their purchase with their friends or refers someone to your website, you can offer referral coupon codes to offer the discount. This will encourage the user to share their shopping experience with their friends and in turn, will increase your subscription rate as well as conversion rate.
Affiliate programs: You can even join any affiliate website like commission junction to promote your website. You can create exclusive coupons for the affiliate partners. There are many coupon and discount websites like RetailMeNot, where you can publish your coupons.
Website Speed
Website speed plays a very important role when it comes to improving conversion. If you have a nice website, offering the best price than competitors but your website takes a lot of time to open, it will kill the conversion rate.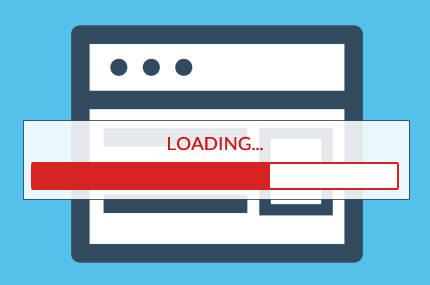 Customers are not going to wait patiently for your website to open or load pages. As per the case study by unbounce, a website with optimized speed got a 66% lift in revenue. Slow websites lead to an increase in cart abandonment rate and bounce rate. Your website should be both desktop and mobile-optimized for a better conversion rate.
This concludes the list of the best conversion optimization tactics for eCommerce. Above are major areas that have a direct impact on conversion. Optimize those areas and see how they impact on your conversion rate. The best place to optimize for the conversion is to focus on the area which is directly impacting your conversion. Analyze your google analytics or other tool and see the customer journey. See where the maximum visitor drops off is and optimize those areas. E-commerce conversion optimization is an on-going process. Every e-commerce website is different and so is the target customer. You have to keep testing the various conversion elements of your website to see the impact.