Let's start with a harsh truth. The following sentence may be the best one which reveals the importance of photo editing in an e-commerce business.
"Well, I don't care how stunning & amazing your product is if the photos suck, I am not purchasing it!" This single quote is enough to outline the significance of photos in e-commerce.
Now the question, "is it necessary to edit your photographs before you upload them in your e-commerce site?" The answer is – "yes." You may upload your product photos in your e-commerce site, but you found that these photographs don't attract any consumers.
As a result, you don't get better sales from your site. In this regard, you may need to edit the photographs you upload on your website.
Importance of Photo Editing for E-commerce Business: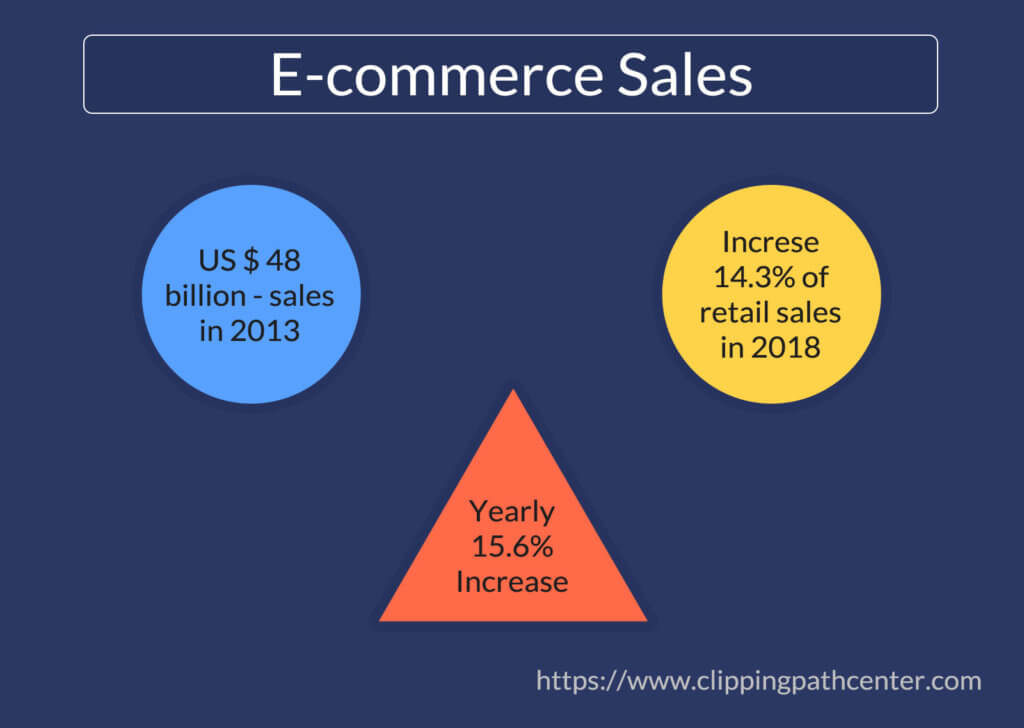 The sales through e-commerce increase every year. In the USA, according to e-Marketer data, there were more than US $ 48 billion in sales.
According to the report of an online retailer, in 2018, e-commerce showed 14.3% of retail sales. Amazon records forty percent (40%) online retail. The e-commerce Department also counts that the average online sales increase by almost 15.6% every year.
The most common and significant part of e-commerce marketing is product photograph. Photo Editing plays a significant role to make the image of your product for e-commerce sites engaging to the customers. Let's discuss why Photo Editing for E-commerce Business is essential.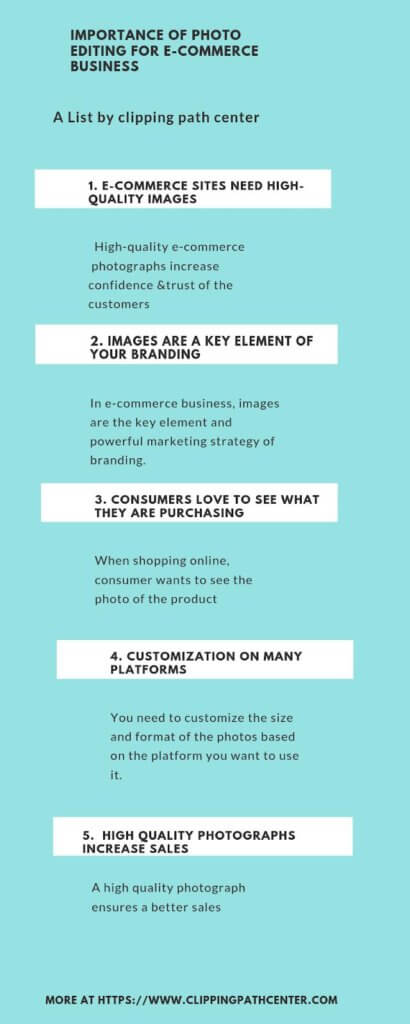 1. E-Commerce sites need high-quality images:
The high-quality images increase the performance of an e-commerce business. Photo editing plays a vital role to make the photo passionate and engaging for e-commerce sites.
According to the expert's thought, "if you want to draw the consumer's trust and confidence, you must display High-quality photos in your e-commerce site. The low-quality images hurt the performance of an e-commerce business."
Note: Removing background, adding objects & shadows, color correction, as well as position adjustments, are some tricks used in getting accurate photography.
2. Images are a Key Element of Your Branding:
According to the professional photographer, James Wilson said, "To me, Photographs are a powerful language that can express more than the written text."
You may give the product details in your site, but a photo is much more useful than written texts. When you make the necessary editing in the product photograph, then it turns out to be more credible.
In the e-commerce business, they are the key element and powerful marketing strategy of branding. Thus your website will get a high return and reputation to the customers.
3. Consumers love to see what they are purchasing:
When shopping online, the image of the product is the first impression to the potential customers. In truth, images might be the most compelling aspect of the e-commerce business.
A professionally edited photograph offers possible consumers knowledge of the items and gives them significant expertise.
Always it is more encouraging to capture a professional look at the product even though the product pricing & descriptions are essential. Consumers cannot touch and feel the product in online. But by seeing the images of the product, he/she will decide whether to make a buying or not.
4. Customization on many platforms:
You need to customize the size and format of the photos based on the platform you want to use it. Different platform has different features and characteristics.
So when it comes to uploading photos on a particular platform, you should focus on those features. Only a photo editing service allows you to make the photographs well suited to these platforms.
5. High-quality pictures increase sales:
The prime target of any e-commerce site is to get a better deal to get better profit. The eye-catching and appealing photos in an e-commerce site can draw the consumer's attention that can increase sales per day.
"The product image editing service ensures greater traffic in your site and increases immediate sales. It is wise to invest in photo editing & development, as it brings traffic, increases sales, and expand your e-commerce business" – According to Photo Editing Experts. So if you want to convert your site visits into immediate sales, then you can get the help of product photo editing service.
Why are Photo Background Removal Services important in Photo Editing?
The Background Removal identifies as a kind of image/photo editing service. Nowadays, Photo Background Removal Services become the most popular photo editing service. Software like Photoshop, gimp is capable to achieve the best outcome.
Let's see the top three reasons why this service is essential in Photo Editing: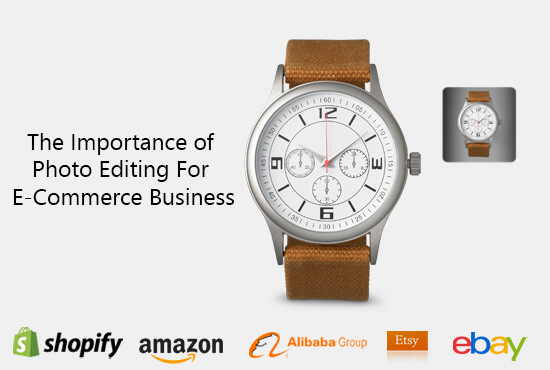 1. Creating Uniqueness:
There is no guarantee that the product can draw traffic and attract customers if the look of the product is unique to its class. So it is very significant to make the products exceptionally good. Background removal service can do the necessary change to make the product amazing and unique.
2. Customers neglect poor Photos:
Sometimes the poor Photos look dark and unattractive and cannot display straight away. Basically, the product photography needs to customize the background to make it stand alone from the competition.
There is a quote by an expert photographer; in an e-commerce site, the low-quality photographs may transmit a wrong message to the buyers. This will make consumers not visiting the website, which results in fewer sales.
3. Low-quality Photographs make a bad impression:
If you have a website with poor photographs, then these images will definitely lower the impression of your website. Low-quality photos in your e-commerce site are a poor marketing trick. Thus you will lose the trust & confidence of consumers, which lowers the impression of your e-commerce business.
According to the e-commerce association, "the Low-quality Photographs make a bad impression of your e-commerce site."
Statistics show that a site with high-quality photos will get more traffic from potential consumers. Also, this site will become more trendy and commercial than a site with low-quality images. For conversion optimization, a high-quality photo is a must for e-commerce business.
Professional background removal service assists strengthen the ranking & reputation of an e-commerce business.
Note: According to professionals, photo editing is very significant as it enables the photographer to detect what is wrong with his captures & then enhance his shooting & framing strategies next time.
Conclusion:
If you want to run an E-commerce Business, then you need to know that investing in a high-quality photograph has a positive effect. The importance of photo editing has proven to be a potent strategy in the world of e-commerce. This service will allow you to make a non-professional photo to a professional one and improves the item's marketability to increasing the ranking and branding of a website.