Online job sites provide a single platform for both job seekers and recruiters. The job site not only lists the available jobs but also acts as a hiring agent for the company. Many job seekers registered at those sites to get a job. With so many job sites available, the competition has become really tough. As a job site owner, you not only want more jobseeker to register at your site but also get recruited. One of the best ways to do is through Web Push Notifications.
Below is the Web Push Notification Playbook for Job Sites you can implement now
Customer Subscription Opt-in
Would you subscribe to any website without knowing the website? The answer is mostly no. The reason is simple – unless you are confident of getting value from the website, why would you subscribe.
Most of the customers of a job site are the jobseekers. They will be searching for relevant jobs available on your site. This is where you can trigger the subscription opt-in. Below is an example of subscription opt-in templates you can use: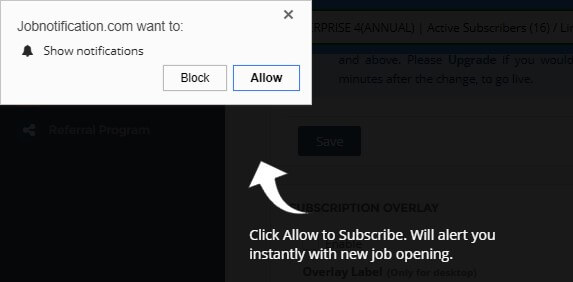 Onboarding Drip
Once a jobseeker subscribes to your push notification, keep him engaged. Job sites offer different types of search options, filters, paid services, and more. As a job seeker, they might not be aware of all these. You need to build up confidence among the jobseeker that your website is best when it comes to land a dream job.
This can be easily done with the Drip Push Notification campaign. Create a Welcome Drip which will be triggered when a new user subscribes to your push notification. Set up a series of web push notifications to be sent at regular intervals. Drip can be an essential feature for you to nurture your lead. You can even personalize the drip campaign by passing attributes to make it more effective. This is a very effective playbook for job sites.
Below is sample Onboarding Drip Campaign you can integrate:
It will be triggered when the user subscribes to your web push notification. Set up a series of push notification covering the topics – Welcome, Why us, Things to check, Paid Services, Testimonials, Top partner companies.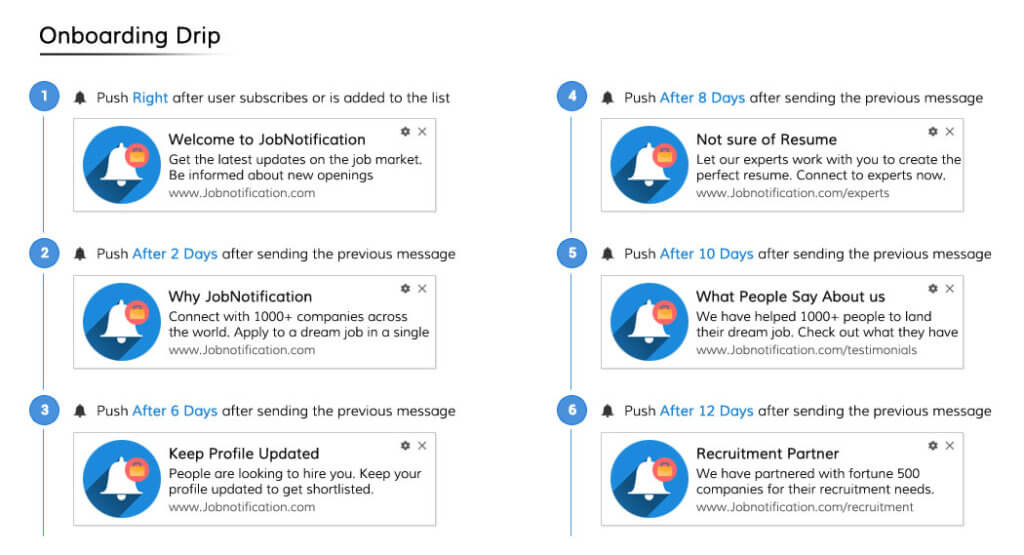 Profile Update Drip
Another playbook for job sites is based on user profiles. A user profile includes all the necessary details to serve them better. However, most of the time users do not fill in the details. As a job website, those data points are necessary for your business.
You can increase the profile completion rate using drip push notification. Create a separate segment for those users who haven't completed their profile. Next, create a drip push notification campaign to automate the process. Add a series of push notifications showing the benefits of having a completed profile.
Below is an actionable template you can use to create a profile update drip campaign:

Discount
Like everyone, jobseekers also would love to have a discount on paid services. Run discount sales from time to time for membership. However, running a random sale event won't help. There are times when you will see an increase in the job search.
For e.g. in India, during June and July, there is an increase as a new batch from college enters the market. Similarly, during April and May, there is an increase in jobseekers as people after getting the yearly bonus looks out for better opportunity.
Based on your data, you can decide when to run a sale event.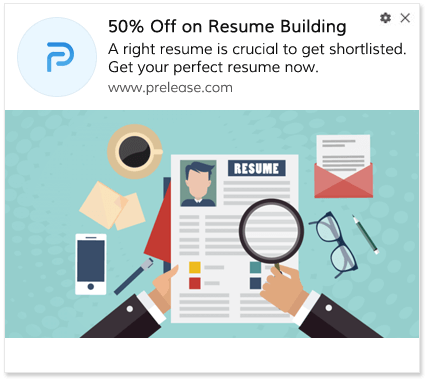 Recover Lost Member
Similar to other e-commerce, job websites also experience cart abandonment. This can be easily optimized using the cart abandonment campaign. One of the e-commerce websites got a 9.58% conversion rate by using a cart abandonment campaign.

Account Update
A job site may have two types of accounts – jobseeker account and recruiter account. Both accounts are different and need to be updated accordingly.
Jobseeker account
Jobseeker might be applying to multiple jobs. They may miss out on tracking the status of their application. You can trigger push notifications whenever there is a change in the application status.
Consider a situation where the job application has been accepted but the user is not aware of the same. In such cases, push notification can be of real help. You can instantly trigger push notifications based on the application status.

Recruiter account
The recruiter has published a job on our website. Many of the job seekers have applied for the same but the recruiter might be busy in other work. Using push notification you can immediately update the recruiter about their account status. This way they will never miss to reach out to the right candidate.

Action-Based
User takes multiple actions on your website. They might be searching for a job or checking out paid services like resume writing, managing job applications and more. Based on the user action you can trigger a series of push notifications. Job sites can create multiple campaigns based on the below playbook.
Below are some trigger push notification designed for job site:
Paid services
The user looked at the paid services but didn't buy any. For e.g. user landed on the paid service section of your website and checked out the services and pricing but didn't do any transaction.
Search
The user searched for a job but didn't apply to any. For e.g. user came to your website and search for a job with the below criteria – 2 years of Experience, Digital Marketing, Bangalore Location. Your website showed the result but the user didn't apply to any and left. You can re-engage users with the relevant results.
Using the Browse Abandonment campaign you can easily target the above situation and bring the user back to your website.

Re-engagement Campaign
As a job site, you may be running ads on different platforms to generate traffic or through organic or other platforms. These subscribers are land on specific pages based on what they search for or landing page.
Take the example of paid ads. You may run paid ads targeted towards companies to hire you as a recruiting partner. They may come and leave without any action. It's rare for the user to get converted into a single visit. You need to re-engage them.
Using push notification, you can segment subscribers on page visits. You can then create a drip campaign to target them. Re-engagement playbook helps job sites to bring back the potential lead. Create a series of push notifications to be sent automatically to bring them back to your website.

Form Abandonment
As a job site, you want to capture more details about every subscriber. For this, you have created a Form for the user to fill. Does every user fill the form? What happens to those who leave form filling halfway?
These are very promising leads and you should re-target those users. Using web push notification you can create Form Abandonment Campaign to capture such leads.
Create a separate segment for those who don't complete the form and leave. You can then trigger a Drip campaign and create a series of push notification to be sent automatically when the user abandons the form.
Below is a form abandonment template you can use right away:

Personalized Push Notification
A user profile has multiple data points. Some of the standard ones are – work experience, industry, location, salary range, resume and more. Use our full-blown API to send an update or use attributes to personalize and send targeted push notifications.
Some of the campaign ideas for job sites based on attributes could be:
Location-Based Notification
Jobseekers can be geo-specific. While searching for a job, they might be particular about the location. You can easily update those subscribers for any new job posting based on their location preference.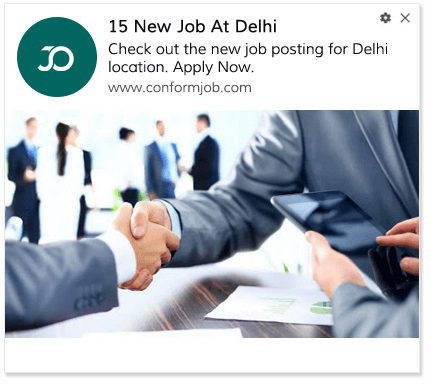 Industry-Based Notification
Users might be looking for a job in particular industries. From the user profile, you can segment the subscriber based on the industry. You can send those subscribers information about job listing and news of their choice of industry.

Experience-Based Notification
Many of the job seekers are either fresher or experience. Based on their profile you can segment subscribers based on experience. You can send targeted push notification about job listing which requires similar experience.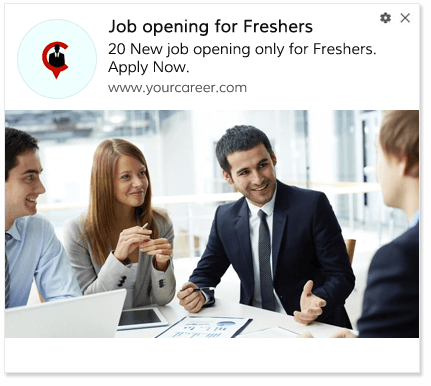 Similar to the above, create segments based on the subscriber profile. Using the attribute feature, you can send personalized push notifications to them. Targeted push notifications will result in higher CTR and engagement for your push notification campaign.
For any job website, both job seekers and recruiters are important. The above Playbook for Job Sites is created in keeping in mind both sides. You can take design your push notification based on the above template and see how it works for your website.