After much waiting, Microsoft Edge now supports Web Push Notifications in its live version. Among the leading browsers, chrome and firefox were supporting push notifications, and now Microsoft Edge is added to the list.
We are also happy to share that now PushEngage supports Microsoft Edge Browser.
The Edge Web Push Notification works in a similar fashion as in Chrome or Firefox. As per the official report – Microsoft Edge is fully integrated with the notification platform and Action Center in Windows 10, providing a consistent experience with other apps across the system and easy controls over permissions and Quiet Hours.
Web Push Notification is now available to all Edge customers in Edge/HTML 14 with the latest Windows update available from May 2018. Once the update is received, all the Windows users will be able to use push notification on their Edge browser. You can also update manually by following this link.
Please note that Windows 10 based Chrome browsers, already started using native Windows push notifications, which have a similar look and feel.
Microsoft Edge is based on the W3C specification on web notifications. The implementation details of Microsoft edge notifications as mentioned in the official release:
Web Push Notification in Edge Browser: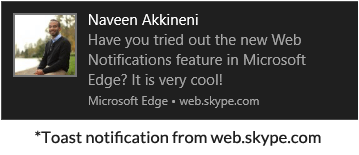 Different elements of Edge Push Notifications:
Notification Title
Notification Body
Icon – if not provided, Microsoft will apply default icon
Language Setting
Tag Attribute
Icon URL
Implementation of Permission In Edge Web Push:

Permission to Allow or Block
Yes And No –
Manage Notification
Manage all the notifications from Advance Settings
Manage Individual Notifications on Edge with Single Click – Right-click on the notification and change the settings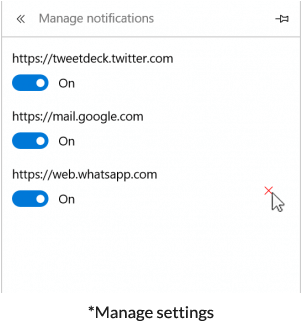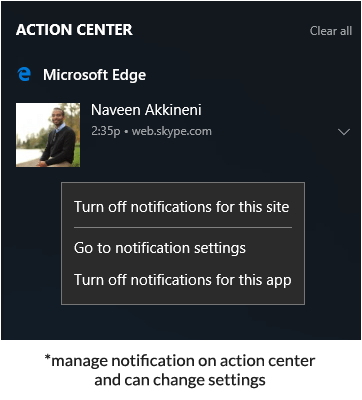 Future Ahead: Going forward, Microsoft Edge will keep continuing adding new features and API support:
Features to improve user control
Group Edge notifications in the Action Center based on Website domains
Study user behavior on notification to optimize the save notification feature in Action center
Continue support for Service Worker and Push API
Enable Push Notifications support on Windows 10 mobile devices
At PushEngage we are committed to supporting all leading browsers which support website notification and have announced support for Microsoft Edge. You can now send edge push notification from the PushEngage platform. We will continue to add more browsers.