Website Notifications, a newbie in the marketing platform, is now widely used and will soon be hitting the mainstream. Marketing your product the right way isn't a big deal at all. Push Notifications have become one of the best ways to reach out to your customers. Web Push Notification is a new customer engagement channel that is steadily growing and the marketers from all industries use them as a powerful way to reach out to their users and get them back to their site.
We are aware that Web Push Notifications improve customer engagement, increases CTR, helps to build loyal customers and retain them, etc. And it has been proved as well. Asklaila increased CTR by 100% and got 3 times subscription using PushEngage Web Push Notifications.
So, here we go with such 8 Website Push Notification tricks which you can think of trying out to improve your marketing efforts.
Trick 1: Let your notifications speak regional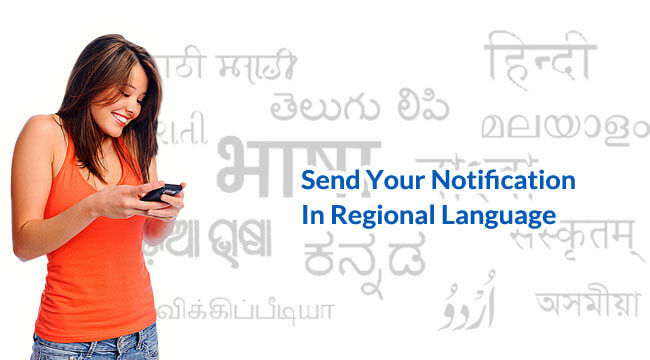 Have you ever noticed the excitement that pops out when two people from the same place meet up somewhere else? Communicating with people in your mother tongue gives you more satisfaction. Well, it evokes a sense of oneness and you can communicate more effectively in own language. Similarly, if you send notifications to users in their native language, the results are even better.
According to the IMAI-BCG report, in 2018 approximately half the users will soon reside in small towns and villages and will access the internet, not in English but local language. Over the next few years, it will be an era of the Indian Internet as companies are investing heavily in building the same. According to Google, English content is growing at 19% YOY while Hindi content witnesses 94% growth YOY!
So shoot your notification in regional language. If you send a notification to your users in their native language, you can reap the following benefits.
It increases the chances of higher engagement.
It can create a personal level of communication. Nothing more excites a user than getting a notification in his/her mother tongue! And he will not miss to read it as well.
You can increase your loyal customers
In short, sending a notification to a user in his native language will serve your purpose in connecting more effectively with the user and improves user retention.
Trick 2: Images in notifications can do wonders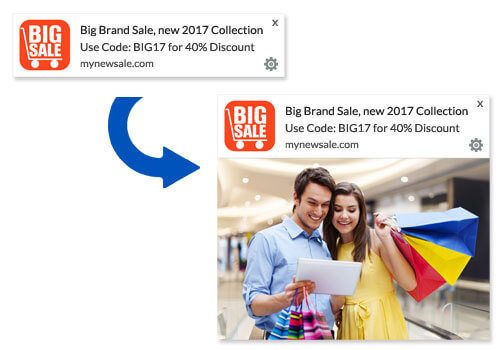 A person finds a big banner of any movie or its trailer more engaging than a piece of content written on the same. This is the power of images or visuals. It creates an impact that stays for a longer period as images can speak louder than words. Adding effective visuals in your notifications can attract your users to a great extent.
It makes your notifications stand out distinct
It creates a greater and powerful impact on users
It makes the notifications stay with them even if they don't click on it the moment they receive them
It encourages users to keep visiting your site more often.
A study on the impact of Rich Push Notifications industry-wise by PushEngage states that using large images in your notifications can improve CTR up to 62%. The effects of large image usage in notification do depend on the type of industry. Do not add large images to all your notifications and make sure the images you sent compliment with the notification as well.
Trick 3: Create personalized user experience using Segmentation
You are very much aware of how to do segmentation in web push notifications and also the pros of using Automatic Segmentation. It improves your click metrics, customer engagement & retention, etc. Send segmented notifications that can create a personalized user experience based on user location, their shopping habits, repeated visitors, user profile, referral source, etc.
It is a fact that people generally crave personalized user experience. Remember if a user gets to experience something personalized from you, it creates bonding between you and the user. Thus you get a regular user from a random one. Segmentation can derive huge conversion which follows building a healthy bonding, relevancy, quality services, creating brand loyalty, etc.
Segment your users at the time of subscription in Web Push which is also referred to as User-Driven Segmentation. Here we get the type of device, the location, and the subscription device id when a user subscribes. The user preference given during the time of subscription is collected and stored as custom segments.
At PushEngage, you can use segmentation based on the following:
Type of device
URL
Site action
Location
Trick 4: Use CTA buttons effectively

Well, any notification that spikes urgency is sure to grab attention. Using CTA buttons in your notifications can jerk an immediate action by a user. You can add multiple CTA buttons to reach out to all segments of users via a single notification.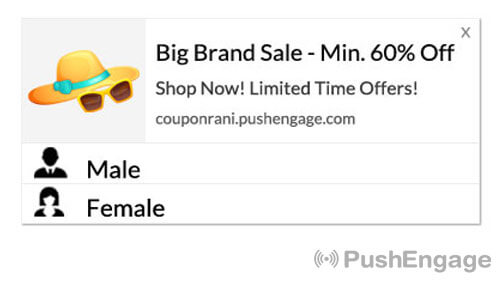 If you are an eCommerce site and want to send a notification on your upcoming sale, the following actions can be your added efforts via a single notification:
Add separate URL for each action
Add separate images for each action
Add different text to each call to action button.
You can send these notifications based on gender or product.
Trick 5: Interact using Personalized Notifications
Personalized push notification works! It plays a key role in bringing your users to action. A recent study throws light on this fact that users are more attracted to use a service or offer if it offers a personalized experience. Send personalized notifications. This is sure to drive more user engagement and increase conversion rates considerably.
Trick 6: Try A/B Testing for Push Campaigns
Sometimes you just don't realize which notifications are actually working for you or probably you just don't know if the notifications you sent are really working! So do A/B testing on messages to find out what type of notifications give you more clicks and higher Conversion Rate.
Experimenting with messages and comparing the results will help you understand what is working is and what is not.
Remember your notifications also act as your branding source. So, any error in your marketing message can become crucial. Your notification should urge the users to make interaction and finally leading to a conversion.
Trick 7: Schedule notifications to follow time zones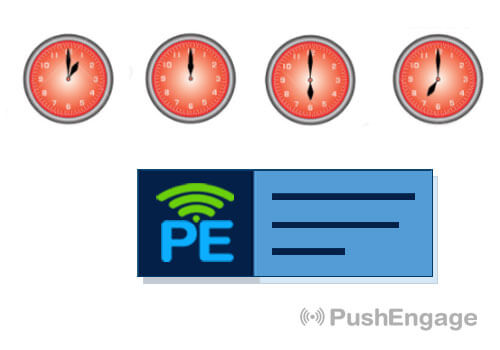 No one likes to get disturbed while they are sleeping. Even a small beep can be annoying. So, the time at which you send a notification is very much crucial as it determines if the notification will be read or discarded. Imagine you send a notification and your user receives it in the middle of the night, thus disturbing the sleep. Rather than reading the notification, you are more likely to be unsubscribed. So scheduling your notifications based on user time zones will do the good.
While scheduling time zones, remember to consider the local time of your user to send the notification. It will enhance the possibility of the user clicking on the notification. With PushEngage, you can schedule the notifications weekly, monthly or even at any fixed interval. This will save you time and effort. And the chances are your notifications going to the trash also decreases.
Trick 8: Nurture your Leads
Today got a new subscriber and it is literally going to be a '0' interaction day. Now, it is your responsibility to make him feel comfortable as he could be a newbie here. Start your conversation with an appreciation or welcome message for choosing you for his website. Make him feel comfortable and slowly nurture him so that he turns out to be your fruitful loyal customer. Here are some ways to nurture your customers:
Nurture the free trial prospects and ask him for an upgrade in his plan by sending him a series of notifications on the benefits of becoming a paid member or choosing a higher plan. You can create a drip push notification campaign.
When you get a new user, send drip notifications so that the user stays in your loop. Update him with specific products that excite him to stay and click your notification.
Evoke frequent communication with your paid customers with promotions specifically meant for them.
Take the effort to create content that can solve his issue at the forefront even before his query pops out.
Web Push Notifications is one of the most successful ways to reach out to your customers. You can also check out the proven push notification tactics to increase engagement. If you want to re-engage customers, start using Push Notifications.
Sign up at PushEngage or go for a demo here.