" A good rule for a Push Notification is that it should be Important, Urgent and Contextual"
Browser Push Notifications are the easiest and most convenient medium to keep your audience engaged. Also, it drives more traffic to your site by increasing your user engagement, and thus boosting your sales and getting you higher revenue. But, what happens if you fail to crack this by failing to impress your customers by sending ineffective Push Notifications?
Here is a sneak peek into 5 things to practice so that you become a master in sending Push Notifications
1) Do not send too many notifications
Too much of anything isn't good. Similarly sending too many push notifications a day can give you negative results. Considering the fact that it will generate more traffic to your website, the probability of losing your subscribers is higher. If your customer is not using your web site regularly then you might lose them for getting irrelevant push messages and they might unsubscribe you! If at all they don't unsubscribe they might start ignoring your messages and you might miss out a valuable subscriber engagement.
A good rule for push notification is that it should be Important, Urgent and Contextual.
Push Notifications are sent in real-time and so needs to be delivered with caution. If you are doubtful on how many push notifications should be sent in a day, then you can keep the count limited to 2/day.

2) Schedule your messages based on time
Do not try to wrap your work just be scheduling messages to all your subscribers in a single shot. Instead, schedule messages based on the time zones and this can save your messages from being discarded. It will, in fact, get you more engagement and drives in more traffic.
PushEngage offers 6 different types of segmentation. It also has Geolocation based segmentation, so you can select the geography of a customer and based on their time zone send the message. We also provide recurring scheduling so that you could schedule messages that you sent regularly on a given day of the week with ease.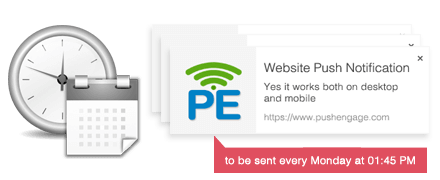 3) Send Relevant Messages by segmenting your subscribers
All messages are not meant for all subscribers. You need to segment your audience based on various factors including their behavior, location, activity and then send them relevant push notifications so that they get impressed for getting such tailored messages. It will get you more referrals and indirectly help you perform more.
PushEngage offers you 4 ways of segmentation, and you can read about how to set that up here.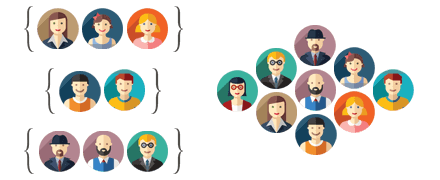 4) Personalized Messages Works!
Wouldn't that be boring for anyone to read the regular kind of messages all the time? Try something innovative and yet creative when it comes to writing a message. How about like talking to your subscribers via push notifications letting them know the latest updates rather than just telling it in plain text? It will make them feel that you are interacting with them individually and there you go with some loyal subscribers in hand.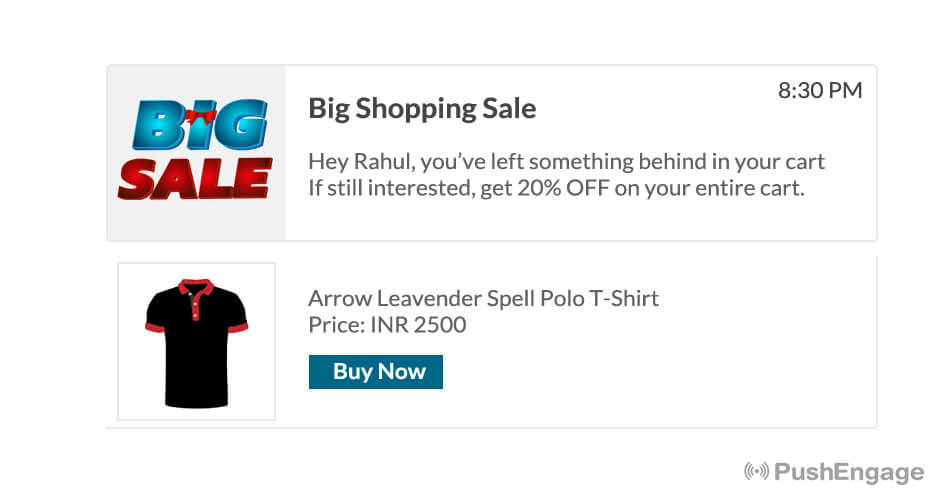 Context is everything. If you can use what site actions your user did and tie it to your personalized push notifications it can create great experience and results. You can use our detailed Push notification APIs for doing one is to one or personalized messaging.
5) Use the right KPIs
Merely keeping a tab on Click Rate to analyze user engagement doesn't help. Ensure that you use Key Performance Indicators (KPI) to optimize your campaigns that will work well for your business. This will help you in improving your strategy and will help you determine what your customers do after clicking your push notifications and how to get more engagement from it?
Now, here you go with these five tactics that will help you send Push Notifications that will surely hit the bull's eye. Get started with free push notification service by taking any of the PushEngage trials.

You can check the demo push notification to see it in action. Take a free trial at PushEngage and try out to see the impact.