In 2020, so far we have spent 1.6 trillion hours on our smartphones due to the pandemic. Having said that, haven't we been receiving small notifications from the apps installed on our phone or desktop during the day? Yes, we do!
Most of us know that these are push notifications and how they work. But do we know why push notification is important for your business?
Push notifications have become an important tool for marketers to connect with their users instantly across the industries. For all those who aren't aware of what push notifications are and don't know the reasons to use them, this article is for you.

What are Push Notifications?
Push notifications are crisp messages that are pushed to the user's device be it a mobile or desktop. They usually appear in the form of a message, an alert, reminder, an offer, etc. that convinces the user to click through it.
In the below image, you can see push notifications appearing on the bottom right corner.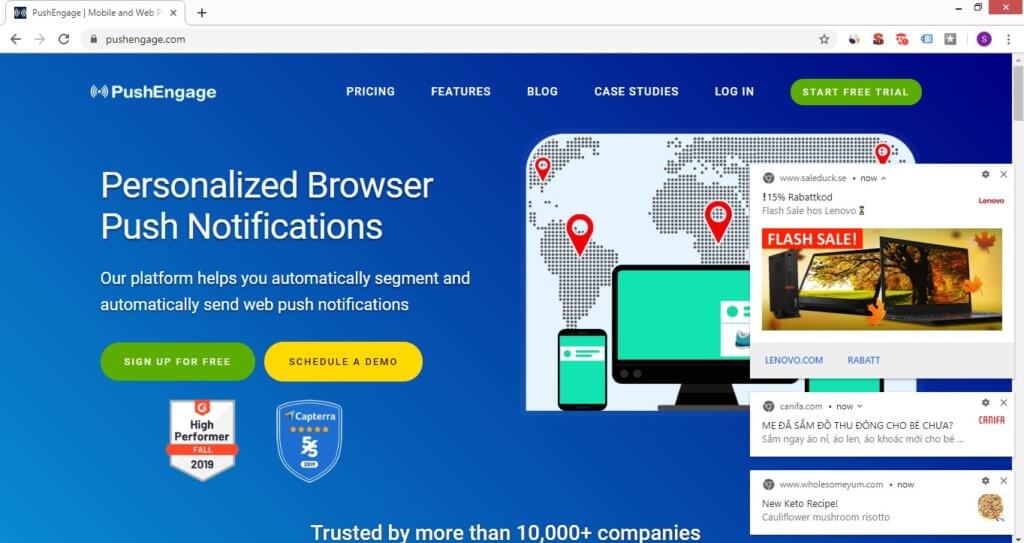 Why Push Notification Is Important For Your Business
The purpose of push notification is to instantly alert users about your message. Other re-engament tools like e-mail may land on spam or user is not logged in. However, push notifications are delivered directly on the browser and appear as an alert. This makes it hard to miss and leads to increased engagement.
Let's dive in to understand why it is important for your business:
Easy Optin:
Push notifications offer easy optin for users than other marketing tools like emails/newsletters:
The user is added to the subscribers' list by just a single click without needing to share any personal details. While emails ask the user to enter their email address to become a subscriber.
As soon as the user opens the browser, push notifications appear on the screen that can't go unnoticed. Whereas in emails the user needs to login to read a message.
Push notifications have a higher delivery rate as they can be delivered even when the user is not on site. But in the case of emails, some emails remain in the spam folder and go unnoticed.
Emails are costlier than push notifications. Emails require content, draft copy, and designing while only short customized content with the right emojis/images and call to action button is all that a push notification requires.
Easy optin and high delivery rate makes Push Notification important for every business.
Easy to Implement:
Web push notifications support integration on several sites such as WordPress Weebly, Shopify, etc. The implementation of web push notifications is very simple. Even apps can be used to use push notifications on multiple platforms.
WordPress:
This platform is usually used by bloggers. With the help of PushEngage WordPress Plugins, you can install push notifications very easily and in a snap.
Once installed, the user can send automated messages to his/her subscribers about a new blog post that is published on his/her website.
Shopify:
Creating a website isn't enough. You need to be getting traffic and have a lot more things to watch out for. To keep your customer engaged your Shopify stores needs to have web push notifications enabled on its site.
By using the PushEngage App you can begin using push notifications on your Shopify store. Installing the Push Notification Shopify app is very easy, a single click and the app is installed.
Once installed the push subscription optin gets activated in your store and visitors can subscribe. You can begin sending push notifications to your subscribers. In the Push notification Shopify app all campaigns are inbuilt with pre-filled templates.
Create and Implement Campaigns with Ease:
One of the important aspects of push notifications is campaigns. They help you create meaningful campaigns that boost conversions and engagement.
Here are the top three campaign ideas using push notifications:
Once a user signs up, you need to keep them engaged. Using push notification you can automate the entire process. You can create a welcome drip campaign with a series of push notifications. It will automatically send a notification to new subscribers.
For instance: If you're a software company you can start with a welcome message and then go on to educate the user about your product and its features. This helps you to keep the user engaged and you stay at the forefront of the user's mind.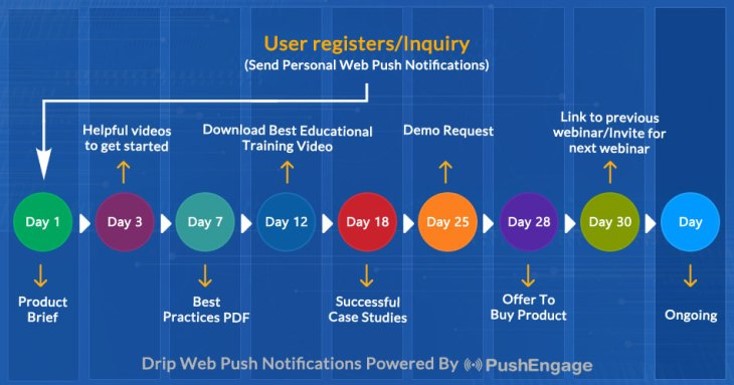 Cart Abandonment Campaigns:
Many times a user adds a product to his cart but leaves without making a purchase.
For instance: A user adds a product to the cart and doesn't complete the purchase. In this case, with the help of cart abandonment push notification campaigns, you can retarget such users and send them notifications at regular intervals. To lure the user to complete the purchase you can offer him/her coupons or discounts.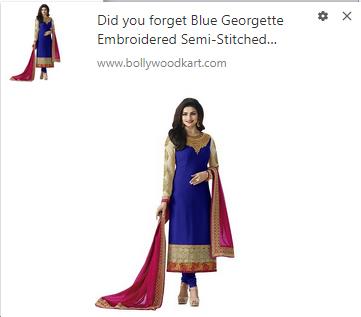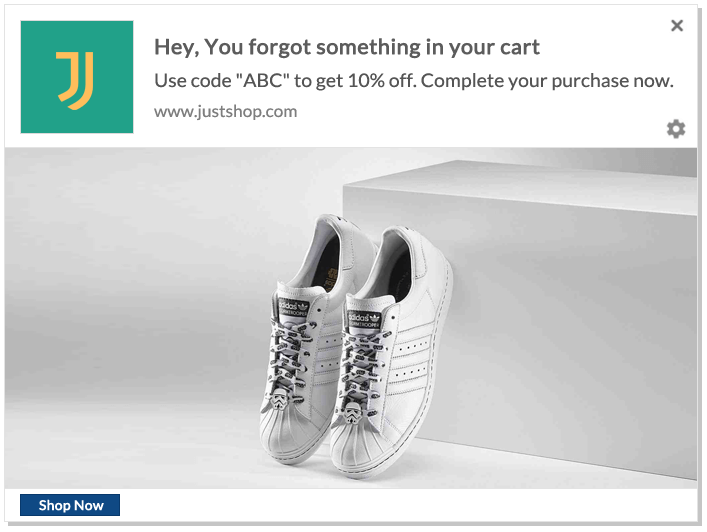 One of the popular campaigns among e-commerce site is Deal of the Day. You must have seen in Amazon. The success of such events depends on the reach of the campaign. Using push notification you can instantly bring in customers.
E-commerce players like Amazon, Flipkart, Myntra offer their audiences with such deals of the day campaigns wherein they offer a certain product at the lowest price of the day to entice the user to make a purchase.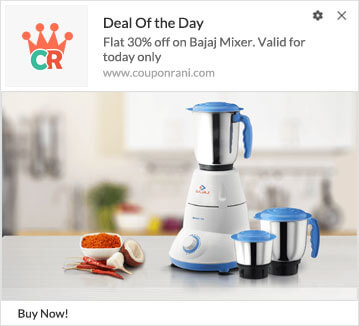 Track Actionable Metrics:
Push notifications let you track your users' behaviour. Complex analytics data gives you a picture of the open rates, delivery rates, etc. With the help of these details, you can work towards the performance of your push notifications.
For instance: Push notification analytics shows you the CTR of each notification. Such push notification metrics help you understand which campaigns to launch to connect effectively with the users.
You can even set Revenue goal for each of your campaign. Based on the performance, you can optimize your push campaigns.
Personalization Matter:
One of the most important aspects of digital marketing is personalization. Push Notifications allows you to segment subscribers based on multiple factors.
When you send segmented notifications to your users it enhances the click-through rate and conversion rate.
For instance: Being a pizza outlet owner you can target your audience based on their last three purchase orders. You can send them push notifications about their order.
'10% off on your favourite margarita pizza if you order now!' Such personalized notifications will enhance your conversions.
Boost Engagement, Acquisition, and Retention:
People don't read all emails due to their inbox loaded with ample emails. This isn't the scenario with push notifications if they are sent at timely intervals.
When you send out the right push notifications at the right time it can boost engagement. When customers engage your business is making a profit.
Many users download an app but don't use it. To convert such dormant users to active, send them push notifications that offer promotional codes and discount offers at their first purchase.
Promote referral programs to your users through push notifications. This will help you to acquire new customers.
Connecting to the Right Users at Right Time with the help of a Customer Time zone:
Certain apps ask for user's permission to access their location. When the user grants permission you have the chance to personalize the customer experience with location-based specific push notifications.
Through apps, you can also send offers that apply to users in a specific region based on their time zone. Geo-fencing too can help you target specific region users.
For instance: You have a mobile app for your restaurant business. If the users have your app downloaded to their mobile you can send push notifications of offers/discounts when they enter any of the geo-fenced areas.
You can even send push notifications based on customer local time.
Push notifications – Best Practices:
The three important things you should remember when sending push notifications:
Time and Frequency:
They are an important aspect to remember while you send push notifications. An overdose may make the user end up unsubscribing you.
Copy:
Push notification requires only two copies – title & description. It has character limitation as well. So use your words wisely. Keep it clear & crisp.
Target:
Nobody wants to receive irrelevant push notifications. To avoid this, always segment your subscribers and send targeted push notifications.
Conclusion:
Push Notification is by far the best re-engagement tool as compared to any other re-engagement tool. However, whether push notifications are good or bad for your business is totally depends on how you use. One of the E-commerce sites has seen a 400% higher open rate using push notification as compared to another tool.
Does your business use push notifications? If not, having read the above article, you now know if push notifications are put in wisely can add huge value to your business. What more do you want!
Just don't push random messages to your users or else they may opt-out of receiving them. Follow the best practices of push notification to reap the benefits. It's, after all, a fine line that needs to be handled with care!