[Insider Secrets] How Saleduck Got an Insane 20% Boost in Revenue Using Push Notifications
Saleduck is an online deal community where consumers come to discover the latest deals, offers, and discount codes. Based in Kuala Lumpur, Saleduck is active in 13 markets across Europe and Asia.
More Subscribers than Email
Total Revenue from Push Notifications

Domingo Karsten
CEO & Co-Founder, Saleduck
The Marketing Challenge
Saleduck is the place to go if you are looking for the best deals. With presence across Europe and Asia, you will save on your shopping throughout the year. You can find deals on hotels, fashion, flights, restaurants, shoes, electronics, and many more categories.
The business model of Saleduck is mostly performance-based. So they get paid based on the sale generated by the traffic driven by Saleduck. Their major marketing problems were:
Finding new sources of quality traffic
Increasing conversion rates
Increasing ROI on marketing activities
That's where PushEngage came into the picture.
How PushEngage Helped Saleduck
PushEngage has many push notification features that help e-commerce businesses achieve their target revenue.
Saleduck started using regular push notifications to inform its subscribers about daily deals and ongoing sales. But the game changed completely when they also started using browse abandonment push notifications.
Increasing Subscribers
The first step was to rack up push notification subscribers for Saleduck. PushEngage offers a variety of subscription opt-in types and the one that they chose was a single-step optin with an overlay.

Once they started collecting subscribers on their sites, Saleduck made it a point to consistently send out push notifications. Most of the content they push is around helpful topics for their customers and a few are aimed to directly sell to them. This balance makes it super easy for Saleduck to grow repeat traffic, engagement, and sales.
As a result, 2% of total traffic on their site is from just push notifications.
Pro Tip: If you're getting started with push notifications, you should check out this article on how to style your push notification optins.
Generating Repeat Sales
Saleduck was able to re-engage with customers repeatedly with top deals across all product categories. PushEngage was bringing in 3% of total revenue. Take a look at their campaigns in…
Electronics: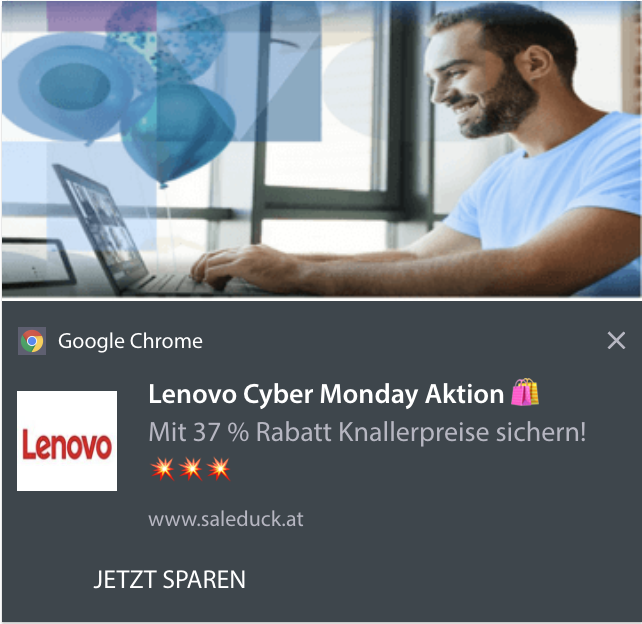 Furniture: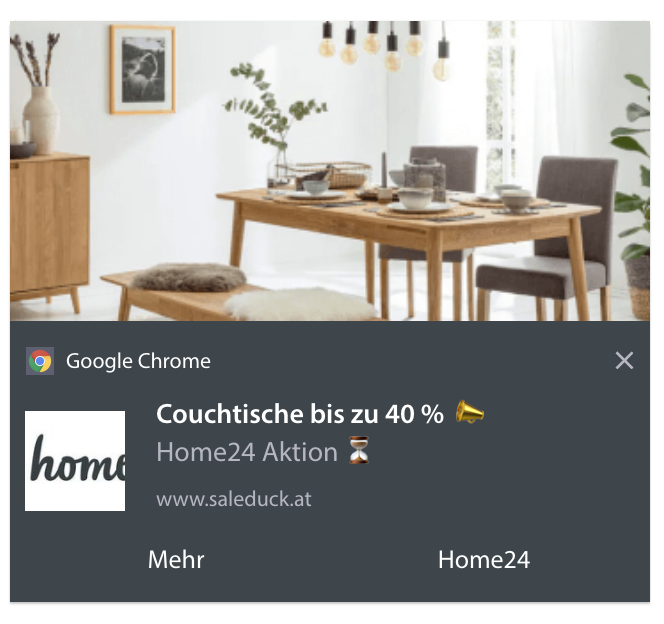 And holiday packages at resorts: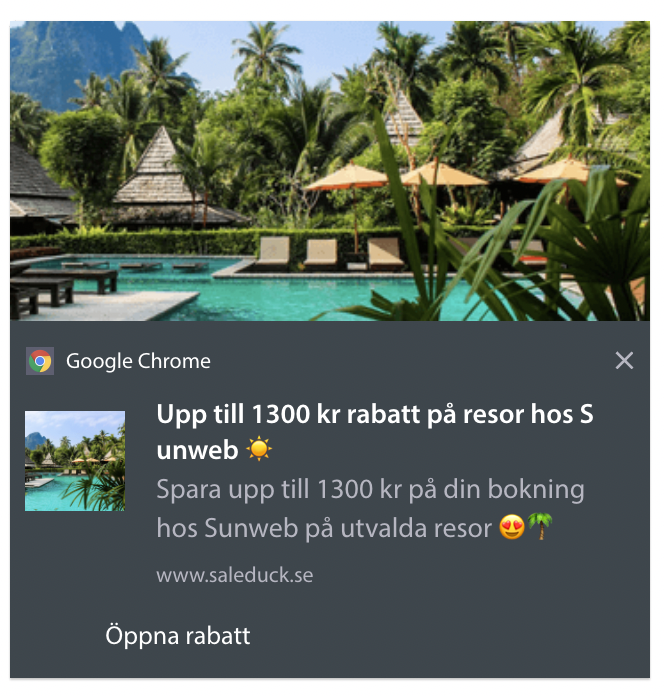 Saleduck implemented all the best practices for push notification campaigns such as:
Using emojis int their push notifications for more views
Testing multiple call-to-action buttons for better click rates
Using attractive images to increase the clickability of the notifications
Saleduck got a lot of sales from their push notification campaigns and a major reason was engagement. Let's talk a little bit more about that next.
Increased Customer Engagement with Browse Abandonment Campaigns
With PushEngage you can re-engage with subscribers easily and get more repeat traffic. One of the most powerful features you get is the Browse Abandonment Campaign.
Saleduck really made the most of their browser abandonment notifications in different verticals such as…
Clothing and lifestyle promotions: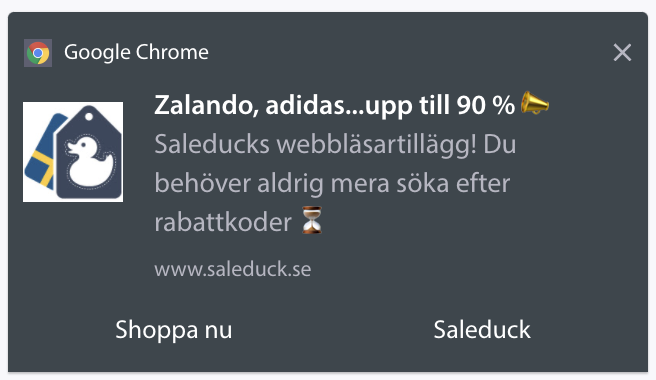 Fashion and trendwear: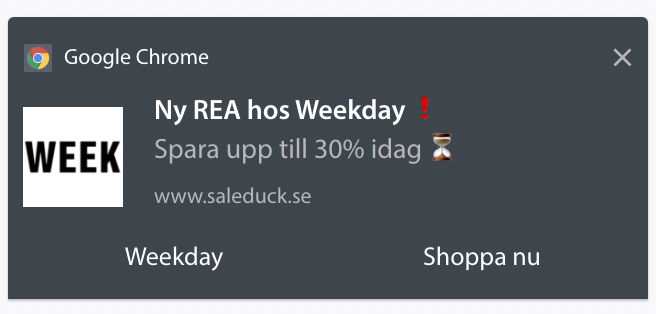 The result was a 7-11% click-through rate for their browse abandonment campaigns. And the best part is that these campaigns are completely automated push notifications!
Cost-Effective Communication Channel
Saleduck found PushEngage's pricing to be way more reasonable than other push notification vendors.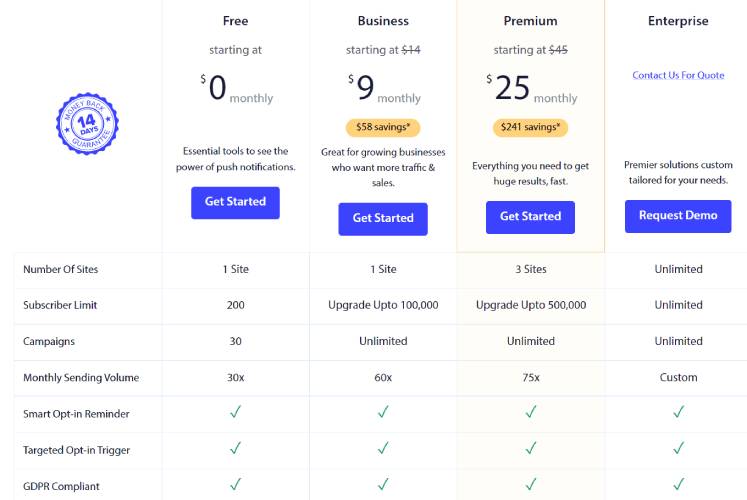 So, it was super easy for them to decide what billing plan they needed. PushEngage offers dynamic pricing based on your subscriber count and the features you need.
The Impact of Using PushEngage
Using PushEngage, Saleduck was able to reach out to customers more efficiently and effectively with their flash sales. Saleduck was able to boost revenue using Cart Abandonment campaigns in a matter of hours.
Saleduck was able to:
Update user instantly
Manage multiple geolocations with a single account
Get 2% of total traffic from push notifications
Plan and schedule push notifications to be sent at the right time
Get 3% of total revenue from push notifications
Send automated push notifications based on user action
Get 400% higher open rates on push notifications than on email marketing
That was the impact of using PushEngage for Saleduck. PushEngage is the #1 push notification software in the world. You can use PushEngage to grow your traffic and engagement with the help of automated campaigns. So, if you'd like to grow your business like Saleduck, get started with PushEngage today!
Engage and Retain Visitors After They've Left Your Website
Increase the value of every web visit with Push Notifications that are hard to miss.
Forever Free Plan
Easy Setup
5 Star Support