Saleduck is an online deal community where consumers come to discover the latest deals, offers, and discount codes. They are active in 13 markets in Europe and Asia operating from Kuala Lumpur.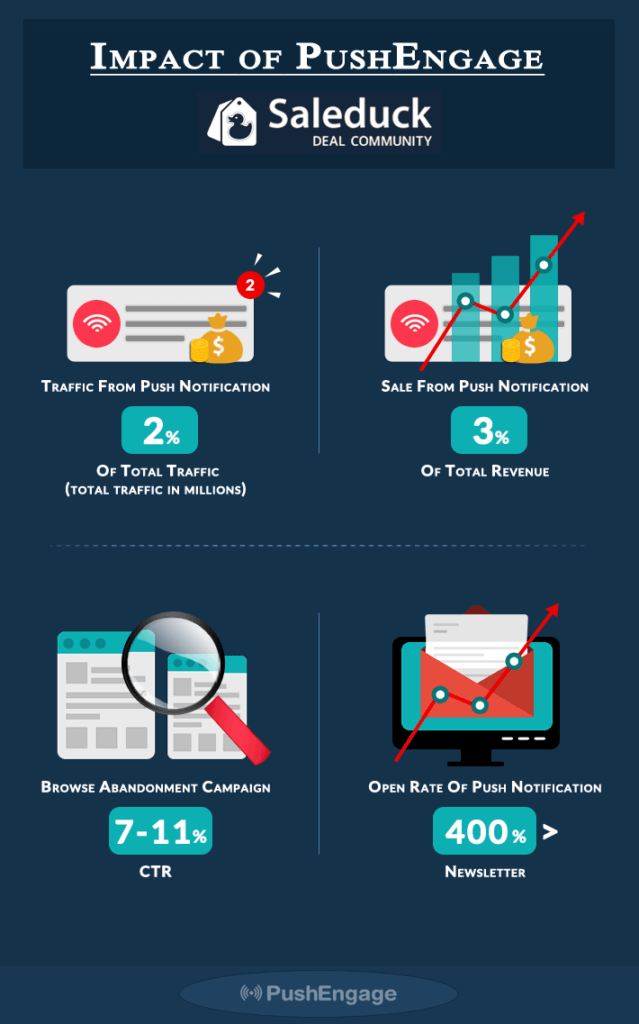 Marketing Challenge
If you are looking for the best deals, Saleduck is the place to go. With presence across Europe and Asia, you will save on your shopping throughout the year. You will find deals on hotels, fashion, flight, restaurant, shoes, electronics, and many more categories.
The business model of Saleduck is mostly performance-based. So they get paid based on the sale generated by the traffic driven by Saleduck.
There are three major challenges:
New sources to drive quality traffic
Increase conversion rate
Increase ROI on marketing activities
How PushEngage Solve the issue?
One of the most important concerns for Saleduck is timing. Most of the deals and discounts at Saleduck are time-bound. So Saleduck needs to update the user at the right time. Using PushEngage, Saleduck was able to:
Update user instantly
Manage multiple geos with a single account
Plan & Schedule push notifications to be sent at the right time
Send automated push notifications based on user action
Impact of PushEngage
For Saleduck, since its performance-driven business model, tracking of the traffic and conversions is very crucial.
Impact on Subscription
In a single click, the user can subscribe to web push notification. This has benefitted a lot to Saleduck and their subscriber has been growing fast to hundreds of thousands.
Impact on Revenue
About 3% of the total revenue is generated through web push notifications.
PushEngage is our best converting paid traffic channels

Domingo Karsten CEO & Co-Founder, Saleduck
Impact on Traffic
The total traffic of Saleduck is in millions. About 2% of this total is from sending out Push Notifications. I believe we can increase this number to 6% in the near future.
The open-rate is about 400% better than sending out newsletters and also the time to create a push notification is far more effective

Domingo Karsten CEO & Co-Founder, Saleduck
Most used Feature
Two features that Saleduck used for promoting their deals are:
Schedule
Saleduck created heatmaps in Google's Data Studio from our click- and conversion data from all of our advertisers. They analyzed the data of the big sales events like 'Black Friday' and 'Single's Day' from last year. And then schedule well-targeted push notifications in advance with the PushEngage Scheduler with just the right timing.
Browse Abandonment
Many times customers just browse the offer and leave. Saleduck used the Browse Abandonment campaign to reach out to those users. It runs in an automated fashion and gave 7% to 11% CTR and good conversions.
Message from Saleduck
Sales events like 'Black Friday' and 'Singles Day' work best because of their urgency. Try not to be always commercial, but also send out some helpful notifications with interesting content. And build up a bigger subscriber list by not sending out at moments when you don't have interesting campaigns to communicate – Domingo Karsten CEO & Co-Founder, Saleduck
What Saleduck have to say about PushEngage?
The overall performance of sending out push notifications with PushEngage has been a pleasant surprise last year

Domingo Karsten CEO & Co-Founder, Saleduck
In Conclusion
New traffic channels like push notifications wouldn't be as effective without the right use of data. Proper tracking of affiliate conversion data into online marketing tools has been an issue for affiliate marketers for a long time. With our technology partner WeCanTrack, we have solved this issue.
By tracking the exact ROI of PushEngage campaigns Saleduck has shared some important insights:
Don't send out any notifications that are NSFW (not suitable for work) like underwear or gaming, this will lead to many unsubscribe.
Always schedule the campaign for the right day and time.
Very limited time offers are working best.
Make use of all notification creation functionalities to increase CTR.