Travelling to new places is just a click away. Log on to any travel website to book flight/hotel/taxi to your favourite destinations. You can compare different prices and book as per your choice. With so many travel websites coming on the board, the travel space has become very competitive. Websites are trying out different ways to keep the customer engaged to their website. One of the ways to keep the customer engaged is through web push notification. It allows you to instantly update travellers about their flight information, hotel information and other items. To generate more revenue and traffic, use the web push playbook for a travel site. You can track your revenue using goal tracking in the push notification. This playbook has strategies exclusively for a travel website. It gives you campaign ideas on how to increase booking, keeping the traveller engaged and also on updating them about their destination. With this playbook, you can easily create and execute web push campaign that can easily boost your revenue and customer engagement rate.
Below is the list of web push playbook for a travel website.
Conversion Playbook
Right Opt-In
Why should the user subscribe to your opt-in? If you show the answer in the subscription opt-in, chances of the user subscribing increases. Single-step opt-in gives far better subscription rate as compared to multi-step. And if you share the right messaging the web push subscription rate will increase further. The higher number of subscriber leads to a higher percentage of conversions.
You can show the message using the Overlay Section. Below is an example of using the overlay: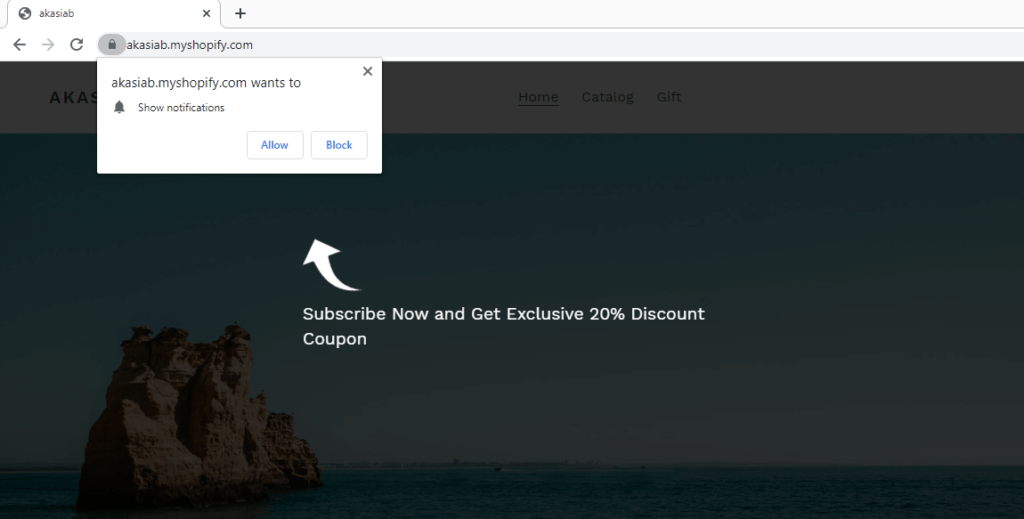 Flash Sale
One of the ways to increase conversions is running a flash sale. This type of sale is time-bound and you want to instantly update user about the same. The best way to get the maximum mileage of your flash sale on travel booking is by using web push.
Push Notifications are instantly delivered to the user on their browser and are hard to miss. If you write a good push notification copy and add image, chances of success for the flash sale campaign is high. Another thing when running any flash sale is to put an expiry. If any customer comes online after the flash sale, he will not receive the flash sale push notification.
One important thing to remember when promoting a flash sale or any offer. Exclude those who had already booked. The reason being if the price during the sale is lower than what they had paid, they may not be happy with it.
Below is a sample flash sale notification of a travel website:

Browse and Cart
One of the most converting playbooks for travel site is the triggered campaigns. These campaigns activate automatically based on the trigger. Two of the most common trigger campaigns are Cart Abandonment and Browse Abandonment campaign.
Similar to an e-commerce website, travel website also faces a loss of revenue due to cart and browse abandonment.
Sometimes people go to the final booking page and leave without booking. Using cart abandonment campaign you can easily target cart abandonment users by sending them a series of push notification.

Many times people search for flight or hotel and leave without taking a single action. They browse and leave. Such a scenario is common and can be tackled using the browse abandonment campaign.

Price Drop Alert
Another performing web push notification playbook for travel site is the price drop alert. Most of the travel plan includes flight booking, hotel booking, cab booking and more. It all becomes expensive and so people usually book in advance. Customers love to save every penny they can on booking.
Consider a case where the user has searched for flight and hotel on the travel website but didn't book and left. After a couple of days, the price dropped. You can instantly update the user about the price drop of their recent search. Since the user is already interested, the chances of completing the booking are high.
With proper planning, price drop alert can easily become one of your most converting campaigns. Below is a sample price drop alert: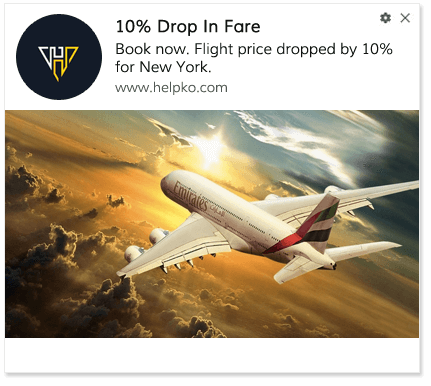 Cross-Sell
Similar to e-commerce, travel websites can also run cross-sell campaign. Based on the travel booking, segment your subscribers. Now, create campaigns which are similar or complementary to their travel plans and promote the same.
If a customer had booked for a beach destination, promote some other beach destinations using web push. Similarly, if the customer had booked for trekking destinations, share some new trekking packages with them for their next vacation plan.
Make sure to cross-sell during the same timing when they had last booked. For e.g., if the customer had booked their last travel plan during June and October last year, then send web push during the same time. Those may be their vacation times and it can increase your conversion rate.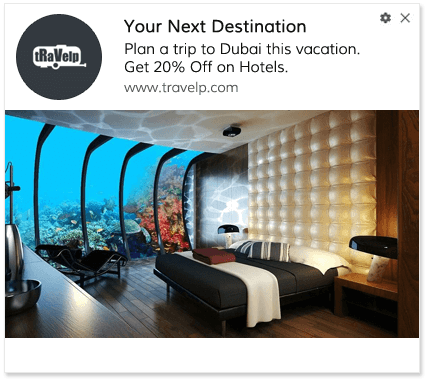 Engagement Playbook
On-Boarding
This gives you the 1st opportunity to re-engage subscribers. A new subscriber may not know much about your website. It is time for you to nurture your new subscriber. Educate your subscriber about your brand, offerings, reviews and share interesting articles related to travel.
As a travel website, you may be offering bookings for flight, hotel, guide, cabs. Update customer about all your services. Moreover, share a discount code with them as a welcome gesture. This will surely go a long way in making loyal customers.
Using the drip feature, create onboarding campaigns. Make a series of push notifications to be sent at regular intervals. This will slowly create a brand presence on the customer's mind. Below is an example of an onboarding campaign for a travel website.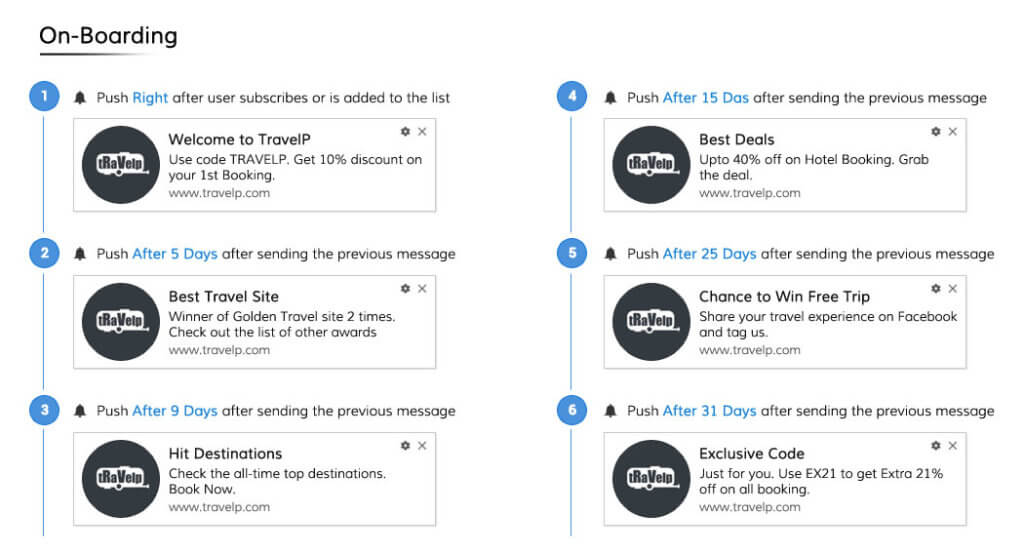 Seasonal Destination
To promote your website, you can create travel destinations and post articles about that. You can create articles on seasonal destinations, family destinations, kid's destination and more. This way you can keep the user engaged throughout the year.
Update your subscribers about the same using web push. Using the segmentation feature, you can segment your subscribers based on their interest and travel history. You can then engage them with relevant articles on travel destinations. Create a series of web push notification using drip feature. It will automatically send web push to the subscribers at regular intervals and keep them engaged for the entire season.
Status Update
Users book for flight/hotel and other services at your travel site. Update the user on the about their booking. For e.g you can update user about the timing of their flight and other necessary information. Keep user engaged and create trust by ensuring customer do not miss their bookings.
Using the trigger feature, you can update users about their upcoming travel. Below is sample status update push notification:

Event updates and plan
Every year there are events happening across the world. As a travel website, you must be keeping a tab on these. Share information with your customer. You can even send a create a complete plan and share with the customer to keep them engaged.
Below is a sample web push on event updates: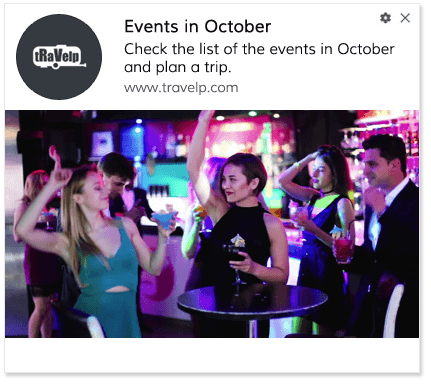 The above web push notification playbook for travel site can be used to create multiple campaigns. If you are finding difficult in identifying the scenarios, this playbook can be your guide to implement push notification campaigns successfully.