Web Push Notifications are a new market channel that has shown promising results in a short span. We had earlier discussed how Push Notifications are beneficial as compared to emails and is now being used extensively by marketers. They can drive more customer engagement and can boost added interactivity. Recently Chrome announced launching the Rich Notifications or Notifications with Large banner size images as part of Chrome 59+
And if you are sending rich push notifications, you are likely to get more benefits including an increase in CTR (Click Through Rate), ROI, and customer retention. According to the source, push notifications with the images via a mobile app could generate as much as 56% higher CTR. Hence, we studied the impact of the same in browser push notifications, using an impact on Click-through Rate. Click-Through Rate is defined as Clicks/Views of the Web Push Notification.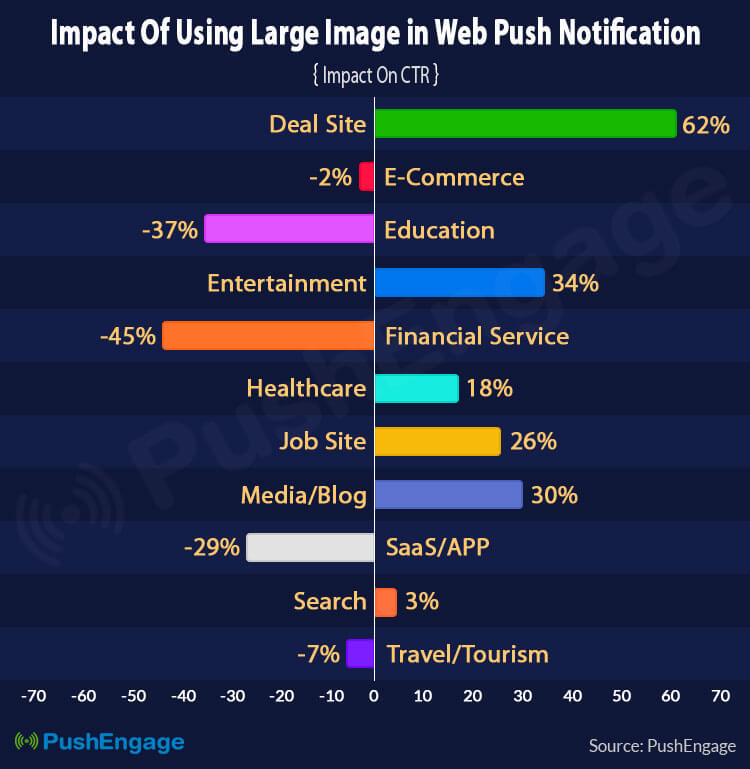 Our data team analyzed the results for the impact of the large image/rich push notification in Web Push Notifications, and the results show that web push notifications with large images can generate as much as 62% higher CTR.
At PushEngage, a user can add Large Images in Web Push Notifications (Size: 364X180 px) to stand out and increase Click Rates. The results are very much promising to drive in better Conversion Rate and Customer Engagement. This article throws light to the fact-driven data which clearly states how powerful large images can be in getting you better conversions.
We studied and analyzed the impact of using Large Images in Web Push Notifications industry-wise. Now, let us take a deeper look to know the impact of sending a Large Image Web Push Notification Industry Wise.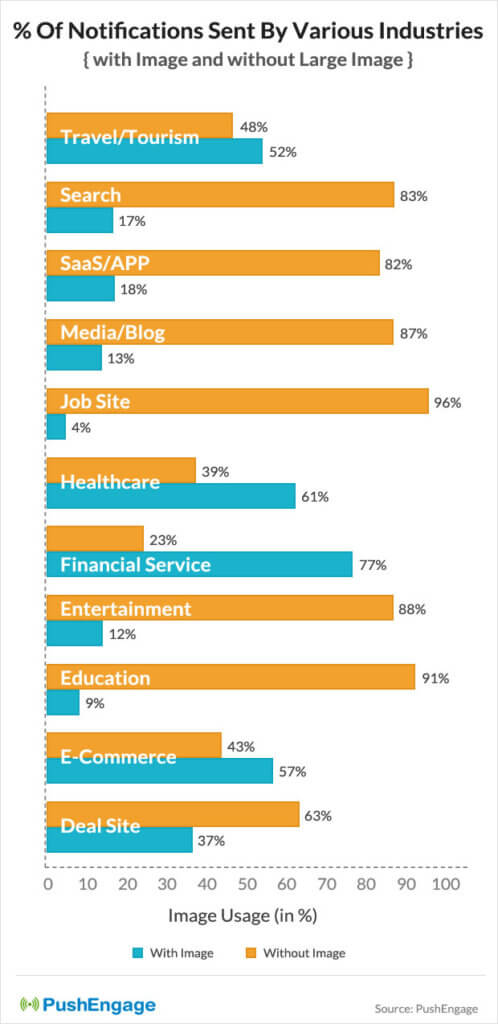 Major Findings on the Impact of Large Image in Web Push Notifications Industry Wise
Deal Sites derive Highest Conversion Rate using Large Image Push Notification.
Push Notifications with large images are being used in surplus by deal sites. Our analytics data shows that there has been an increase of 62% in CTR after they used large images in the web push notifications sent.
Entertainment Sites witnessed a 34% increase in average CTR using Large Images.
With Large Image, the click count and view count increased for this industry. A simple plain message does not force any user to click a link to watch a movie. But, a link with a large image of the movie poster will definitely make you click and book tickets to watch the film even if you had never planned for it. This is the power of adding a large image to your notification.
Success rate for Healthcare Sites is more using Large Image Web Push Notification
The Healthcare industry uses push notifications extensively to alert its users to new medicine, new offers for any medicine, etc. And, the notifications that were sent with large images showed a little more impact and got through higher CTR. Push notifications with a large image denoted an 18% increase in CTR on an average.
Success of using Large Image in Web Push Notification depends industry wise
The effect of large image and the resultant conversion in Web Push Notifications do depend on the kind of industry as well. The statistics for Financial Industry depicts this fact to a very great extent. It is derived that the push notifications without a large image work far better than a notification with a large image for this industry. But, for the deal site, it is vice versa. It showed a 62% increase in CTR.
E-Commerce Industry has room to reap more
The eCommerce industry is the top user when it comes to push notification usage. But, it did not show much impact on the messages that were sent with large images. In fact, the average CTR for the push notifications sent with a large image showed an -2% drop.
Job Sites too uses Large Image Web push Notifications extensively
Job Sites are also one of the prime industries that use push notifications on a large basis. The impact of the large image is much higher here. We could figure out an increase of 26% on average CTR with large images.
There is no ambiguity on the fact that Web Push Notifications are widely used by the online industry. If you are wondering which online industry is using Web Push Notifications extensively, it is E-commerce. Here is a deeper insight into the facts drawn from our data analysis.
We also did a study within these industries to see what percentage of web push notifications each industry sends with images and without images. Some industries send only less push notifications, but among the ones sent, the maximum notifications are with images.
Key Findings: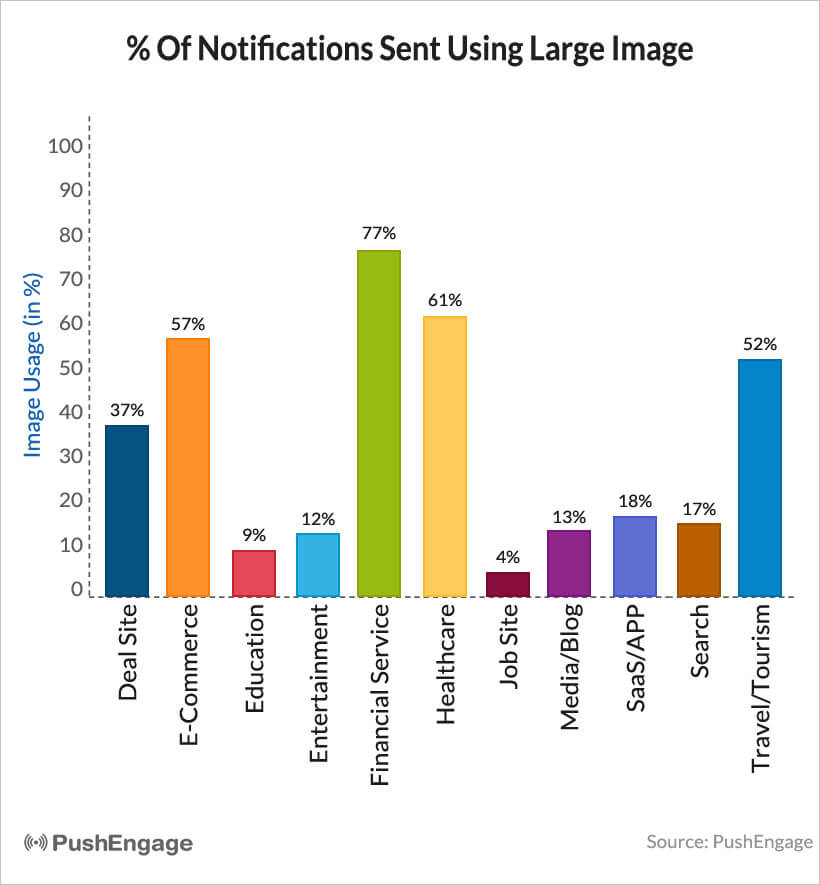 Financial Services send maximum notifications with images
Though Financial Industry sends only 0.87% Large Image Web Push Notifications compared to other industries, 77% of those notifications are with images! The travel industry sends only 0.14% Web Push Notifications with images industry-wise but 52% of those notifications sent are with images.
Job Sites send least notifications with images
Analyzing the data drawn, it was seen that Job Sites sends only 0.34% of notifications among the industries and of them only 4% are having images. They send the least notifications with images followed by the Education industry.
Conclusion
After analyzing the data results, we can sum up the impact and usage of the large image or rich push notifications in web push based on certain facts:.
Success Rate Varies with Industry Type: It is found that Deal Sites send only 37% of their notifications with large images but reaps the highest when it comes to CTR (62%). The healthcare industry sends large image notifications more and reaping success. So, it doesn't matter how many notifications you send with large images, the result is dependent on which industry you are from.
Do not send Large Image Web Push Notifications, Always: Industry-wise, Ecommerce sites send the majority of their notifications with Large images. But, we see that they derive a -2% when it comes to click rate. Entertainment sites send it comparatively in less with images and derive a 34% increase on average CTR.
Finance Industry sends the highest number of notifications with large images: It is the Finance industry that uses large image web push notifications in surplus. They send 77% of their notifications using large images.
Job Sites sends the least large image notifications: Job Sites sends only 4% of their notifications with large images and still gets 26% increase in CTR. So, they still have room for improvement.
Usage of the large image in web push notifications can boost more customer engagement and as a resultant, you can drive more CTR. Make sure all of your notifications are not having large images as it might look forceful.
Source
PushEngage is one of the leading web push notification providers. We have collected data for this study after surveying our own customers and tracking our product usages across 6000+ websites in more than 125 countries.