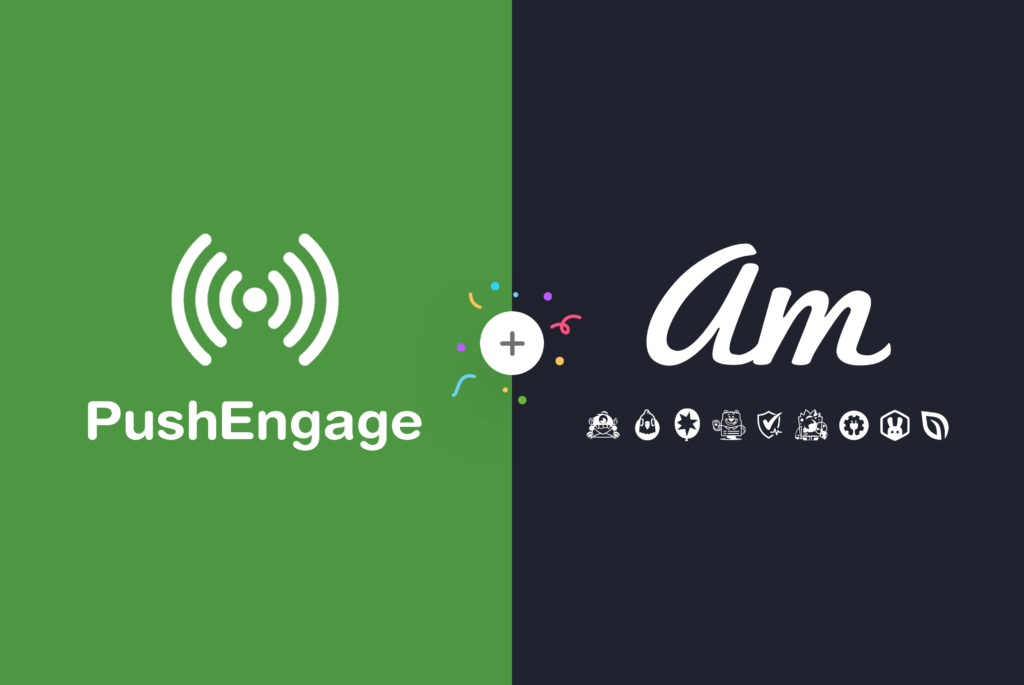 Today, I'm excited to share that PushEngage is joining the Awesome Motive team led by Syed Balkhi.

I created PushEngage in 2016 with a mission to help business owners leverage the power of push notifications to grow their website traffic and sales.
Since then, PushEngage has become one of the leading push notification software with over 10,000+ customers in 150+ countries who trust our platform to reliably send over 9 billion notifications each month.
It's been an amazing journey thus far, and I'm extremely thankful for the loyalty and support of the PushEngage community.
With Awesome Motive's vast resources and deep understanding of the marketing industry, I know we'll be able to bring even more powerful solutions to the PushEngage platform.
Since this is a BIG NEWS, you probably have a lot of questions like: who is Awesome Motive, what does this acquisition mean for existing customers, what will happen to the PushEngage team, what's coming next, etc.
Our Future with Awesome Motive
Awesome Motive is the management company behind some of the most popular website tools & marketing software powering over 15 million websites.
The company is led by Syed Balkhi, a well-respected entrepreneur and mastermind behind many of the popular brands that you likely know such as:
WPBeginner – the largest free WordPress resource site for beginners.
OptinMonster – popular conversion optimization software that helps you convert abandoning visitors into subscribers and customers.
WPForms – the most beginner-friendly WordPress form builder.
MonsterInsights – the most popular WordPress Analytics plugin that helps you grow your business with confidence.
WP Mail SMTP – the #1 plugin that helps improve your WordPress email deliverability.
SeedProd – the best landing page builder for WordPress.
RafflePress – powerful WordPress giveaway and contest plugin to grow your website traffic.
Smash Balloon – the most popular social feeds aggregator for WordPress.
… and many more.
I have known Syed for multiple years and have a lot of respect for his marketing skills, and what he's built at Awesome Motive.
We first started talking about joining forces a few years back, in the early days of PushEngage. In our initial conversations, one thing became very clear: we share a similar commitment to excellence, customers, and team.
Aside from the shared commitment, our products had a lot of synergy.
Since then we've followed each other, and finally the timing was right for both of us.
I'm super excited to see how far we can take PushEngage with Syed's vision and leadership.
What Does this Mean for PushEngage Customers?
We made a commitment to be there for your business, so you can have a reliable push notification software that you can count on, and we're sticking to it.
PushEngage will continue to operate independently under the Awesome Motive umbrella, similar to their other brands.
We'll continue to provide the same level of support that you've come to expect with PushEngage.
However, now with even more resources from Awesome Motive, we'll be able to innovate faster and bring more powerful features to help you grow your business.
What will happen to the PushEngage team?
The entire team is joining Awesome Motive, and I'll continue to lead the company through the transition phase along with Awesome Motive CEO, Syed Balkhi.
As I mentioned, this acquisition means that we'll have access to the vast resources from Awesome Motive, so we will be hiring and growing the PushEngage team.
This will help us further improve and bring more powerful solutions your way (faster).
What's Coming Next?
Our work is just starting.

We will be leveraging the scale and knowledge of the Awesome Motive team to build more innovative solutions to help you maximize the full power of push notifications.
As part of this, we'll build deeper integration with other Awesome Motive products, and popular platforms like WordPress, WooCommerce, Shopify, MemberPress, and other platforms.
In the coming months, you can expect to see easier workflows to set up highly personalized push notifications campaigns that have proven to drive results, improved opt-in technology that'll help you get even more subscribers, and introduction of new message channels that you can use to expand your reach.
We have a lot to cover, but we're up for the challenge. We have an exciting 12-month roadmap, and I know you're going to love it.
Thank You
This is a huge milestone for our team because it means we'll be able to continue our mission of helping small and big businesses leverage the power of push notifications to boost user engagement and grow their business, with an even greater impact.
I want to thank everyone who has supported us on this journey, and we're excited to take this next step with you!
Ravi Trivedi
Founder of PushEngage