Any business opts for numerous ways to promote their brand or product. As a result, our inboxes get filled with too many newsletters, notifications, text messages, and our mobiles with certain apps. But these do not get noticed many times and people might miss them due to their email filtration, or blindness to notifications. But, you can crack this with Browser Push Notifications which are silent though but are very much engaging and effective.
Web Push Notifications work excellent on both web and mobile browsers and if you can use them the right way by sending the right messages, it can become the most powerful tool for user engagement and conversion. Here are a few best practices to send push notification messages that really works.
Ensure you follow 3C's – Clear Crisp Content
Push Notification messages have a character limit and so it is essential to convey your message with a clear, crisp content that makes your user understand it easily. We provide you with these limits in the PushEngage sending screen. We have used the lower of the limit used for Mobile Browsers and Desktop browsers so that when you send it will appear fine in any kind of device type.
Only proper communication helps to get you more subscribers and for that, you need to send the right content so that your users need not break their heads to understand the message. Usage of certain words like 'Claim it', 'Grab Now', that denotes an immediate call to action really work to increase the click rates.
Review & Preview your message before sending
A complete review of the message is essential to check for any major or minor mistakes that can ruin your credibility. Messages appear differently on web and mobile and so it is also advised to send a preview to have a check on how the message appears. These checks help your message become impressive and accurate.
PushEngage has both a message preview and a unique feature of Test Send to yourself. Use that to see how the message will be delivered to your end customer. This is present in the New Notifications creation section.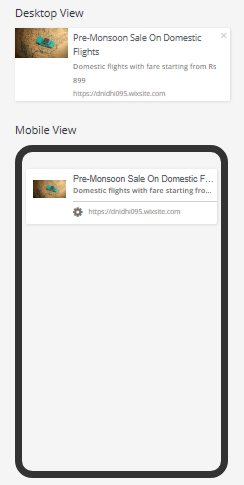 Right Way To Show Opt-In
An opt-in window is the first breakthrough that makes a visitor your subscriber. And then, it becomes essential to retaining them. Follow these steps to ensure that you do not miss out any subscribers:
Be Transparent: It is essential to be transparent with your users. Make sure that your opt-in window conveys what a user receives from your push notification. Also, make it easy for them to opt-out from the notification if they wish to do so. This makes you look genuine to them.
Right Timing and Placing: It might irritate any user to get a pop-up the moment they come to your page. Ensure you have added some delay which is available as an option in PushEngage configuration, or alternatively places the opt-in timely and place it rightly. You have two ways to delay to opt-in display – based on time & based on time spent. Select the one which gives you better results.
Choose your dialog box time wisely, as it can impact your subscription rate. The default values we provide you with for HTTPs and HTTP. HTTPs sites usually perform well as they can enable the single-step opt-in which offers the highest subscription rate. You can follow the guide on the subscription rate to increase your subscriber count. Get in touch with our support team and email us at care@pushengage.com and discuss with them what might be the best opt-in for your website.
Right Segmentation of Audience
Before sending a push notification, it is essential to make sure that you have targeted the right audience. Segment your audience on the basis of their interests and send messages accordingly. We have over 4 ways of segmenting the customers in PushEngage so use them wisely. This will increase the engagement as the users get what interests them. So sent only relevant notifications to your subscribers or else you will lose them. Be smart to identify the art of letting the users get engaged with what you send them.
Schedule your notifications
You can relax a bit with your push notifications by scheduling them. We offer recurring scheduling options as well. Also, set an expiry date for notifications if it is a limited time offer so that your user does not get a notification that has already expired!