If you have a blog or content site on WordPress or have a site with RSS feed, you can manage your Browser Push Notifications in a completely automated manner using PushEngage. You can read more details on How Browser Push Notifications can Help Bloggers to get up to 30% Extra traffic.
Here are the 4 ways to automate your Web Push Notifications with PushEngage
WordPress Plugin
If you have a WordPress, then the easiest option for you is to use our WordPress Plugin available here. For installation, search for PushEngage in New Plugin or download and upload from WordPress.
Installation
To go live with PushEngage, you need to only add your API key to the WordPress Plugin. PushEngage WordPress Plugin Installation is easy, and once you add the API key, which you can get from your PushEngage Dashboard, the code for going live with PushEngage is automatically added to your website.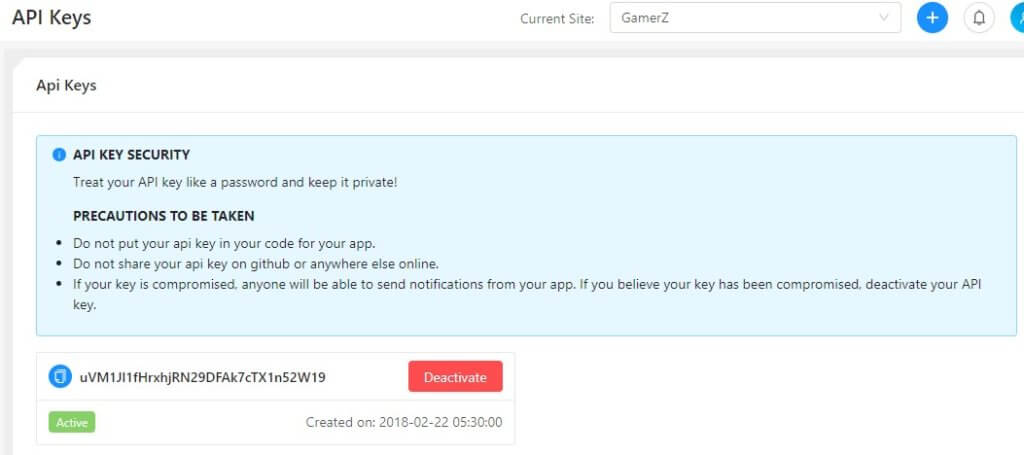 Going Live
Check this video on How To Install PushEngage on HTTP site based on WordPress.
HTTPS Site – If you are an HTTPS site hosted on WordPress, you need to add 2 more files to your root folder. Download these files from Settings -> Installation Settings to go live
You can also check this video on How To Install PushEngage In HTTPS WordPress Site.
You are now live with automated push notifications, and by default, each of your posts in WordPress has a checkbox for sending a Push Notification. If you uncheck this box then the notification would not be sent out
RSS Feed
To enable RSS Feed Automation, make sure you first select your time zone correctly in the Profile section in Settings.
Then go to RSS Auto Push, and enable it, and configure the URL to RSS Feed. From Dashboard go to Automation > RSS Autopush Example Feed URL for PushEngage is https://www.pushengage.com/feed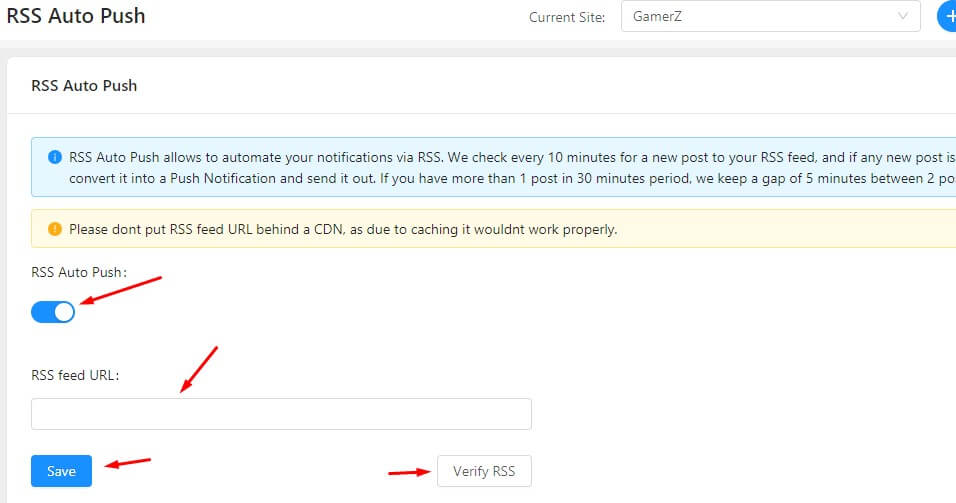 That is it, now sit back and relax and see your traffic increase as more visitors come back to read your blog posts.
Using PushEngage
API We provide an extensive REST API for you to send notifications using that. You can schedule notifications, send it to a single subscriber, send it to a single segment, etc. The API allows you to make drip campaigns, and run any other automated campaigns using push subscribers. Here is the link to the API docs for you to check them.
Use Autoresponders for Web Push Notifications
We also support automatically scheduled series of Push notifications sent to all customers or a segment. To enable that, read our detailed post on Drip Campaigns with Web Push here.
PushEngage is now fully compatible with AMP pages. If you have AMP pages, start using PushEngage for sending push notifications. You can also send free push notification service of PushEngage under free forever plan. Get started with Web Push Notification and re-engage with your visitors.