Are you looking for the best WordPress calendar plugin for your site?
WordPress calendar plugins come with a variety of different features. Some of them are meant to simply display events on your site while others can be used for ticketing, booking, and scheduling events.
So, which WordPress calendar plugin should you choose?
In this article, we're going to give you a list of the best calendar plugins for WordPress and help you choose the right one for your business.
Sounds good? Let's dive in.
The Benefits of Using a WordPress Calendar Plugin
Events are a great way to engage your website traffic and build a community around your business. And having a public calendar to show off your events is great for engagement. The only problem is, you need a plugin to do it because WordPress can be pretty limited in that aspect by default.
Then, there's the matter of advanced features. You can use a WordPress calendar plugin to accept and schedule bookings, sell tickets to events, and integrate with your Google Calendar for easy management.
Once your calendar is set up, it's also super easy to promote certain events with a few clicks. You could send out an email invite or broadcast a push notification to get subscribers to sign up for your events.
But how do you actually choose a plugin? How do you know what's right for you?
How to Choose a WordPress Calendar Plugin
You'll need to choose a WordPress calendar plugin based on the features you need. In most cases, you'll want a plugin that has:
Easy-to-use options for adding, removing, or editing events
Built-in booking and scheduling capabilities
Compatibility with popular WordPress themes and plugins
Great community reviews
Frequent updates from the original developers
Display customizations to stay on-brand
Mobile-friendly design options
Powerful integrations with marketing plugins and other software
But more importantly, this is a good time to think about what features you want from your WordPress calendar plugin.
7 Best WordPress Calendar Plugins
We've made a list of the very best calendar plugins there are. And we've limited it to 7 plugins so that it's easy for you to make a decision about which one you need. Check out what these plugins can do for you. At the very end of this article, we've dropped our favorite WordPress calendar plugin as well.
So, keep reading!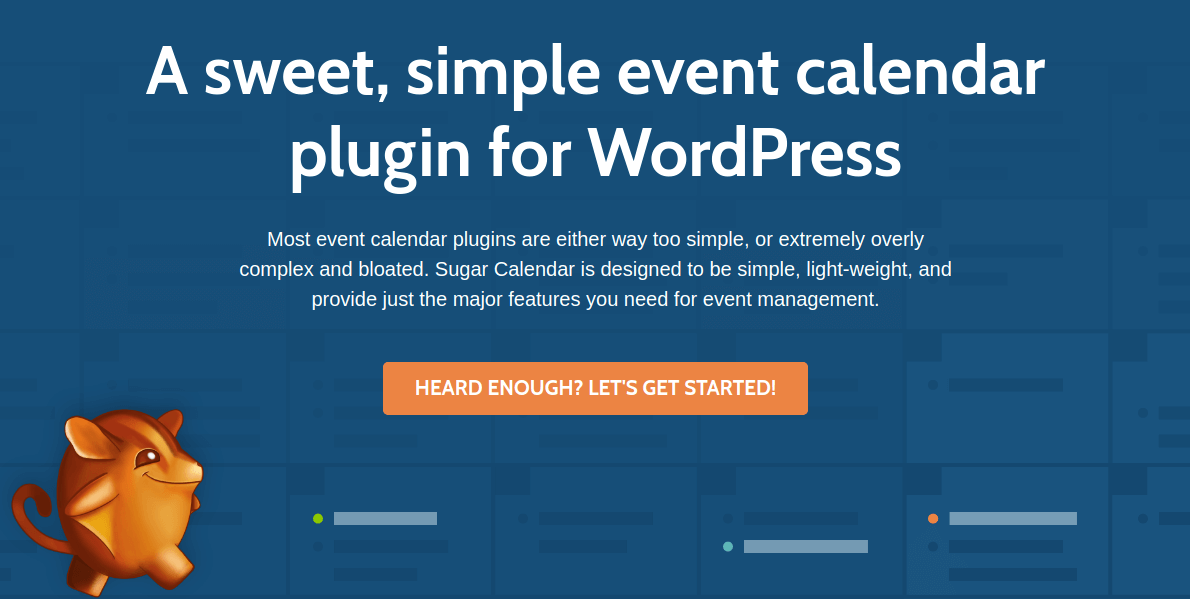 Sugar Calendar is the best WordPress calendar plugin you'll find. It's lightweight and easy to use but also has a ton of powerful features. Sugar Calendar starts you off with all the essential features of any WordPress calendar plugin. But if you need even more features, you can always get more add-ons to extend the functionality.
Popular features include:
Calendar events
Start and end times for meetings and appointments
Event time zones
Integration with Google calendar
And more! Sugar Calendar also has a powerful add-on for event ticketing that allows you to sell tickets, manage attendee records, and easily integrate with Stripe to collect payments.
If you're running a membership site, you can also use Sugar Calendar to set up event submission forms. And of course, the plugin also integrates seamlessly with other WordPress plugins and marketing platforms such as WooCommerce, WPForms, Gravity Forms, Google Calendar, and more.
Get started with Sugar Calendar today!

WooCommerce Bookings and Appointments is a great option if you're running a WooCommerce site. The plugin is an end-to-end solution for bookings and appointments for any kind of business. You can turn any WooCommerce product into a bookable asset in a matter of seconds.
This is an epic way to run rental businesses and ticket-based businesses alike.
This plugin also offers a ton of booking availability settings and options. If you aren't available for bookings on certain days or specific hours, you can block them out.
Popular features include:
Email notifications for new bookings, cancellations, and confirmations
Option to set prices on a per-person basis
Ability to charge customers according to extra resources they choose during booking
Integration with Google Calendar
Dedicated bookings management section
Unlimited number of bookings with no monthly subscriptions
Team and staff availability management
Per-night accommodation booking
Dedicated notes section for customers to enter additional information
Time Zone conversion based on the client's location
Calendar color customization
Multiple language support
If you take a look at their reviews, you'll realize how great their plugin is.
Get started with WooCommerce Bookings and Appointments today!

The Events Calendar is a powerful event management system for your WordPress site. It's also a feature-rich plugin with a neat user interface that's super easy to use.
The Events Calendar also allows you to integrate Google Maps for location-based offline events. This is a really cool feature that other plugins out there don't offer. It's super effective for selling tickets and managing multiple events. So, if you're running an event management business, The Events Calendar plugin is going to be a great investment.
And if you want to sell tickets to your events, you can use a paid add-on to sell tickets using Eventbrite, WooCommerce, and more.
Popular features include:
Recurring events
Geolocation-based events calendar
Location-based event searching
Event filters
RSVPs, ticketing, and attendee reports
Sharable search URLs
Responsive design options
Virtual and hybrid events
Zoom integration
Livestream embed
Link to livestream
And more!
Get started with The Events Calendar!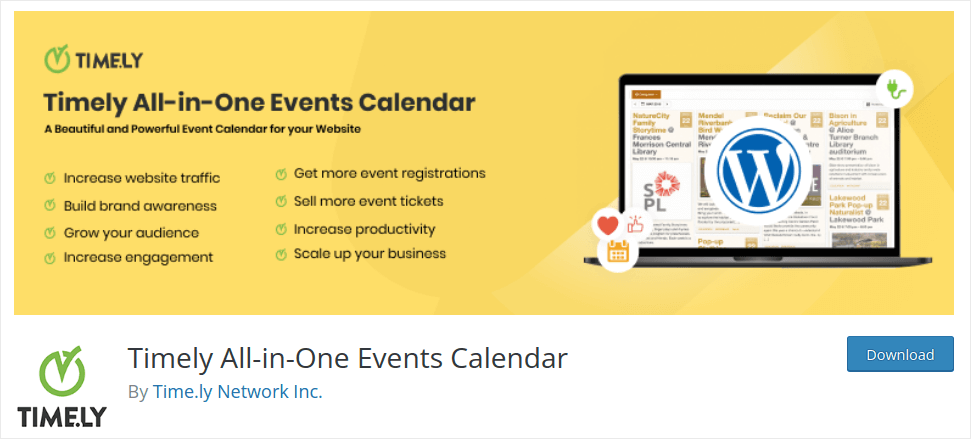 All-in-One Events Calendar is a beginner-friendly event management plugin.
It's easy to add events and sort them into categories and tags. And it's easy to customize the look for your calendar as you can choose between three pre-built themes.
All-in-One Events Calendar allows you to add events from any other calendar that supports iCal format, including Google Calendar. It doesn't have ticket selling integrations, but you can add links to third-party ticketing services. Or, you can buy their paid add-ons to get RSVP and ticketing features.
Popular features include:
Multilingual support
Customizable design to match your branding
Google Maps integration to show event locations
Event search and filtering
Allowing visitors to follow your calendar
RSVPs and ticket sales
And more!
Get started with All-in-One Events Calendar today!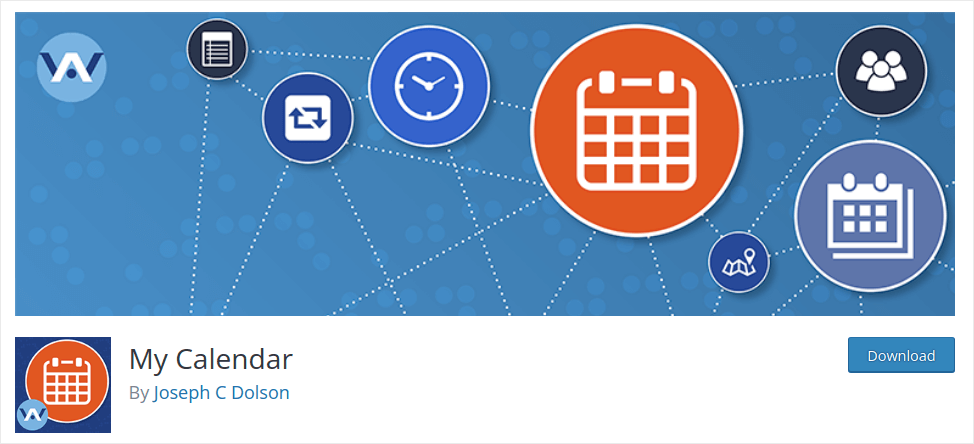 My Calendar is a free, but powerful WordPress calendar plugin.
The plugin supports multiple calendars for easy event management and allows you to categorize your events with tags. It's also super easy to customize and you can embed your calendars in multiple ways. If you're comfortable with coding, there's a style editor to upload custom CSS. It also supports Google Map locations on a single event page and an event popup.
Popular features include:
Daily, weekly, and monthly calendar views
Mini-calendar for compact displays
Rich permission settings to restrict access to parts of My Calendar
Post to Twitter when events are created
REST API support for sharing events between multiple sites
Built-in Shortcode Generator
And so much more.
Get started with My Calendar today!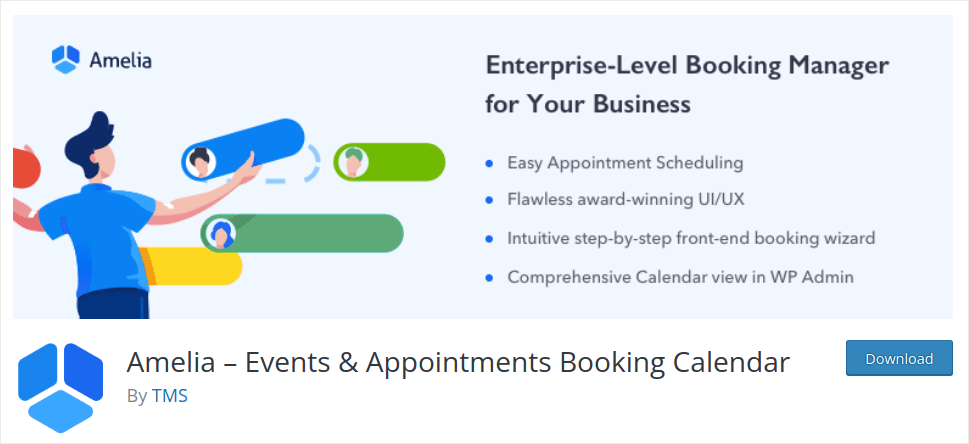 Amelia Booking is a super high-end appointment scheduling plugin. You get a free Lite version for event and appointment booking. But if you're looking to sell tickets, you'll have to upgrade to their paid version.
Amelia has a really great design and is super easy to set up and use. That besides, their designs are responsive and feel high-end.
Popular features include:
Advanced E-mail and SMS notifications support
Native WooCommerce integration
Flexible schedule configuration
A convenient dashboard to track your business KPIs
Easily embeddable Event booking forms using shortcodes
And more.
Get started with Amelia Booking today!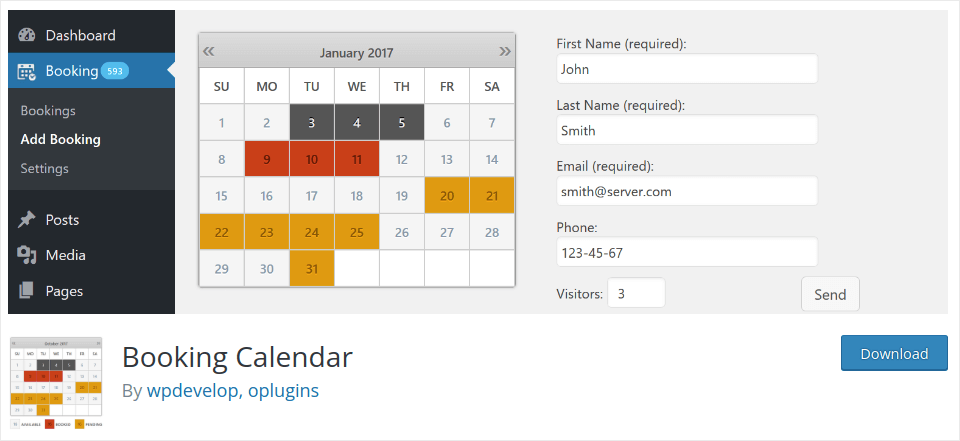 Booking Calendar isn't the prettiest WordPress calendar plugin under the sun, but it gets the job done. Booking Calendar is one of the oldest plugins for event management. It allows you to add a calendar to your website where visitors can fill out a simple form to submit a booking request.
You can run any kind of booking service pretty easily with this plugin. But if you want to create custom fields for your booking forms, you'll need to upgrade to their paid version.
Popular features include:
Booking data storage in your WordPress database
Flexible functionality and settings that are suited for a wide range of businesses
Easy installation and setup
Quick import of your Google Calendar events to your booking admin panel
CAPTCHA support to reduce spam
Besides, you get multi-lingual support and easy integrations with a bunch of marketing tools. So, Booking Calendar's a pretty solid WordPress calendar plugin.
Get started with Booking Calendar today!
Which of These WordPress Calendar Plugins Is Best for You?
That's all for this one, folks!
We recommend using Sugar Calendar to manage your events and tickets. Penny for a penny, you get the best features you could ever need for any WordPress calendar plugin without any of the bloated code.
Managing your events doesn't have to be complicated. And promoting your events doesn't have to be a struggle either. Start using push notifications to instantly inform your subscribers about your events and get them to buy your tickets on autopilot.
Take a look at these awesome resources and you'll know what we mean:
And if you're just starting out with push notifications, we recommend using PushEngage. PushEngage is the #1 push notification software in the world. So, your campaigns will be in safe hands.