Hello, Engagelings!
We have some killer updates, and you definitely want to read this article. Here's a sneak peek at what we just launched this month:
Enabling Multiple Optins
Large Safari-Style Optin with Segments
Filter and Sort
3D Secure Payments
ACH Payments (for US customers only)
These are some super-exciting updates that will help you boost your traffic and conversions even while you sleep. And of course, we also introduced some features to make PushEngage easier to use.
If you read the announcement all the way through, we also have a nice little surprise for you.
We're confident that once you understand what these features are, you'll be just as excited as we are. So, let's just dive right in and explore these epic updates.
Updates that Drive More Conversions
1. Enabling Multiple Optins
You can now enable multiple push notification optins on the same page. The biggest problem with push notification optins is that they show up way too fast for your visitors to have a reason to subscribe to your notifications.
One way to deal with this issue is to delay the popup modal from showing up. But if you set a delay that's too long, it's very likely that your visitors will simply click away to another page without ever seeing the optin.
So, to help you deal with low subscription rates, we now have multiple push notification optins available. Check out this article on how to style your push notification optins to create as many optins as you like.
Then, set delays in between the popups so that they don't all appear at the same time.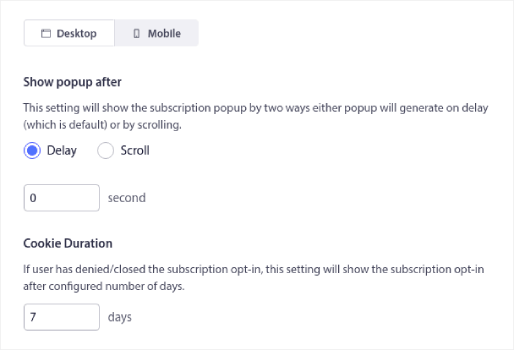 The cool part about creating multiple optins is that you can recover lost subscriptions pretty easily. Let's say that your first popup modal appears too early for your visitors to see the value in your push notifications. A little while later, you can show them a different popup modal to try and get them to subscribe.
And that's not the only way to use this feature. You can also use the Opt-in Subscription Rules to display different optins for different URLs or different ones for different countries.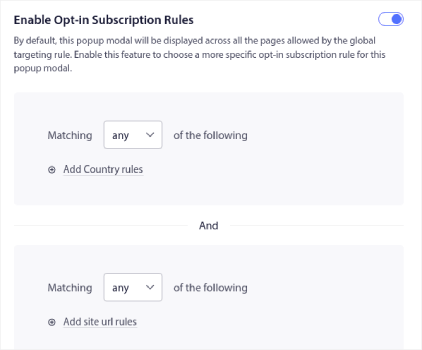 So, if you want to create separate optins for English and German-speaking audiences, you can do that by adding a country targeting rule. Also, if you want different optins for different services and offerings, you can add URL targeting rules to show specific popups on specific URLs.
Pro Tip: While creating multiple push notification optins, don't forget that push notification best practices still apply to all of them.
2. Large Safari-Style Optin with Segments
We didn't just create an optin for you to create multiple push notification optins. You also have a new type of push notification optin in your PushEngage dashboard.
The Large Safari-Style Optin with Segments is exactly what it sounds like. You can show a Large Safari-Style push notification optin. But this time, you can give your visitors options to select what they want notifications about.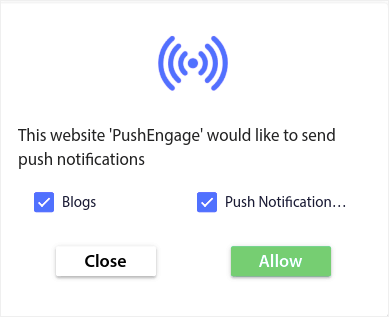 It's a really great way to understand what kind of content you should create more of. At the same time, your visitors do most of the heavy lifting for you. So, you won't be spamming them with unwanted notifications.
If you're just getting started with push notifications, you should check out our article on how many push notifications you should send.
A Large Safari-Style optin is very easy to notice compared to some other optin types. If you combine that with the fact that you're giving your visitor a choice on what to get notifications about, we believe that your conversion rates will also go up. If you haven't started optimizing your popups for higher conversion rates, you should check out our article on high-converting push notification optins.
Updates to Help You Make More Money
1. Filter and Sort
If you're new to tracking push notification performance, we have some really great news for you. You can now sort and filter your push broadcasts. Head over to your PushEngage dashboard and go to Push Broadcasts:

Here, you'll notice that there's a filter option:

You can filter the push broadcasts you sent out by date and source: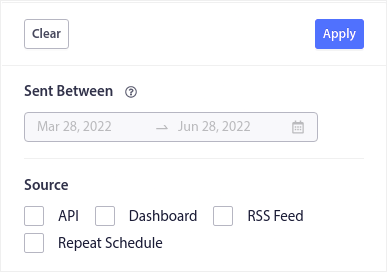 The epic thing about these filters is that you can see:
Types of push notifications that you send the most
How well specific types of notifications perform
Identify seasonal trends in campaign performance
What kinds of campaigns need to be optimized immediately
And you can do it in a few simple clicks!
You can also sort the push notifications by Latest Created or Oldest Created. This way, you can make it super easy to find specific campaigns even after your filter by a date range.
Let's say that you have a Black Friday push notification campaign spanning multiple days. Ideally, you'd want to see them in the order that you sent them out, right?
Well, now you can!
Updates that Make PushEngage Easier to Use
1. 3D Secure Payments
Have you ever been in that awkward situation where your automated payment fails? And then, your subscription gets canceled? But you have no idea that any of this happened. So, one fine morning, your software just stops working?
There's a reason why automated payments fail so much nowadays. Automated payments are super sensitive with world governments now. Every country has its own legal framework on how to deal with payment automation, especially with credit cards.
PushEngage now has 3D Secure payments now. So, even if your automated payment fails, you'll get an immediate notification that prompts you to retry your payment immediately. This way, you're always in the loop and you won't get locked out of PushEngage when you need it the most.
2. ACH Payments (For US Customers Only)
PushEngage now supports ACH payments (bank transfers) for US customers. We already support credit card payments and PayPal. But what do you do if you don't want to use either of those payment methods? What if you can't?
Bank transfers are now an option for all our US customers.
In the interest of full transparency, we don't have plans to include bank transfers for other regions. If you're one of our customers from outside the US, and you'd like us to include ACH payments to your country, drop a comment below. If enough people from the same region feel like they NEED ACH payments, we'll try to get that done.
What Else?
Thanks so much for reading this post. We built most of these features because of your feedback. We're really grateful for your support in making PushEngage the best push notifications service. And we wish your business all the love, luck, and growth in the world!
That's pretty much it for this one. Just a quick recap:
Enabling Multiple Optins
Large Safari-Style Optin with Segments
Filter and Sort Notifications
3D Secure Payments
ACH Payments (for US customers only)
And now for the surprise:
We're also making changes to the PushEngage plugin. It's going to be super easy to use and as exciting as our new app dashboard. We don't have an official release date yet. So, stay tuned to our newsletter for updates.
In the next few months, we're also going to offer Audience Groups in your PushEngage dashboard. Audience Groups will allow you to create flexible targeting options across multiple segments.
This little surprise was just for PushEngage customers. So, shh! Mum's the word.
And if you haven't already tried out PushEngage, what are you waiting for?