Hello, Engagelings.
Exciting news: we just added a new way for you to make more money from PushEngage.
And the best part? It's completely passive!
Imagine monetizing your push subscriber list and generating additional income effortlessly. Well, now you can, with PushEngage's latest feature: Monetizing Web Push Notifications.
We've also made it super easy to use. A lot of work went into this upgrade and we think that you'll love it. It's also a major update, so there's a LOT to unpack.
Let's dive in.
What is the Monetization Program?
You can now increase your revenue and ROI from PushEngage without the hassle of creating campaigns.
Here's how it works: As a publisher, blogger, or news media site, you can request monetization through a simple form. Once your request is accepted, our platform will start sending highly relevant automated ads from top advertisers, such as Taboola and Outbrain, directly to your push subscriber list as push campaigns.
You don't have to do anything at all.
With our moetization program, you can increase your revenue and ROI without lifting a finger. No need to create additional campaigns or invest extra time and effort. The entire process is automated. So, you get to focus on what you do best – growing you business.
The ads sent to your push subscriber list are carefully curated to ensure they are highly relevant to your audience. Thanks to our partnership with leading advertisers, such as Taboola and Outbrain, you can expect:
Higher engagement
Increased click-through rates
And more revenue for you.
Every time someone clicks on an ad that we send out, our advertising partners send us some revenue for getting their ads seen. We're going to send that revenue your way. So, you can make passive income from your subscriber list without lifting a finger.
Of course, not every applicant will get in. There are multiple factors that go into selecting PushEngage customers who qualify for this program. It's not always about the size of your list.
And the selection is a manual process. So, a robot isn't rejecting your application on the other end.
Just in case you don't get in, remember that you can try to get in again later when more spots open up.
How Can You See Your New Revenue Stream?
We believe in transparency and empowering you with the right metrics.
As a participant in the Monetization program, you'll have access to a comprehensive dashboard in PushEngage. This dashboard provides detailed analytics, including revenue, traffic, and click metrics, allowing you to monitor the performance and success of your monetization efforts.
If you get accepted, your PushEngage dashboard will also include the Publisher tab: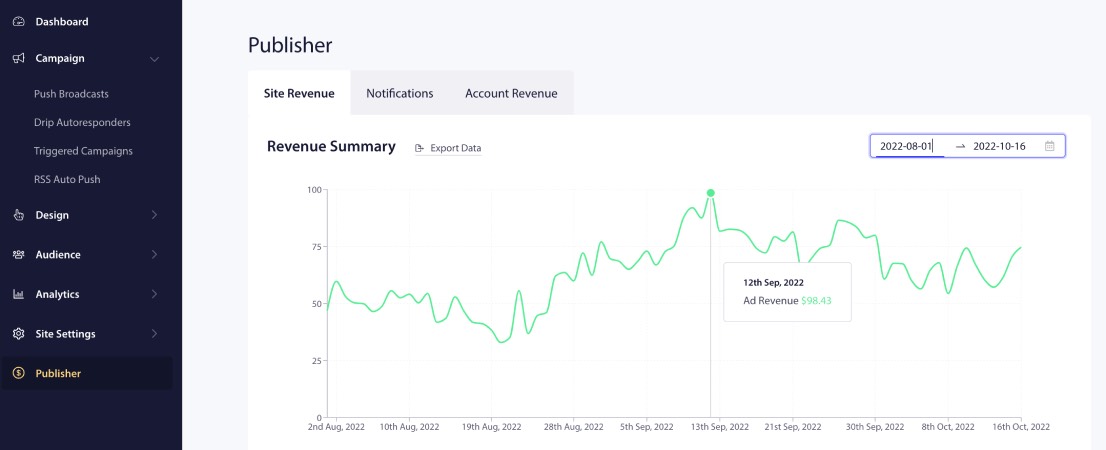 And that's where you'll get to see the revenue that you're making for your site. You'll also see a list of sent notifications under the Notifications tab. By the way, the figures in this image are all real numbers. One of our customers (we won't say who) agreed to do a trial run with us and the results were outstanding!
What are you waiting for?
How Are You Going to Get Paid?
Every month, we'll send your collected revenue to a registered PayPal account. There's a $10 minimum on the payout and the payment cycle is for 60 days. This means that you get your first payout after 60 days and thereafter, you get the previous month's payout on autopilot.
If you don't already have a PayPal account, go ahead and create one right away. It's free.
This besides, there's really nothing else for you to do.
How to Apply for the Monetization Program
Ready to boost your revenue effortlessly? Request monetization for your push subscriber list today and start generating additional income from PushEngage.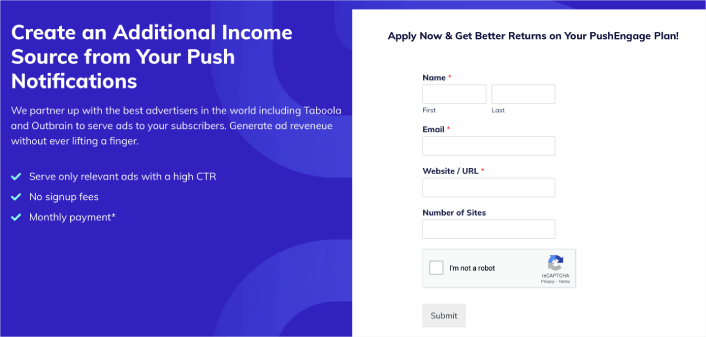 Simply fill out the application form and let us handle the rest.
Don't miss out on this opportunity to maximize your revenue potential with zero effort.
PushEngage's Monetization feature is a game-changer for publishers, bloggers, and news media sites. It offers a quick and easy way to increase revenue and ROI without the need to create additional campaigns.
With automated, highly relevant ads from top advertisers, you can effortlessly monetize your push subscriber list and see tangible results.
Get started today and unlock the full revenue potential of your push notifications with PushEngage.
What Else?
We know that growing a business is hard work. At PushEngage, we're always looking to improve our product and your experience. We launched this new feature to help you get even more value out of your PushEngage subscription.
Thank you so much for reading this announcement.
If you have any questions, our Customer Success team is here to help. Just start a conversation on Live Chat or check out our contact page.
And thank you for using PushEngage. Whether you're using the free version or the Enterprise version, you're just as important to us. The new Monetization feature is meant to help you succeed and we wish you all the very best.
Let us know your thought in the comments below and if you haven't already, get started with PushEngage today!