Do you know the advantages of using emojis in a push notification? There are a lot of benefits of using emojis. In this article, we will share the top advantages of using emojis in the push notification.
Emojis have become an essential part of our expression while sending a text, or when you chat with your friends, etc. It is the new messaging trend! Since a lot of people found it as a better way of communication, Emojis have become a vital one when it comes to digital marketing as well. We need to understand the importance of emojis. It is proven that these expressions have great benefits even while sending push notifications. Including emojis in web push notifications is a good practice to improve your open rate. Don't forget to work on the improving push notification subscription rate for your website.
We offer extensive Emoji support in PushEngage.
What are these Emojis? They are small digital images or icons which are used to express an idea or emoticon during any electronic communication. Researchers prove that the use of Emojis in any communication makes people so irresistible. Scientists claim that a person feels like seeing a human face as they see Emojis. Using emojis helps to improve the effectiveness of the Push Notification.
A human brain recognizes Emojis as nonverbal information and so processed as emotions. You will be surprised to know that these Emojis have the power even to change the mood of the reader! Talking to a person directly will be easy for you to show sarcasm, your emotions, the tone of voice and even your facial expression. But, it is limited when you converse with a person via the internet.
A happy emoji send by a friend or even an app will bring in some warmth and feel-good to the person who receives it. Who wouldn't like to click on something that makes them feel good? This is where Emojis play a key role in push notification and is being used popularly. A deeper insight into the various benefits of using the Emojis in push notifications will help you understand that these images are so powerful in helping brands to increase their conversion rate, open rate, a boost in retention, etc only with a minimal effort. Emojis helps to trigger various emotions in the human mind. Now we are clear why emojis are important when sending push messages to subscribers.
Here are 12 proven advantages of using Emojis in push notifications.
Emojis Boost Push Notification Open Rates
It has been proven that Emojis can increase open rates in push notifications. A study was done by Lean Plum and App Annie to analyze the open rates of push notifications with and without Emojis. And, surprisingly they found the pros to using Emojis in push notifications on the higher side.
Push Notifications with Emojis had a 4.51% open rate while the ones without Emojis saw only 2.44% open rate. A whopping 85% increase was seen in open rates with Emojis substantiating the fact that Emojis boost push notification open rates. The study reviewed 5000 push notification campaigns and 2.6 individual push messages to find that there was a 163% increase in the use of Emojis in 2016 from its previous year.
It saves, boosts & improve User Retention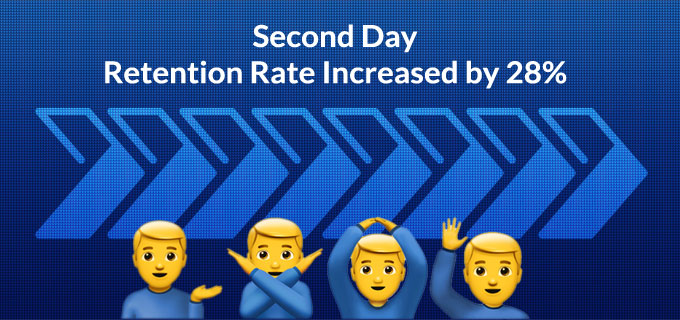 According to the data coined by Kissmetrics, the retention rates can be increased to 20% and the number rises 7 times if they are personalized push messages.
In another case, the second-day retention rate increased by 28% after a mobile team included Emojis in their push notifications. If the notification messages are well optimized for the right time and content, it is sure to invest more in emoji powered push messaging strategy.
Emojis help to improve Customer Service
Emojis have proved to be one of the most effective means of nonverbal communication and thus helps in improving customer retention. It denotes a range of emotions that can very well communicate through live chat, social media, and so on. Here are 4 reasons why one should use Emojis in customer service:
Emojis help to show empathy
It creates a personalized communication
Reduces negative responses
It helps to connect with millennial
Emojis have become an acceptable form of communication. Include Emojis in your push notification messages, and your users will feel it be a more personalized message and they will respond to it.
Emojis help to decrease CPAs in Ad copies
It is to be admitted that a plethora of marketers are busy using a lot of Emojis in all their Facebook ads. In fact, now there is no shortage of advertising that has Emojis. A quick Google search for 'best emoji advertising' will let you know the increase in the use of Emojis in advertising!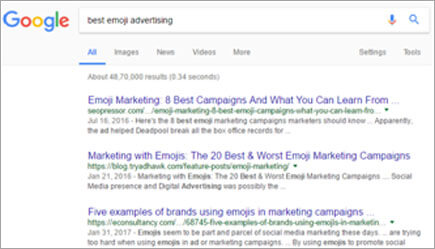 Scientists support the fact that Emojis speak better than a regular ad copy filled with plain text. According to statistical reports, women constitute 85% of consumer purchases and that 56% of users of the so-called 'heavy Emojis' are females! Example: Dove created its own set of Emojis to depict curly hair. Taco Bell created Taco emoji after its petition was signed by thousands of supporters. So, to target your right consumer you have to use their favorite mode and that is nothing but Emojis! Start sending all your Ads now with the right Emojis.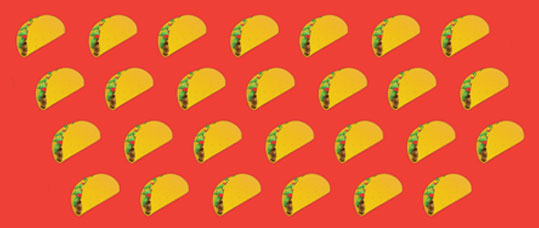 Make sure you don't overuse them either. Sending all your ad copy with Emojis can make others feel that you are desperate and is trying too hard on them. Remember that effective push notification copywriting is always demanding if the content stays fresh without it being just a tornado of so many phrases and words and ideas, then your Cost Per Conversion (CPA) in Ad Copies will be decreased.
It boosts Customer Engagement
Suppose a friend sends you a text saying 'Hi', the chances are less than you will respond back. Instead, if that is an emoji, the chances of your responding increase. This is because our brain recognizes Emojis as nonverbal information and so they are processed as emotions. So, people are more likely to respond and click on a message with emojis than the ones without them.
In 2016, the use of Emojis by marketers to boost customer engagement had increased in size by 108%. More than 100 emojis were added for the same including the rainbow flag, David Bowie tribute, gender options, family representations, etc. The Oxford Dictionary even named the JOY Emoji 'THE 2015 WORD OF THE YEAR! Emojis play vital roles when it comes to social media well. Statistical reports from social platforms like Twitter, Facebook, Instagram, etc proves that it enhances communication.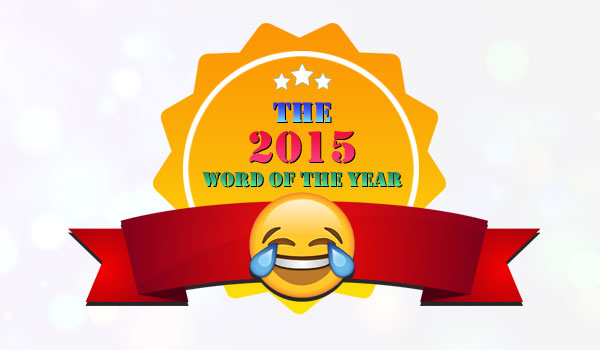 Realizing the fact that 92% of internet users use Emojis while sending messages and visuals have more impact on people than plaintexts, there is no doubt on the fact that Emojis boosts customer engagement. Visuals are processed faster by users than texts. So sending them in your push notification messages will hold them back to check on the message and increases engagement. Use the right Emojis for your target audience while sending push messages and it will help you connect with the users on an emotional level.
Emojis Can Outperform Images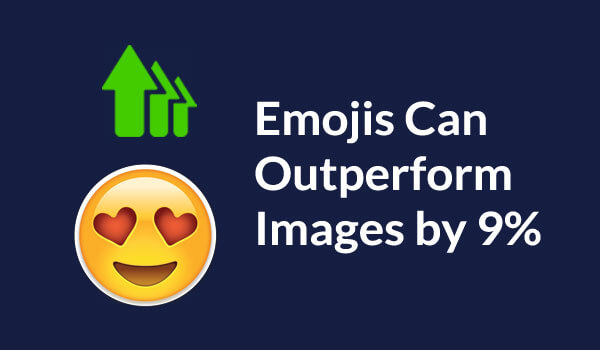 A messaging A/B test with images against Emojis was run by Canvas, a drag-and-drop design app, in association with Lean Plum. The result proved that Emojis are powerful enough and can outperform images by 9%. Rather than using images in your push notification continue to experiment more with Emojis while sending push messages. The sky is the limit when it comes to emoji engagement.
Emojis Increase Conversion Rates
With Emoji in push notifications, one can increase the conversion rate. It is one of the benefits of using Emojis for push notifications. According to Neil Patel, there are 4 strategies to integrate Emojis in marketing so that you increase your conversion rate and engagement. And, the prime one is using Emojis in push notifications.

Sending some annoying or irrelevant push notifications can get you unsubscribed because it needs a little effort to change the settings in preferences. You need to rock in sending push notifications using Emojis as a media marketing strategy to drive in conversion. It will personalize your message, increases the message clarity, and even conveys the emotion which is impossible using only text!
So to drive in more conversion here is 3 things you need to focus while sending Emojis in Push Messages:
You should understand how your users communicate using Emojis. If they are new to the world and use these nonverbal symbols in their own ways ending up with new meanings and so on.
Be careful while sending Emojis in a push notification to the audience in different geographies. Target audience who love Emojis. For example – Finland's inhabitants love using Emojis a lot and 60% of their Instagram message constitutes Emojis and Emoticons. But, things are not so welcome in countries like Tanzania where you will find only 10% of Instagram messages have Emojis.
So, while sending push notification messages, relating to your audience preference.
Try to create explosive emoji engagement in your push notification message and tag users next to them. Note that the relevancy of the Emojis used in your campaigns should go in hand with your focused plan.
Drive-in Social Engagement
Emojis can drive in immense traffic if you use them in your push messages. 30% of people use Emojis several times a single day. It isn't a surprise that emoji-based marketing campaigns have also increased by 777% year-over-year according to Appboy Study.
The result goes like this:
Twitter saw 25.4% more engagement using Emojis. In Facebook, the use of Emojis resulted in 57% more likes, 33% more comments, and 33% more shares. Things are no different in Instagram. 50% of all the comments and captions have Emojis.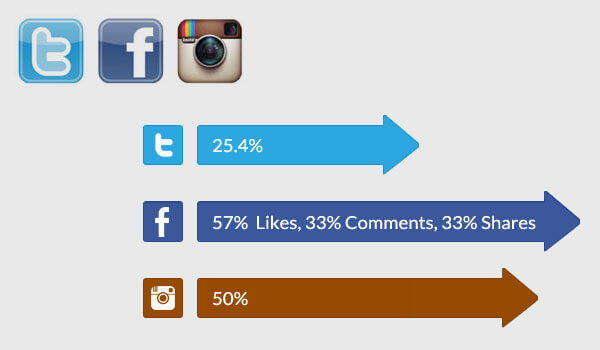 Sending your message via social media as push messages to users using Emojis and it will increase the engagement. Larry Kim, founder at Wordstream experimented on this by sending messages with and without Emojis and the result is below:

Helps in improving Marketing Campaigns
Push Notification messages help to improve your marketing campaign. A mention of how Taco and Dominos used own Emojis as part of their marketing strategy are live examples. Apart from them, other biggies like Coca Cola, Burger King, Mentos, IKEA, and even the Pope have their own Emojis which helped them to improve their promotional campaigns
Popular brands like RetailMeNot, PINK NATION, GIF Keyboard, etc have proved that the use of Emojis in notifications will drive more clicks and thus will generate more leads.
App Store Engagement Increases
Lean Plum did a study on the effect of Emojis on iOS and Android platforms. They found that the open rates of push notifications in both platforms had an increase in messages with Emojis. iOS push notifications with Emojis were opened at a 50% higher rate while for Android push notifications the open rate was 135% higher.
Android is more powerful and effective than iOS when it comes to emoji push notifications because Android push notifications stick around in the notification tray longer, and users have more time to see the emoji and open.
Emojis Increase Brand Awareness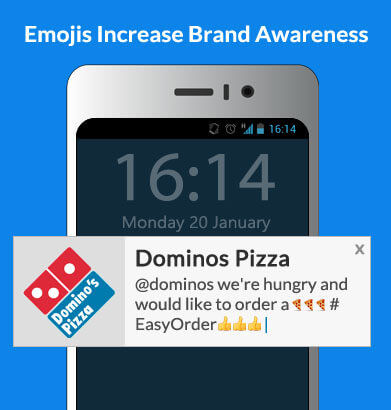 Emojis are great visuals that stay longer with a lasting impression in the minds of the user. Using them in your push notification messages will boost your brand. Yes! Emojis help to boost brand engagement.
These days, almost all brands prefer using emoji marketing as they get instant results. Remember, now we can even order a pizza just by tweeting an emoji! Dominos went far ahead from this perspective.
Apart from Dominos, Disney too increased their brand engagement using Emojis. So, while sending push notifications using Emojis, it alternately boosts your brand name and increases brand awareness.
Emojis Saves Space & Time
Now, this point is very simple and direct. We know the fact that Push Notification Messages have only less character space to convey a message. So, sometimes it is a tough job indeed to get the right message conveyed with limited text. This is when Emojis comes to your rescue. They save space and time.
Optimal use of Emojis in messages leaves a better impression in the minds of the users and it apparently boosts your user engagement, conversion rate, user retention, and open rates.
In PushEngagae, we have integrated the emojis in the platform. For using the emoji in a push notification, check the below:
While creating push notification, you will see this option in the title and description section.

Click on it and it will show the list of emojis. Select the one you want to use and it will appear on your push notification: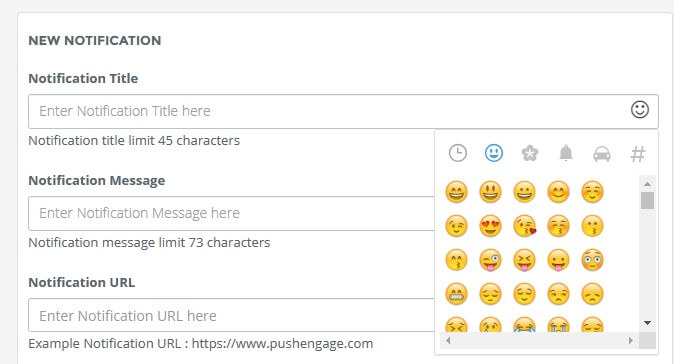 Conclusion
The users always demand content that will keep them engaged. So, it is very much essential to be careful to send push notifications that will spark them and then apparently resonate with emotion on an individual level and at scale.
Apparently, too much of Emojis can spoil the broth. For instance, if you send 2-3 notifications a day and those with full Emojis, it will shed a negative impact. Be smart enough to frame your push message to drive in user response instantly and not to make the user go brainstorming as to what the emoji is referring to. Always be clear with your message, the Emojis you use and it should be relevant.
To conclude, Emojis in push notification messages can get you to pass the first impression with the customers and then help you drive higher open rates, more conversions, and also greater connections with your user.