At PushEngage, we are constantly working towards making it the best push notification platform available.

Here is the list of all the new features and enhancements released at PushEngage since August 2020.
Subscription Opt-in Filter Based On Country
As a part of our customer focussed approach, we have now added subscription opt-in filter based on country. You have the option of:
Gather subscribers from only some countries
Exclude some countries from subscription
Below use case can help you better understand this:
You have an online business that caters to global customers. You get subscribers from across the globe. On analyzing your data, you understood that there are 5 countries from where you are getting good subscription but very less sale. On calculation your ROI, you found that you are better off without any subscribers from these countries.
Using PushEngage, you can easily control your opt-in. You can add those countries in your Exclusion list in subscription opt-in. You even have the option to show opt-in to Selected Counties only using Include feature.

Benefit: There are two strong benefits:
1) High Converting Subscribers: Since you can now control where your opt-in will be shown, you can select only the high converting countries. You will get higher CTR and better ROI.
2) Subscription Cost: By limiting the subscription opt-in using the include/exclude feature, you can get rid of non-converting subscribers. This will automatically lead to a lower number of subscribers and so the cost.
Use this feature only after proper analysis, otherwise, you will lose potential customers. At PushEngage, we offer default geo-based segmentation as well. We recommend that before you enable this feature, send push notification based on geo-segment which is already available in your account. Analyze the result and then decide.
Day Of The Week Support In Drip
Drip is one of the most powerful features to automate push notification campaigns. We have now enhanced the feature with the option of Scheduling Day Of the Week in Drip.
Now schedule a drip for say Tuesday 10 AM, Thursday 2 PM and Saturday 2 PM, for all new subscribers.
Below use case can help you better understand this:
You own a trekking website. Most of your subscribers are active from Monday to Wednesday and on weekends they go for trekking.

With this new feature, you can now select which day of the week push notification should go. You can configure your drip campaign to send notification only during the days when users are active. This results in a higher view rate and CTR.
Image Cropper & Drag and Drop Feature
With this feature, adding an image to your push notification has now become much simpler.
You can use PushEngage through API as well. We have now added to new enhancement to PushEngage API.
Crop the images inline
You have an option of cropping the image that is uploaded in PushEngage. You can select which portion of the image you want to use and crop it.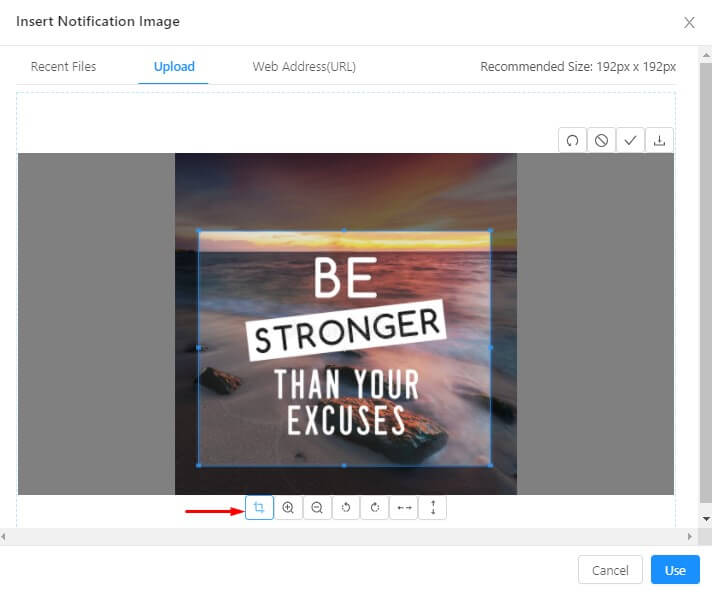 Drag and drop the images
You can now drag and drop the image when adding an image to push notification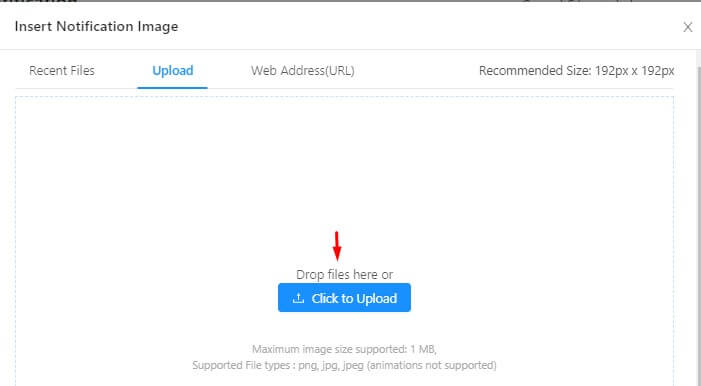 Server-side Integration Of Trigger Campaigns
To integrate trigger campaigns like Cart Abandonment, Browse Abandonment, Price Alert etc, PushEngage used to offer only the client-side integration code. Now PushEngage offers the server-side integration as well.
Below use case can help you better understand this:
You are an e-commerce site and have implemented the cart abandonment push notification campaign. The customer added the product to the cart and left. Below two cases can happen:
Customer didn't complete the purchase: Customer comes back online but he hasn't completed the checkout yet. In such case, automated cart abandonment push notification will continue to go.
Customer completes the purchase offline: Customer completed the order over a call or other offline method. With server-side integration, even if the customer completes offline, the push notification system will be alerted and cart abandonment notification will stop for that customer.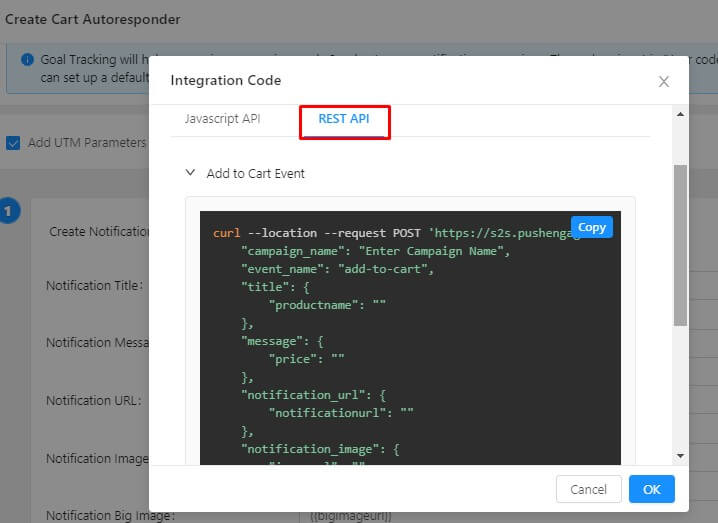 Now you can integrate the trigger campaigns with server to server integration apart from Client-side integration. This can be useful to trigger campaigns from backend like a Phone order, or some other offline event, besides many other use cases.

Advanced Service Worker Settings
PushEngage requires you to upload service-worker file to root folder for certain use cases. However, there are other services like PWA also needs a service-worker file to be uploaded to root folder.
If you are using any such applications, then this can create conflict. At PushEngage, we now have added additional settings service worker option: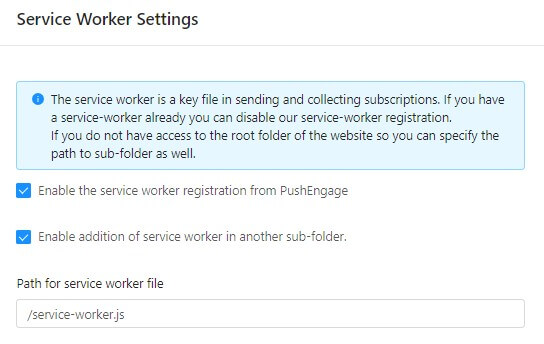 Enable the service worker registration from PushEngage – This will be enabled by default. This will allow PushEngage service-worker to get registered.
Enable addition of service worker in another sub-folder – You have the option to add the service worker file to any sub-folder. Share the path and the service-worker will be added to that location.
API Enhancements
Support for AND and OR Operators in segments In API
From PushEngage dashboard, you can easily do AND and OR in segments while sending push notifications.
The same feature is now available in PushEngage API. You can now use AND and OR operators using API.
Support for longer Title & message length: PushEngage API now supports 85 characters for push notification title and 135 characters for the push notification message.
Earlier the character was less and the same has now been updated.
PrestaShop Update: Cart Abandonment & Browse Abandonment
We have now updated PushEngage PrestaShop extension to include Automated Cart Abandonment & Browse Abandonment campaigns available(still in Beta).
These two campaigns are one of the most effective campaigns for every e-commerce customer. You can automate the entire cart and browse abandonment campaign using PushEngage. It will automatically send a series of push notifications when someone abandons cart or browse.
All these features are available on your PushEngage account at different plan levels.