Want to know how to choose the right push notification platform? You may not know how to choose the right one. Well, the best one is definitely PushEngage. In this article, we will show you what to look for in any push notification service.
Push Notification is one of the best re-engagement tools. You can create and send a notification in no time. Due to the high demand for push notification, many players have started offering push notification. So, how do you know which is the best push notification, service provider?

In this article, we will show the important factors to look for in any Push Notification platform before signing up with them.
7 Things To Look In Every Push Notification Platform
Do you have a tech team?
Getting started with Push Notification should be simple and easy. You don't need a tech team to install Push Notification. It just requires installing two files:
JavaScript file: Every push notification platform has a JavaScript file. You have to put that file in the header section.
Service-Worker file: You have to upload the service worker file to the root section of your website. You can even use push notification without service-worker file. However, with the service-worker file in place, you can use single-step push notification opt-in.
You see, installing push notification is not rocket science. It just needs two files and you are ready to go.
Any push notification platform that makes things complicated and requires you install more than the above two files are bad choice. The right platform will require minimal steps to get started with push notification.
Integration
Many websites are based on different platforms like WordPress, Shopify, PrestaShop. Installing push notifications on such websites should be simpler. The best push notification services will offer easy integration across different platforms.
For WordPress, you can use the push notification plugin. Just install and activate the plugin.
For Shopify, install the push notification Shopify App. Install the app and it will do all the settings. Once installed, push notification will be live on your website.
Similarly for PrestaShop, you can install the push notification extension.
The best website will offer free and easy integration with the top platforms.
talk about installation and other apps/plugin
Need for Auto Campaigns
What is the use of any marketing tool if it can't automate the actions? Avoid any push notification service that doesn't offer auto campaigns.
As a website owner, thousands of visitors take different actions on the website. Many of those actions indicate a strong lead. If you can't create auto campaigns to re-engage such users, you are losing money.
Some of the top auto-campaigns push notification platform should have:
Cart Abandonment – It will automatically reach out to all who have abandoned their cart. You can add a series of push notifications to be sent.
Drip Campaign – One of the best ways to re-engage new subscribers is to nurture them through push notifications. Using drip campaign you can automate the entire process. It will auto-trigger whenever a new user subscribes and start sending push notifications.
Revenue Tracking – If you cannot measure your push notification campaign, you cannot optimize. Using revenue tracking you will exactly how much each campaign is performing.
Trigger Campaigns – User can take multiple actions on your website. They may download certain pdf or watch videos. These actions indicate a user's interest level. You can create trigger campaigns based on user action.
Before deciding on any push notification platform, check out the above features. Just send push notification will not increase your conversion rate. However, sending at right time makes the difference. Auto-campaigns allows you to send push notifications at the right time and this maximizes the chance of a conversion.
Shouldn't take the whole day
As you start using push notification, you will see how fast your subscriber base is increasing. The subscriber may reach to million depending upon traffic you get.
However, when you send push notification to such huge volume, many push notification platform takes a whole day to send to all. Many times those platform gets hanged and you need to re-try.
The best push notification has scalable architecture in place and can easily handle any volume. Push Notifications are meant to be sent instantly and that's what the best platform does. Irrespective of how huge your subscribe base is, they will always deliver your push notifications faster than ever.
Be relevant
Relevancy is of utmost importance for every marketing campaign. Every subscriber has something in common. Few are interested in Category A and few are interested in Category B. Push Notification allows you segment subscribers based on multiple parameters.
You can then send relevant and targeted push notification to your segment. As per the study, notification sent to a targeted segment can increase your CTR by 2X.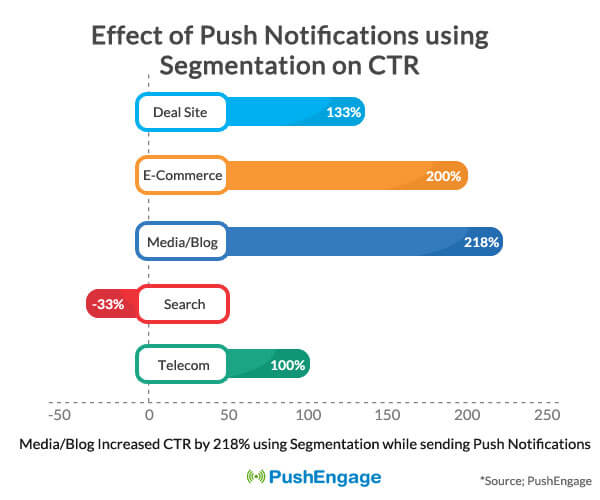 Another important thing to being relevant is to send a push notification when users are active. If you serving to global customers, timing becomes very crucial.
Push Notification platform should have customer time zone settings. Using customer time zone, instead of creating multiple copies, you can send the same notifications across geo. The time zone will deliver the notification based on local time zone.
Why pay high?
Would you like to pay high when you are starting out? When you start using push notification, you are yet to grow your subscriber. Then why should you pay high for a higher number of subscribers? What happens when there is a decline in traffic?
The best push notification platform offers a tiered plan. You pay as you grow your business. When your subscriber number starts growing you can increase your limit. Similarly, if there is a drop in traffic and you are not getting an estimated number of subscribers, you can go tier below.

You do not need to go to a higher plan which is not needed for your case. You just need to increase the limit in subscribers. The right push notification platform understands this and have multiple tier for each plan.
Every minute is important
You just bought a paid plan of push notification. However, you are struggling with the installation. You kept trying to reach out to the support team but they were not responsive. Similarly, what happens if your push notification campaigns are not performing well and you do know what else to do.
That's where customer support becomes very crucial. The right push notification platform will offer strong customer support at every stage, right from the begining.
Push Notification platform has lot many features. You may not know how to use those features to optimize your campaign.
Before signing up with any push notification platform, check out the reviews on platforms like G2Crowd. See what others talk about the support team. If the support team of push notification platform is strong, then you can easily achieve your objectives.
PushEngage has been awarded High Performer for 9 consecutive quarters by G2Crowd.

The best push notification service provider are those that offer the most effective features with strong customer support. When making any decisions on which push notification platform to select, check the above factors. You will surely be able to select the best the one for your business.