Do you want to increase the push notification click through rate of job sites? In this guide, we will show the exact steps to increase web push CTR for job sites.
Finding the right job has never been easy. Job websites have made it easy. You can find jobs as well as hire new talent for your organization. However, with so many job sites coming up, keeping the user engaged has become a challenge. If the user does not get value out of your job site, they will switch to another. So, how do we keep the user engaged and updated?
Using push notifications you can easily keep users engaged. You can send relevant information to the user about any new openings or profile. If you can improve the click-through rates, it will increase user engagement.
4 tactics that can increase push notification click through rate of job sites
Right segmentation
Segmentation is very crucial to get a high click through rate for push notification. As a job site, you will get different types of subscribers.
Job hunters who are looking for job
Recruiters looking for new talent
So, broadly you must have a minimum of two segments – job hunter and recruiter. However, if you are looking to increase the web push click through rate for a job site, the above two segments will not suffice.

As a job site, you are offering various filters like location, experience, industry, and all. Similarly, for recruiters, you are offering different services. Create a segment based on that. This way you can create a super refined segment that will give you a higher CTR for push notifications.
Targeted notification
The next important thing is targeting. Every update is not relevant to everybody. For someone who is looking for a job in digital marketing, a job in engineering will not be relevant. Similarly, for someone who is looking for a job in Delhi, a job in Bengaluru will be relevant to him. So if you send a relevant push notification, the user will be more engaged.
Select the right segment and send targeted notifications. Using the advanced segmentation rule, you can combine different segments and send targeted notifications. See the below example: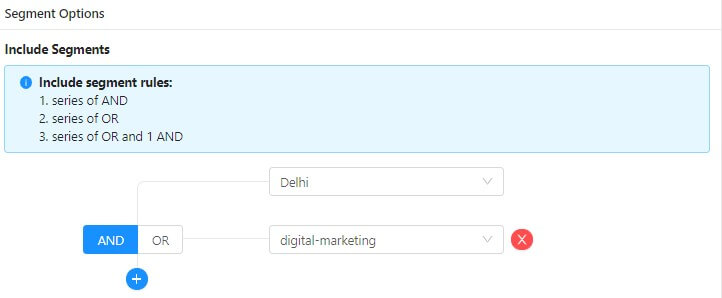 In the above example, we have combined two segments – Delhi & digital-marketing. So, the push notification will be sent to those people who are looking for a job in digital marketing in the Delhi location.
If you send a laser targeted push notification, you will see the jump in the CTR.
Welcome campaign
As a job website, you are offering multiple services. However, a new subscriber will not know about everything that you offer. The best way to keep the user engaged is by using the Welcome of Onboarding campaign.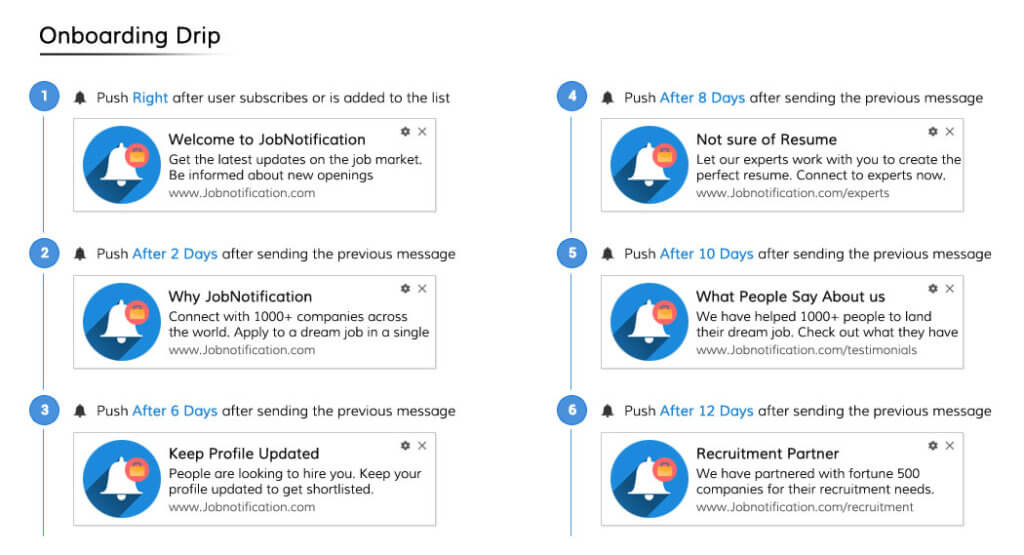 Using the drip feature of web push notification you can create a welcome campaign for a job site. It allows you to add a series of push notifications to the campaign. You can set the time when each notification will be delivered. Below are the points to help you create welcome campaign for job site:
Benefits of joining your website: Create a notification to showcase the USP of your site. Subscriber should get confident that can get the important job-related updates.
Services that your offer: You are not listing jobs and candidate profiles, but offer different services as well. Add those services to the push notification series.
Trust factor: You are offering quality service to your customers. How would new subscribers know about this? Share the feedback and reviews of your services with the new prospect. Once they are confident, they will always click your notifications for new job updates.
Form abandonment
Another important campaign to increase click through rate is form abandonment. As a job site, you need complete details of the subscriber to serve them better.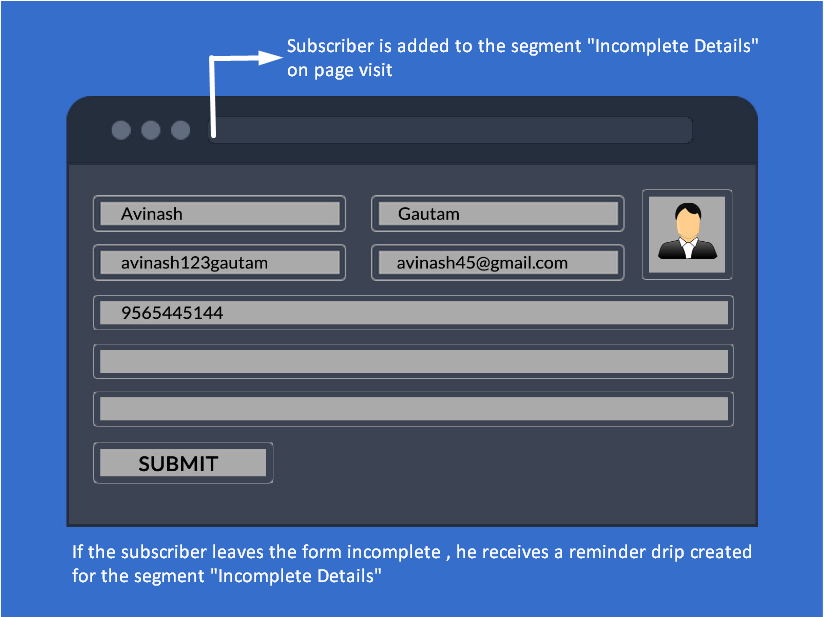 You can easily target such subscribers using a form abandonment campaign. Usually, you have a form to get details from users. Details like experience, location and all. Whenever a subscriber abandons the form, the campaign will automatically get triggered.
Add a series of notifications to the form abandonment campaign. Make sure to mention the value when subscribers fill the form. Form abandonment campaign results in high CTR for the job site.
Now you know the exact strategies that increase the push notification click through rate of job sites. Start implementing the tactics and engage subscribers. As a job site, you are helping out job seekers with so many good options. With web push notifications, you can now quickly update on any new and relevant opportunity.