Web Push Notifications are now widely used by many online businesses. As a business owner, you also would like to enable push notification on your website. There are two parts to it – Website owner who wants to enable push notifications and Visitors who want to enable push notification of a particular website.
However, the user may want to unsubscribe from push notification or website wants to disable push notifications. We will discuss in details on how to enable or disable push notification.
Before getting into this, let's try to understand what web push notification is.
Push Notifications are those small messages that appear at the corner of your screen or browser. Below is a sample push notification. You can see push notification appearing at the bottom right-hand side of the browser.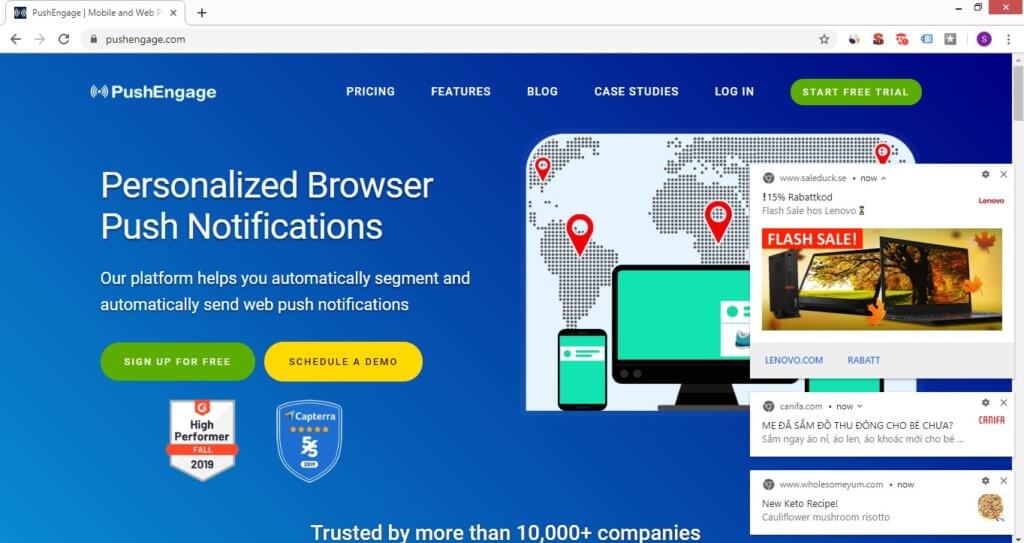 Push Notification can appear on your browser only if you have permitted to the website to send you notifications. When you visit any website which has enabled push notification, you will see the opt-in pop up like below: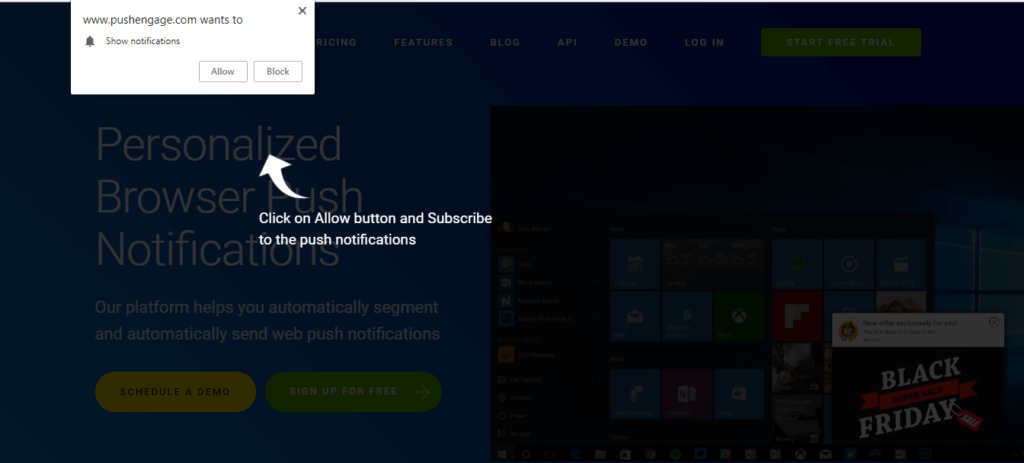 Push Notification is permission-based services. Only when the user clicks "Allow", the website can send push notifications to the user.
How to Enable Push Notifications On Website
For website owners
Steps to Set Up Push Notification on your website
Push Notifications offers an easy way for website owners to reach out to their subscribers instantly. Apart from that push notifications comes with a lot of features that help website owners to increase customer engagement as well as revenue.
To enable push notifications on websites:

Put the code" Go to the dashboard and copy the JavaScript and paste the same on the header section of your website.
Enable subscription opt-in: Go to the subscription opt-in settings. Choose any of the opt-in and enable it. By default one of the opt-in will already be activated. You can choose the same and edit the copy or choose a different one. In the case of single-step opt-in, you cannot edit the copy.
Always optimize your subscription opt-in to increase the opt-in rate.
In case your website is based on some platforms, you can directly install using the plugins
WordPress: If your website is based on WordPress platform, then go to the plugin and search for PushEngage. Select the plugin and install. Follow the Push Notification Plugin installation process and enable push notification.
Shopify: Search for Push Notification app in the Shopify app centre. Select PushEngage and click. Follow the Shopify App installation process. In a single click push notification will be installed and enabled on your Shopify store.
PrestaShop: Go to PrestaShop addons from the dashboard and search for Push Notification. Select PushEngage and click on install. The Push Notification adds on will get installed and activated.

One common question after installing push notification is how to know whether push notifications are working or not? There could be multiple reasons for push notifications not working on your site. First is to do a comprehensive push notification testing. Most of the time, the issue will be with the installation process or your browser.
For website visitors
Steps to receive/enable Push Notifications from Website
You want to be updated whenever there is any new sale or discounts on your favourite website. In case the website has enabled push notifications on their site.
All you have to do is click on "Allow" to start getting push notification from the website.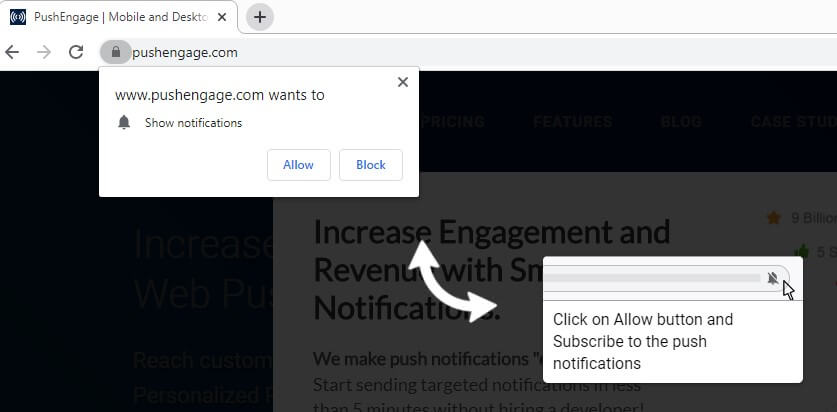 In case you do not see the push notification, follow the below steps:
The notification might be blocked by your browser or you had blocked it. Check the below image.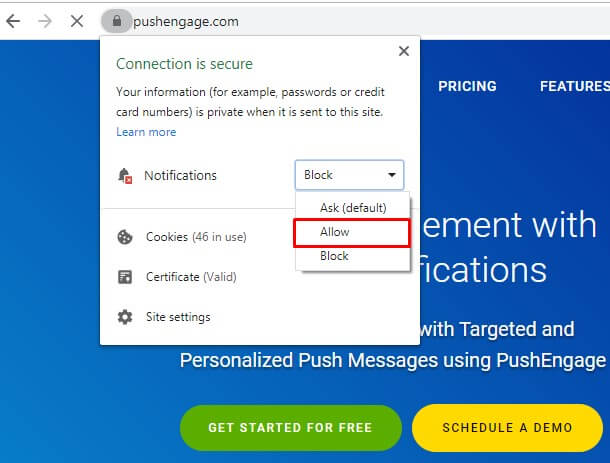 Select the "Allow" and Reload. You will be subscribed.
How to Disable Push Notifications on Website
For website
Steps to disable push notifications on Website
In case you want to disable push notification, the process is simple. There are two ways you can disable push notification from your website:
Code: Remove the Push Notification JavaScript code from your website. The Push Notification will be disabled from your website.
Opt-in: Disable the push notification opt-in. User will not see any opt-in when they visit your website.
While integrating the code, you needed the technical support from your team. So, it's better to disable the opt-in when you do not want to use push notification. In case, you change your mind in future and want to start using web push, you will not need any technical help. You just have to enable the web the push opt-in to get started.
For subscriber
How to Unsubscribe Push Notifications from Website
As a visitor, you may have subscribed to push notifications of many websites. Many of the websites are either sending irrelevant push notification or bombarding with too many push notifications and you are getting annoyed. You can easily disable push notification from those websites.
Steps to Disable or Unsubscribe Push Notification
There are two ways to disable push notification
On-Click: A Website owner has to enable this feature from the push notification dashboard. By enabling this, an unsubscribe button will appear on the website. The user just has to click on unsubscribe to stop receiving push notification from the site.

From Settings: In case the website has not enabled such a feature, the user can still unsubscribe from the push notification.
Unsubscribing Chrome Push Notification On Desktop
From the website: Visit the website and click on the top right section just near to URL. See the below picture for clarity.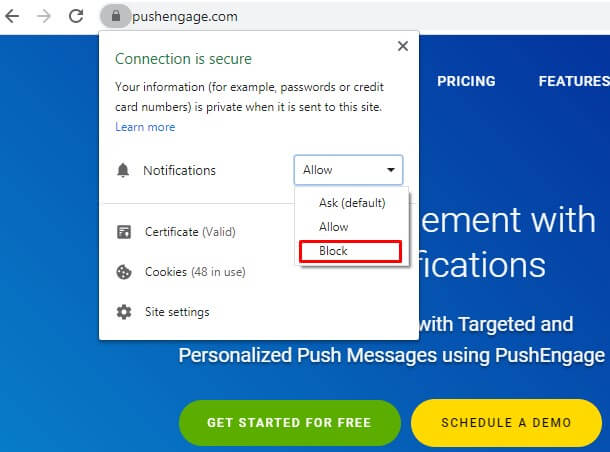 Click on Block and you will not receive any push notification from that site.
Settings: Open a new chrome browser and paste chrome://settings/content and enter. Select Notifications from the list.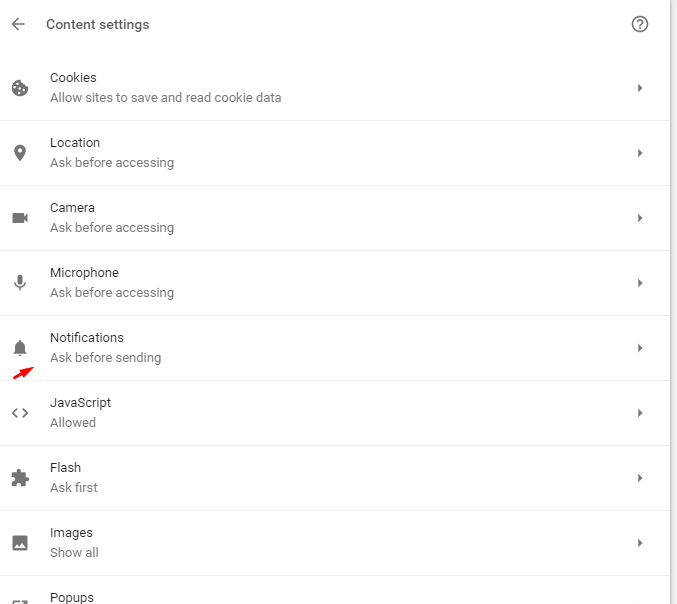 It will list down all the websites where you are subscribed.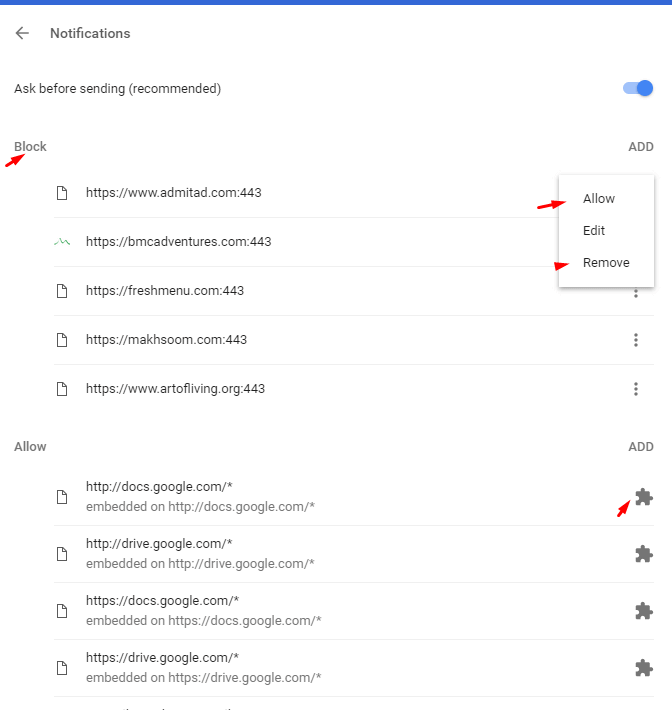 Select the websites from where you do not want to receive any push notification. Click on the three dots and select Remove. You will be unsubscribed from push notifications on Desktop Chrome browser.
Unsubscribing Chrome Push Notification On Mobile
Go to Chrome BrowseràClick the three dots on the top right-hand side.
Select Settings. Click on Notifications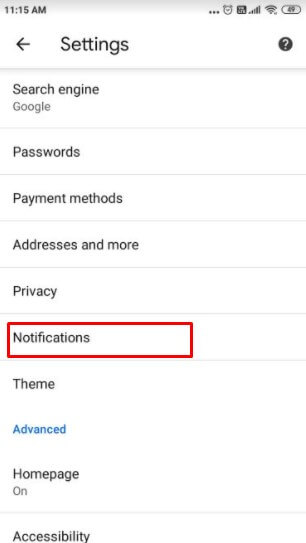 This will display all the websites from where push notifications are coming. Select the website from where you do want to receive any more notifications. Slide left to unsubscribe from the push notifications.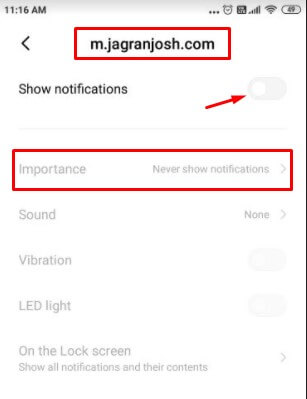 You will be now be unsubscribed from push notification from the mobile Chrome browser. For unsubscribing from push notifications on the Firefox browser, you can follow the steps mentioned here. It mentions how to unsubscribe from both mobile and desktop Firefox browser.