Social media now is a place for brands to provide personalized experiences to their audiences. It is as much about engagement now as it is about sharing useful, interactive content. In this article, we will see the Emerging best practices to Increase Social Media Engagement in 2020 shared by Julio Viskovich.
Marketers often face the issue of the lack of engagement on social media channels even after uploading seemingly good content from time to time. Every brand wants more engagement on their posts but aren't able to achieve it successfully or are stuck with the same old strategy. Also, algorithms are tough to manoeuvre as they keep on changing all the time, sometimes even without any notice.
Social media engagement can always be improved as there is no maximum limit to engagement level. The more engaged your viewers are, the more of the people see your posts and the better you'll achieve your engagement goal.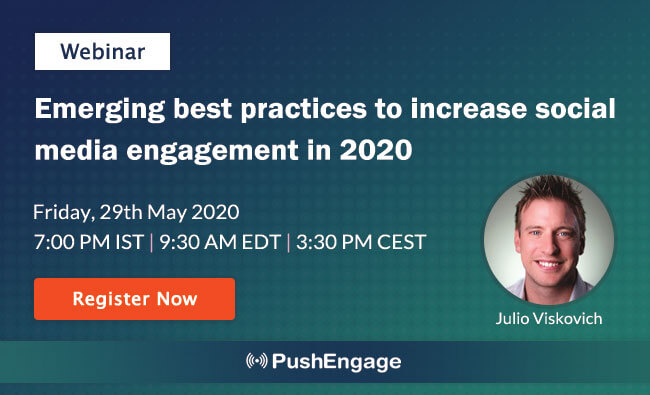 In our last webinar, we invited Julio Viscovich, a keynote speaker, consultant, TED Talk speaker, and Forbes Top 30 Influencer on Social Media & Digital Sales. Julio is also a Marketing Professor at TRU in Kamloops. In this webinar, Julio shared some really interesting facts and tricks on engagement, best social media engagement practices, and how to increase it.
So first of all,
What is social media engagement?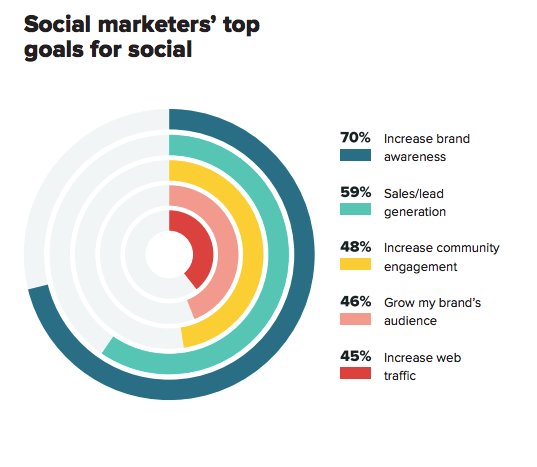 Social media engagement measures the likes, shares, and comments for an online business's social media efforts. The engagement has been used as a common metric for evaluating social media performance since long but it doesn't necessarily translate to sales.
A good question for any brand is how to measure social media engagement? One should understand that each platform has its unique metrics.
Look through these popular metrics for each social media channel:
Twitter – retweets, likes, replies
Facebook – reacts on post, shares, comments, impressions
Instagram – likes, comments, links, clicks, views
LinkedIn – comments, shares, link clicks

Engagement is the King. Focus on content that draws in your community and builds meaningful connections with your followers.

Julio Viscovich
Every social media platform has a different set of technical elements, intricate logic, and user analytics that make the algorithm which delivers content to its users. As seen in the fluctuation of the social media algorithms over the biggest consideration-or debate-is balancing personal relevance with post timeliness.
What are social media algorithms?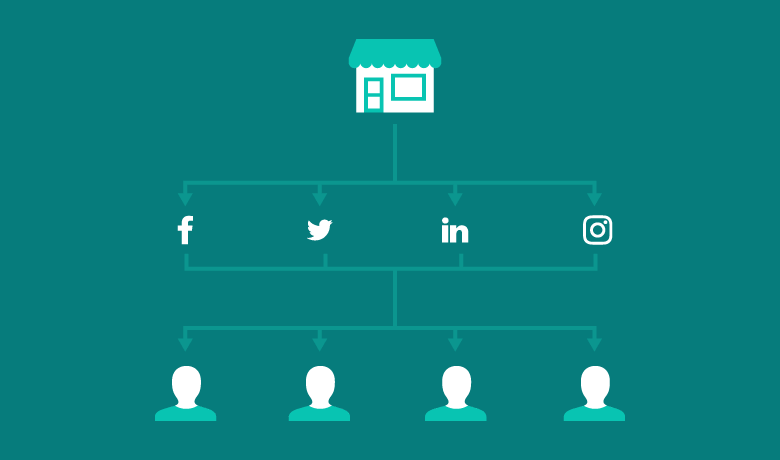 With so many users on these platforms, there's a need to create order, and an algorithm does just that. A social media algorithm is an automated calculation that decides which social media posts make it to the top of your feed, and which doesn't.
The most important factor in most social media algorithms is the amount of engagement a post has received ( within a short time frame), and also how much one tends to engage with a creator's content in general. This also encourages users to submit relevant, and high-quality content.
How to find the engagement rate?
Here are the formulas suggested by Julio:
Engagement rate = Engagement and Impressions – (Likes + Comments) / Impressions x 100
Engagement rate= Engagement and Followers – (Likes + Comments) / Followers x 100
Quality over Quantity – Find adequate design tools for the branded
Optimize the look of your Instagram feed. I personally use is canva.com for my Instagram feeds.
Types of Social Media Algorithms
Social media algorithms are different for every platform. Hence, one can break it down by social media brand. The most used platforms are Facebook, Instagram, LinkedIn, Twitter, and YouTube. Here's a look at each of them and how they're currently ranking the content and the users.
Facebook Algorithm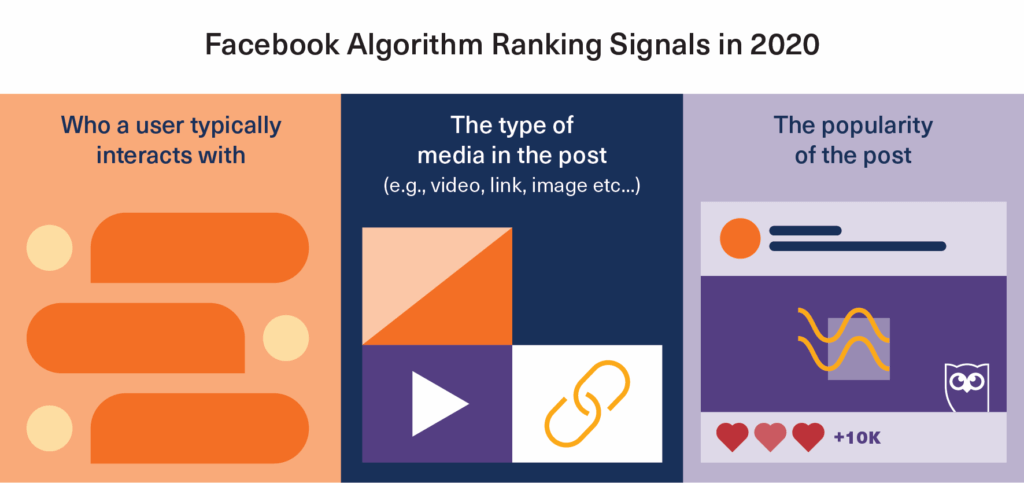 Meaningful customer engagement is a key factor in Facebook's algorithm. It's created to intensify the importance and viewership of local, familial, and friendly posts, rather than just the business posts.
Paid content is ranked separately but it still revolves around engagement, response rate, and relevance to the subject matter. While user-centric content is the key, another strategy its algorithm took on is spam management.
When starting on Facebook, put up content that allows you to gather data that you can use on a regular basis.

Julio Viscovich
Top 9 ways to ENGAGE on Facebook
Start conversations that get people talking to each other
Post when your audience is online
Never post content that will get you down-ranked
Post-high-quality videos longer than 3 minutes
Post often and consistently
Leverage Facebook Groups that are meaningful to your audience
Support your organic wins with paid ads (Know your unicorn posts)
Let your followers know how to prioritize your content in their news feeds
Empower your people to advocate for you
(Live) Videos Drive the Most Engagement, use more videos

Julio Viscovich
Video can be another way to boost organic reach. Video has continued to climb in the last few years, meaning it's likely that a video will outperform your average post.
So add more video posts to your content calendar, and don't be afraid to go live. Live video engagement is twice as high as overall engagement on the platform.
LinkedIn Algorithm
It is known as a leader in B2B marketing, it is a social platform dedicated to networking, rather than building followers. It's currently the most common platform for the top companies. The site has developed an algorithm based on connection and engagement. Hence, strong and relevant content is the key to LinkedIn success. Even if one doesn't have many links in the networking chain, you can build it later if you have good content.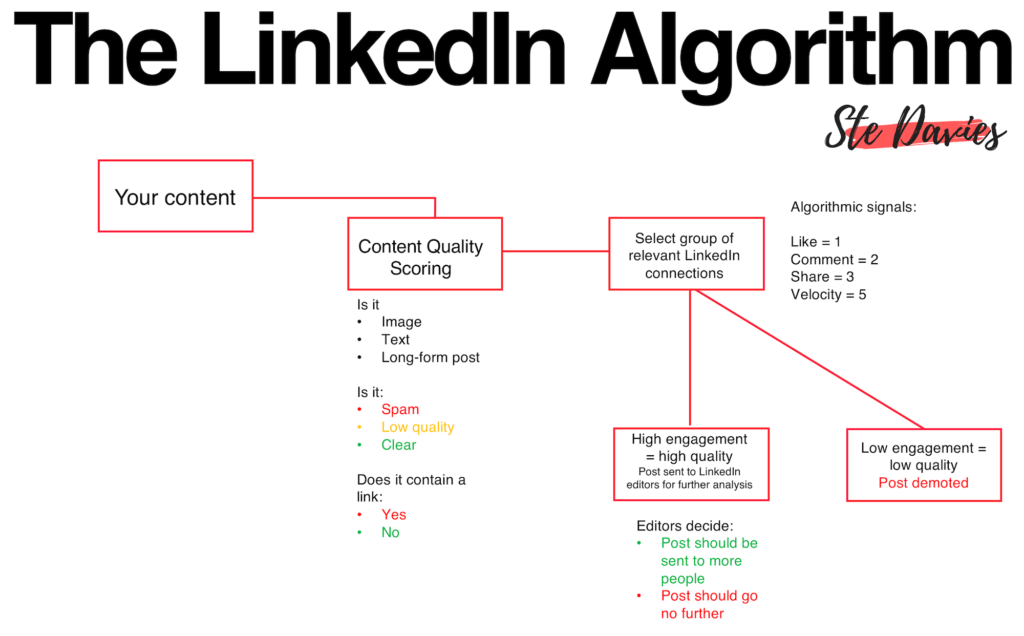 How LinkedIn's algorithm works
As far as we marketers can suss out, the LinkedIn algorithm does the following:
Prioritizes content from users who you have engaged with in the past, and who post consistently
Prioritizes content from users who get large amounts of engagement, even if you don't tend to like or comment on their posts
Favors lengthy comments over a high volume of reactions
Does not prioritize content from business pages
3 Tips for WINNING on LinkedIn
Here's what you can do to get more eyeballs and engagement from LinkedIn:
Utilize business owners' and employees' profiles instead of just the business page.
Post different types of content: text, images, and video. See what gets the greatest proportion of impact over effort.
Stay consistent! This algorithm will definitely downgrade your content if you post randomly. Once per week seems to be the sweet spot for most.
Instagram Algorithm
Instagram is all about showing as many people as much information at a time. Therefore, its algorithm focuses on every aspect of social media, from relevancy and connection to engagement and content popularity.
The reasoning behind this algorithm is to encourage comments, shares, likes, ads, and more posts.
Don't be afraid to change your personal profile to a business profile on Instagram. You'll start gathering data that way and thus use analytics to efficiently drive more engagement.

Julio Viskovich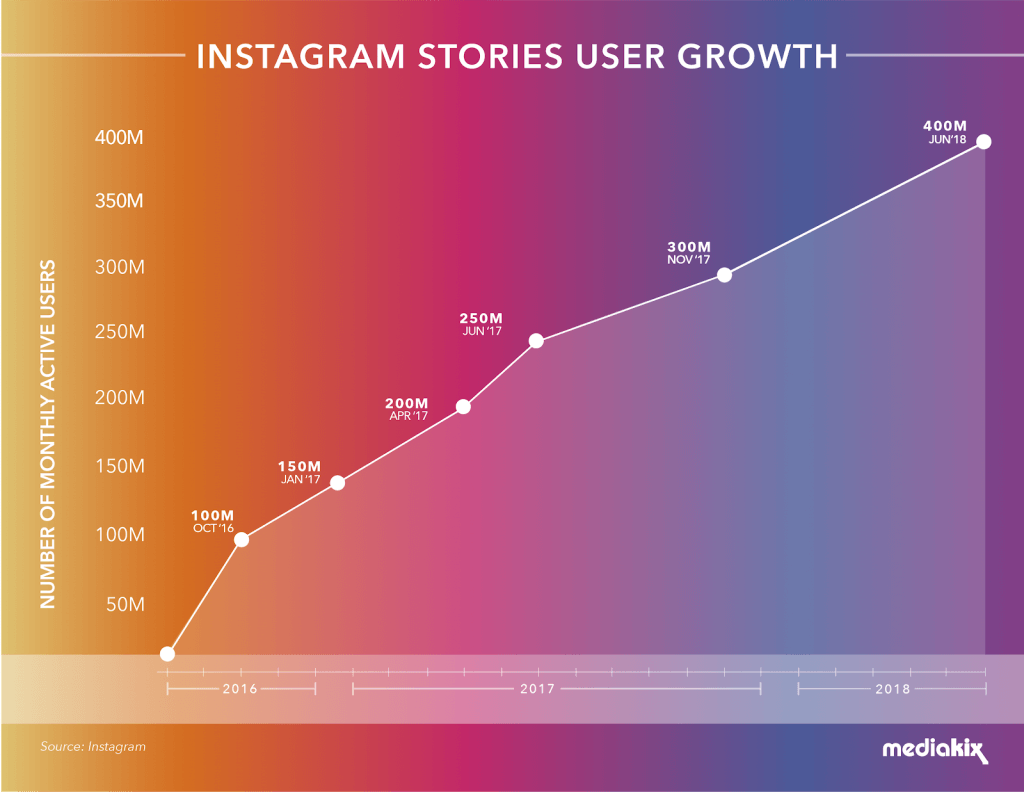 How Instagram Algorithm Works
Prioritizes posts with the highest number of likes
Prioritizes very recent posts (created within minutes of a user logging on)
Prioritizes posts from profiles that the user normally engages with
Prioritizes posts from hashtags that the user follows
Occasionally shows posts with great engagement from a profile and using hashtags that the user does not follow Is believed to treat brands' content and consumers' content
8 tips for working with the Instagram algorithm
Post consistently
Keep a close eye on your analytics (turn your account to a business account)
Remix, reuse and re-post your top-performing content
Reward your audience for spreading the word with UGC
Collaborate with like minds
Build quality relationships the old-fashioned way
Use hashtags properly
Post in a timely manner
The Old Fashion Way Still works on Instagram…and Facebook
Organize and make sure your timeline looks pristine. Create interactive and concise stories on Instagram and Facebook for your audiences so they can know what you are talking about, whether it is a product or a service.

Julio Viscovich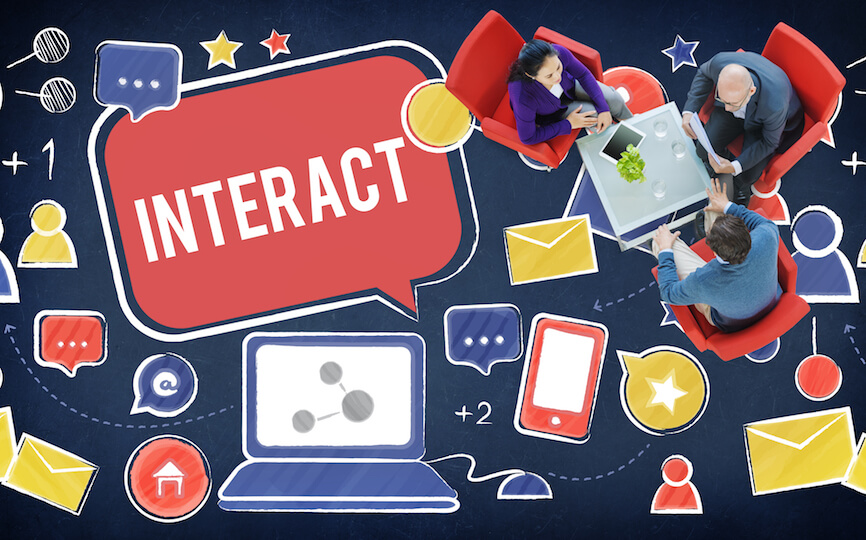 Social Media Engagement Tips
Ask questions, but only if you actually care about the answers (your guiding principle for writing good captions should be "the opposite of engagement-bait.")
Embrace DMs (the algorithm counts these as it gauges your relationship with other accounts; though of course, that doesn't mean tolerating abusive messages.)
Reply to comments quickly (while there's no proof the algorithm cares about how fast you respond, you will impress not just one person, but potentially everyone who sees it)
Like and comment on other people's posts (don't just broadcast your own content, especially if you're trying to get more followers)
" Use a hashtag generator for hashtags on Instagram. It helps you generate personalized data and also helps in identifying what is engaging best with your customers segment."- Julio Viscovich
Twitter Algorithm
Twitter's algorithm is different from other platforms and it ranks its posts by relation to the user and also the time and date it was posted. New and updated material ranks higher than day-old news. The number of comments a Tweet has will also influence its rank.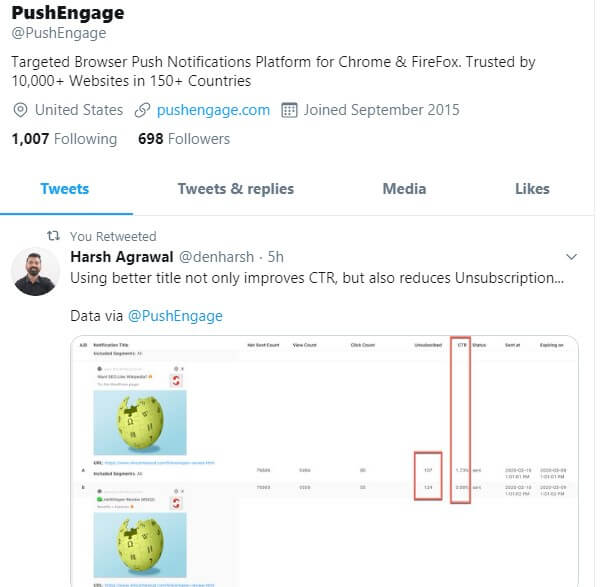 Tips for working with the Twitter algorithm
Tweet 2 to 8 times per day for the best results.
Utilize all 280 characters only in certain posts (when sharing something informative).
Ask questions to get engagement.
Create a Twitter poll once a month.
Immediately respond to all comments within the first 2-3 hours of sending out a tweet.
YouTube Algorithm
YouTube's algorithm serves the most personalized content to its users. It analyzes its viewer's behavior on the basis of the videos watched, click rates, average time spent, engagement, likes, dislikes, comments, etc amongst hundreds of other data points.
YouTube Algorithm updates for 2020
The YouTube algorithm will continue to factor in a user's likelihood of engaging with your channel and the type of content that you post.
In 2020, your relationship with your subscribers will be far more important than your number of subscribers.
Make sure that your subscribers understand the theme of your channel and know what to expect from you.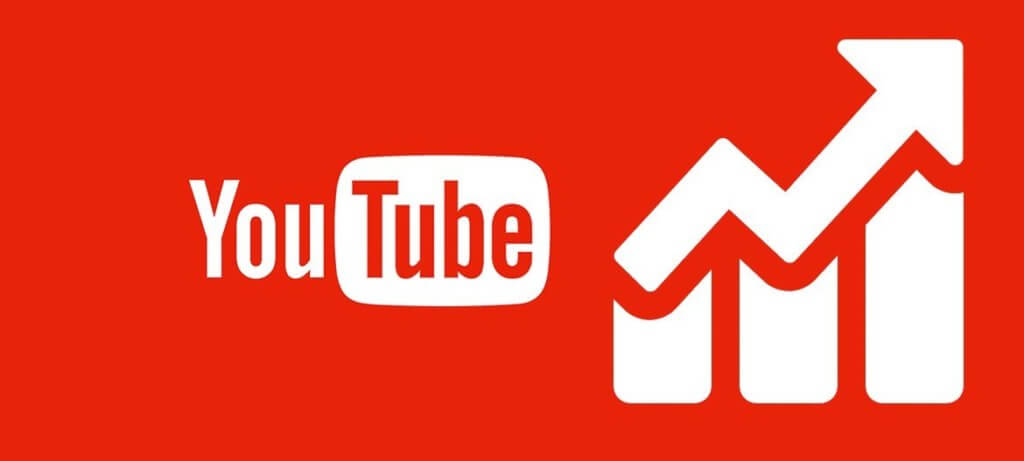 Tips for winning on YouTube in 2020
One to two minutes into your videos, ask viewers to "hit the like button or comment" if they're enjoying the video, so you increase engagement.
Optimize all of your YouTube videos.
Post consistently so your content makes it to the top of the subscriptions feed.
Write meaningful comments on videos in your niche (without asking people to check out your channel).
Use other marketing channels to get views and engagement on your videos within the first few hours of posting. Use other social media channels and your email newsletter.
Make the first few seconds and the first few minutes of your video very engaging and to-the-point. Don't ramble, or you'll have high bounce rates and low watch time.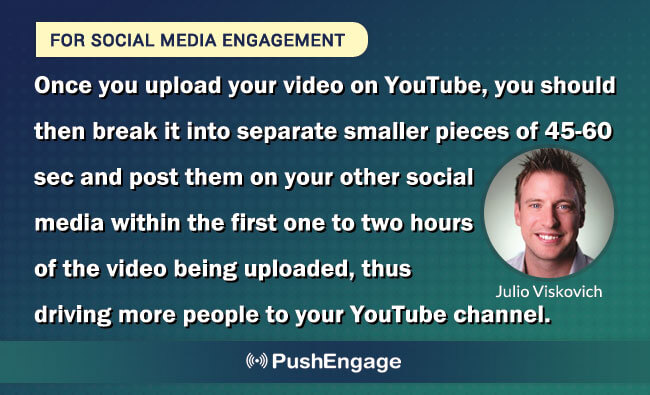 Webinar Recording on Emerging Best Practices to Increase Social Media Engagement
Summary of key social media engagement questions covered in the Webinar
Q. How to recover when you have been on the bad side of a social media site's algorithm?
That's a great question and I think personally that's the worst kind of place you want to be in because you started to de-rank yourself. Therefore, what you're gonna have to do is a lot of extra work and probably would have to use monetization because you've already trained the algorithm to not feature your posts to your consumers. So the only thing you can do is to make sure that you start following better practices. This happens to a lot of businesses that had policies which weren't effective in the past, so what you're gonna have to do is be certain that you know that you have to start creating better content that re-engages them and gets them excited, as they might have forgotten you and seeing your post will help them to re-engage. It is going to cost you a little bit of money but your post will be in front of them and you'll get them activated again.
Apart from keywords and hashtags, do keywords in caption also matter for the Instagram business page?
They do for engagement but keywords in captions are not important at all, but captions alone are important to drive engagement. Instagram at the moment doesn't take keywords into account, they are looking at the recency in the posts and engagement rate of the posts. So it's extremely important to use captions to drive engagement but I wouldn't be worried about using keywords in the captions right now.
---
How do you deal with negative comments or a brand reputation crisis?
The best easy is, to be honest, and transparent, that's what people are looking for these days. So if someone posts a negative comment don't just leave it there because you're letting others take charge of the narrative. If people had a bad experience with you then people are going to be curious about how you respond to it. They are going to see whether you responded or not and then they are going to see whether you responded efficiently and win your customer back or gave them an incentive or a discount. And I feel that is the best way to recover from a setback.
---
How quickly can you reverse the unfollow/unlike trend on our page on Facebook and Instagram?
It's gonna take some time, so if people have started to unfollow and unlike it means you haven't given them the experience they asked for. Either you are using content that is not customer-centric on your social media. So you may have to use paid advertisements to initially get in front of the users that started to unfollow you or unlike you, it's a signal that you are not posting good enough content. Just make sure you are engaging.
---
What are the AI tools that will be helpful in marketing when it comes to social media?
I think AI is going to be integrated into several social platforms. As we can see many platforms use metrics to find out what are the post that are engaging the customers and what content gains the best attention. I see AI a good way to gather and analyze metrics in the future and the brands that aren't currently doing it will probably be doing it in the future because we need content right away at the tips of our fingers.
---
How would you generate sales qualified leads (as opposed to marketing qualified leads) for your B2B product on LinkedIn?
I would use it in a couple of ways.
Become a product expert in anything that you are currently involved with, so if your product is an AI product or push notification product or whatever it is, you need to create content for that type of industry. Write about that, become an expert, post on LinkedIn every single day and that's gonna show you as a blog leader and people will start seeing you as a go-to person.
You can also go for referral selling. Referral selling is the best way of selling and also helps generate more leads. Knowing your customer beforehand is a great way to do so.
---
What strategies do you use to generate leads and engage with people?
I like to makes videos a lot more now so videos and make sure I'm staying engaged with my customers through that. Go live on Instagram and Facebook. I'll use my more polished videos directly on youtube as a way to bring consumers back to my website.
---
What works best to get your customers involved and engaged?
That's going to depend on what they are engaged with. It depends on what your customers are liking. Are they liking videos? Or are they liking polls? Etc and finding out what they like the best and utilize that as a way to drive you to understand them. Don't be afraid to change your personal profile to business profile and then start getting analytics that way and help drive engagement through posting.
---
How do social media marketing differ between B2B and B2C companies?
It differs just in terms of where your customer is at the time I think. If you are a B2B you'll find that a lot of your consumers are probably using LinkedIn, whereas your standard B2C customers are using more of Facebook, Instagram, or something like that. You've to go through the analytics and maybe poll the users to know what social media platform they are using the most.
---
How to effectively use hashtags to improve reach?
On Instagram it's really nice, I love the fact that they tell you how many people have been engaging with this particular hashtag to ultimately allow you to see that data so it's a really good way to do that. Also, there are some good tools that you can use to leverage the same. Use a hashtag generator, it helps you generate personalized data and helps in identifying what is engaging best with customers.
---
Which is the most important thing to be successful with PushEngage?
Segmentation and sending Automated campaigns that are one to one personalized is key to success with PushEngage. Apart from that benchmarking your playbook for how to optimize your subscription rate, picking the right campaigns will help. This is where our customer success team can help.
---
Just getting started. FB my definite target. Have a rebranded site and shifted focus to a very tangible issue. B2C. can you give me 3 places/ ways to start?
For a lot of us, Facebook is the target, especially if your product is oriented around middle-agers or boomers or anything like that you'd definitely like to be on Facebook. Young age groups and teenagers are more likely to be on Instagram more, but yeah they are still using Facebook at an alarming rate as well. So I would just say go on and first things first, make sure you have a good profile. Make sure you use something like canva.com to create yourself a nice Facebook background. Make sure your profile image looks good and branded well, the information's filled out completely and then watch and look and check out other brands, how they have been running their Facebook pages, what contents are liked by other people so that you can say wow, that's an interesting topic. Slowly start getting creative with your content. Put up content that allows you to gather data that you can use on a regular basis.
---
Is it good to upload a video on Youtube and share it across other social media platforms or upload the same video separately on other social networks?
Try and form an actual, relatively lengthy piece of content at least once a week or every couple days on YouTube and then cut it up into small segments like 30 sec-1min clips and share those on your social network. So it's going to depend on your goals. So is your goal to get engagement on youtube, is it to visit your website, etc. So whatever your CTA is upload your video on youtube, within the first one to two hours of it being uploaded you should have separate smaller pieces of content which you should then post on Facebook or Instagram thus driving people to your youtube channel.
---
When someone shares your content, does their engagement count as yours? If not, wouldn't it hurt your engagement as those engagements could have been counted for your post?
Yes, if they share your posts and if anybody clicks on it, he can be brought immediately to your post. If they engage with somebody else's post, the content would be theirs but it is actually just a natural reaction for people to go directly on the original content and be more active there. Sharing will anyway drive people to your site or posts.
---
Can we attach a downloadable brochure with a video?
Absolutely, I think that is fantastic. One way of doing that is in the description details of your youtube page. You can't always do it directly but adding the link to the description works.
---
Is there a way to automatically include a customer's name on a Push Notification?
Yes, using attributes in PushEngage we can do that. It is similar to dynamic fields in email marketing.
---
How can we increase the game/app download from iOS/Android store from youtube gameplay videos?
Make sure you plug in your app link directly in the description section and make sure you mention it in every single video.
---
Do stories on Instagram and Facebook help improve reach?
Yes, 100%. Organize and make sure your timeline looks pristine. Make nice stories for your audiences so they can know what you are talking about, whether it is a product or a service.
---
Should the B2B service company use TikTok as a platform, given its rising popularity?
It depends on who you are selling to. Right now TikTok is flying high for generation z folks and teenagers so if your consumers are this particular age group, you definitely need to be on TikTok.