It is known to everyone that visitor doesn't convert in the 1st visit. They may browse, search, even add to cart but converting to the customer has low probability. Even the big giant like Amazon knows that very well. If you are not doing anything about it, you are losing revenue. To grab this missed opportunity, start applying retargeting strategies. Re-targeting is like re-engagement with users.
Re-targeting is one of the important strategies for e-commerce marketing. A good re-targeting strategy helps to improve conversion rates. When a person is shown the same product, again and again, he may turn into lead or customer. It depends on how you re-target them and your content copy. For re-targeting to be successful, you should always segment your push notification subscribers.
A well-segmented offers better results with retargeting campaigns. In 2019, implement your push notification re-targeting strategies which will lead to an increase in conversion as well.
What is retargeting?
You visited one website and checked out a mobile but didn't but. While browsing through facebook or google or any blog, you are seeing the same mobile again and again with different messaging. That is retargeting. It is a way of re-engaging customers.
Retargeting is a way to reach out to the customers who have visited your website or your ads. You can re-target users on different digital platforms. In your retargeting campaign, try to use emotions as a trigger to send notifications.
Why is Retargeting a must?
For any business, the top funnel is the visitors. A lot of marketing effort is put towards getting visitors. You run a lot of promotional ads, offline promotions, facebook marketing, google ads and many. However not every visitor converts when they visit your site and they just leave. The visitor's journey is not a straight line. Now that you have already invested money in getting those visitors and you cannot just lose money.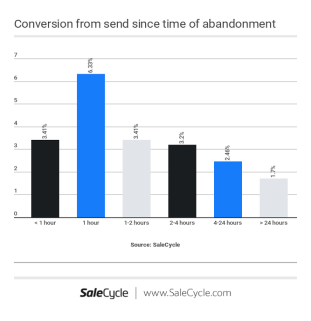 As per SaleCycle, chances of conversion are very high, when you retarget the user within 1 hour. One of the ways to get back the visitors to your site at lower costs is through retargeting. Since you already have this customer footprint on your website, it's retargeting them becomes easier. Moreover, the retargeting cost is less than regular targeting and the ROI is huge. Retargeting ads are created to target those who had visited your website.
To get the best out of your retargeting marketing, make a strong plan. Every retargeting campaign should have a goal.
Below is the list of retargeting strategies that should not be missed out.
Intent/Stage based Retargeting
Every visitor is different and your retargeting should also be according to which stage the user is currently in. Below is the basic sales cycle: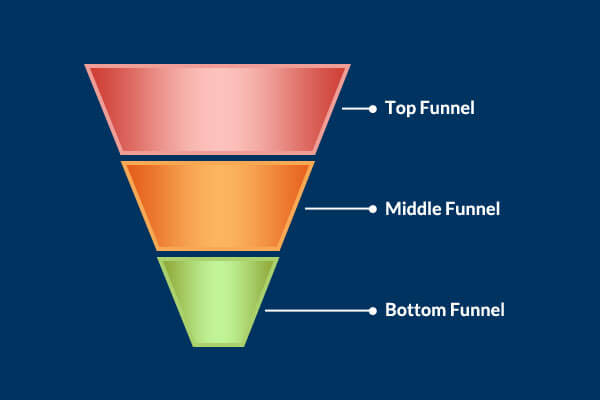 Top Funnel: This is where all your new visitors come first. People come to visit your site to browse or for general information. They do not show any interest in any specific product. In the retargeting campaigns for these visitors:
Show ads showcasing the brand value
Share e-book with them
Run video ad showing how your product can add value
Middle Funnel: At this stage, the user has browsed through the different pages. They visited your product pages, feature pages or pricing pages. This shows their interest level for your product or services. In the retargeting campaign for this set of visitors, show:
Product variation: If the user browsed for 10GB SanDisk pen drive, show similar pen drive from different brands.
A different use case for the product: E.g. if your product is hand blender, show some beautiful recipe made using a hand blender.
Attribute variation: Attributes like color may sometimes play a big role. If someone was looking for a white shirt, then why not show them the same shirt in various colors.
Bottom Funnel: This is the final stage where users have already finalized the product. They are viewing various features of the product and spending more time on this page. They have added the product to their cart. In some cases, the user will make the purchase, however, in many cases, the user will abandon the cart. Design a retargeting campaign to convert these users into customers. The nature of the content will be very different in this case, as the user is already interested in the product:
Abandoned cart alert: Once a user abandons his cart, you can alert users of their cart. Create a series of alerts to be sent with a delay to re-target the user.
Offer/Discount: Since the user is already interested, a small discount can make the deal. Re-target the users with offers and discounts on the chosen product.
Scarcity: User liked the product and because of some reason the transaction was not complete. You can re-target those users showing scarcity. Re-target content should mention the number of units left before the stock expires. This again can trigger the user to make the purchase.
Product Validation: Reviews: Many times users are not sure if the product is good enough. In such cases re-target them with content showing product reviews. This will help them to make the final decisions to purchase or not.
Tools:
Push Notifications: PushEngage
Emails: MailChimp, EasySendy
Social &Search Platform: Specific URL(on product page visit) or Pixel(on website visit)), Google ads, Yahoo ads
Plan-Based Retargeting
For any software company or SaaS-based business, you have a different set of plans for your service. The plan could be a Free plan, Pro Plan, Business Plan. The user has an option to go for the monthly, half-yearly or yearly plan.

Make different segments for each set of customers. See the below example:
[table id=12 /]
Above you now have 7 different segments based on what plan and duration. The ideal goal for you would be to bring every customer to Segment 6(Business Plan + Annual).
Have retargeting goals for each segment. Create different retargeting content for each segment:
Free Plan: Your goal here is to convert them to a paid member. Re-target them with:
Top Features: Update them on various features which can help them in their business
Case Study: Share a case study about how another similar business has benefitted with your product
Pro Plan: The goal is to convert them to either a higher plan or go for the semi-annual or annual subscription. Since they are already using your product, they are familiar with it. Re-target them with content showing:
Advance Features: Certain features that are available on a Business Plan. Show how the advance feature is a must-have with a case study or video.
Discount: You can create some special offers to go from monthly to semi-annual or annual plan.
Business Plan: They are already using your top features and are happy with your product. One thing they might be interested is in pricing. Re-target them with a discount on their next upgrade. Send an alert when their plan is about to expire or they haven't made payment.
Tools:
Push Notifications: PushEngage
Email: Campaign Monitor, Zoho
Facebook: Custom audience based on Email upload, URL visitors
Engagement Based Retargeting
You can track user activities on your website. User activities could be:
Scrolled your page
Viewed video
Downloaded PDF file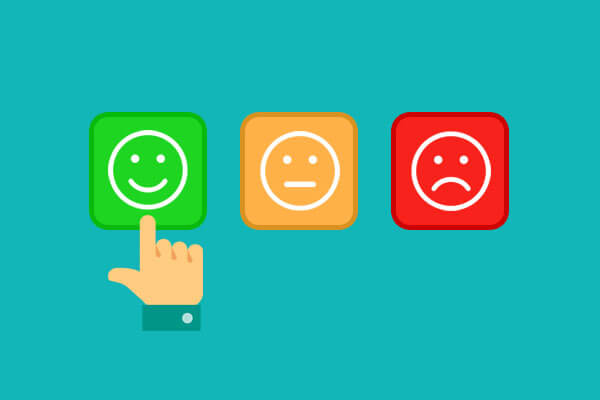 If the user has downloaded PDF or watched the video, it means that the user is engaged. You can track those actions. These sets of users who took some action on your website are highly engaged users. Create retargeting campaigns to show them the value of your product:
Features: Showcase different features and how they can benefit
Demo: Since they had watched the video or downloaded an e-book, try to fix a demo call. They may be looking for more details before finalizing your service.
Offer: Another reason could be the price. Why not share some discount for them to get started with your product or offer some free trial
Tools:
Search-Based retargeting
Many websites have a search feature on their website. Websites like e-commerce, price comparison, deal sites, have the search feature to allow the visitor to make a search for the product they are looking for.

Re-target the users with value offerings. If the user is subscribed to your website through e-mail, you can later send them their search result to their e-mail. You can also send a discount on the e-mail as well.
Another search based marketing is basically the search tools like google search, yahoo search. You can create retargeting ads on Google display or at Yahoo. Now when the user is searching for those products, the search tool will start showing your retargeting ads to the user on different platforms. In search based retargeting, you might not know the intent. So, don't bombard users with buy now. Rather, showcase some valuable content and build up your trust.
Tools:
On-Site Retargeting
Retargeting is not for users who have left your website but also to keep the current visitors long enough on your site. The longer they stay, the more are the chances of conversions. You can create different types of content for your retargeting campaigns for existing visitors:
Exit pop-up: Right before they leave, you can show a pop-up offering a special discount on their 1st purchase. The goal here is to make the customer. The sale value is secondary.
Current Offers: Show them a list of current offers that are running on your site. This may again entice visitors to make the 1st purchase.
Playful Games: Rather than offering a straight discount, you can even do a game based pop-up. Discount earned while playing a game creates a positive effect on the user mind. Since they have earned that discount, they are more willing to use it.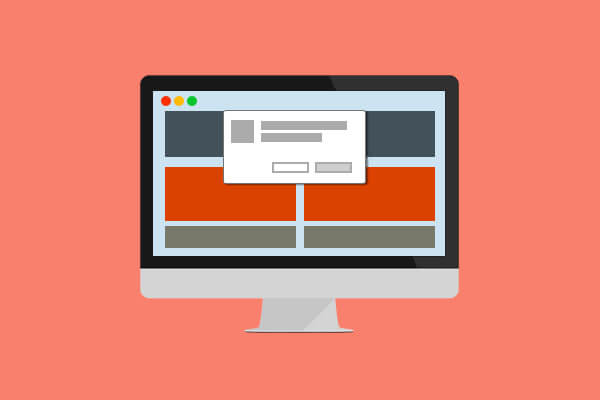 Tools:
Web Push Notifications: PushEngage
Intent-Based Pop Up: Getwoohoo
How to be effective in retargeting?
To make your retargeting, below points comes handy: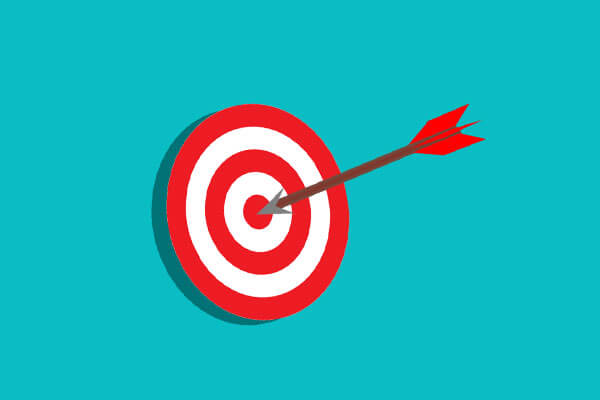 Create a goal for each type of campaign: Each of your campaigns should have a goal. The goal could be 1st time purchased, upgrade, payment or any other transaction depending on your business.
Have different content types for each campaign: Don't show the same messaging again and again to the user. New creative always helps to get customer attention. Always create a series of different content for a single campaign.
Do an integrated retargeting campaign: Do not run retargeting campaigns in a silo. Wherever possible, try to integrate different platforms like Facebook, google ads, RTB and other tools.
Measure your campaigns: Without measuring you will never know which media is giving you better results. Once you start your retargeting campaigns, do check on all channels and see which is more effective.
Have patience: Retargeting does wonder when comes to conversions. However, you need to give time to the campaigns. If you are running retargeting ads on Facebook, it takes time to warm up the pixels. Once the pixel is warmed up, Facebook will auto-optimize your campaigns.
Analyze Campaigns: Many times your campaigns are reaching out to customers for several weeks but you are not seeing any clicks or action. It's time to analyze those campaigns. Make some changes in the content copy or image or offer and run again. The campaign should resonate with users and then only become a success.
Limit the display: Showing your retargeting multiple times to users may push him away from your site. It's advisable to have an upper limit on how many times your ad should be shown to users. In Web Push Notifications, you can schedule – how many times you want to show the cart abandonment notification and what time.