Google is introducing the Quite User Interface for Chrome 80 users, which is geared towards improving the user experience as it relates to asking permissions. Now not every user who visits the website will get the opt-in or permission prompt for push notification subscription, and it will depend on the user preferences (like before, but with extra option), the past user actions and the performance of the website with regards to opt-in of the push notifications and the delivery thereof will function with the release of Chrome 80 update which is due on February 4th, 2020.
What is going to happen?
Chrome will block subscription request for web push notifications, based on your user behavior, or on site's performance. This will be done by the Quite UI being introduced in Chrome 80+.
Here are the three ways how it will work –
Users that frequently block push notification requests – Chrome 80 will block the notifications subscription request by default. The user will have to enable it manually or remove the block to be able to see the request again.
Websites with low opt-in rate – Chrome 80 will block all push notification requests by default. This would happen if visitors frequently clicked Block on native browser opt-in of your website. As the browser collects more data, it will block the websites that use push notifications for malware and spam/promos.
Extra Options in Settings: All users have the option to block all push requests using the Quite UI, as part of their settings.
Chrome Quite UI Overview –
The visitors will see an indication in the URL bar instead of getting the native opt-in once Quite Notifications are enabled for desktop and the message "Notification is blocked" for both mobile and desktop.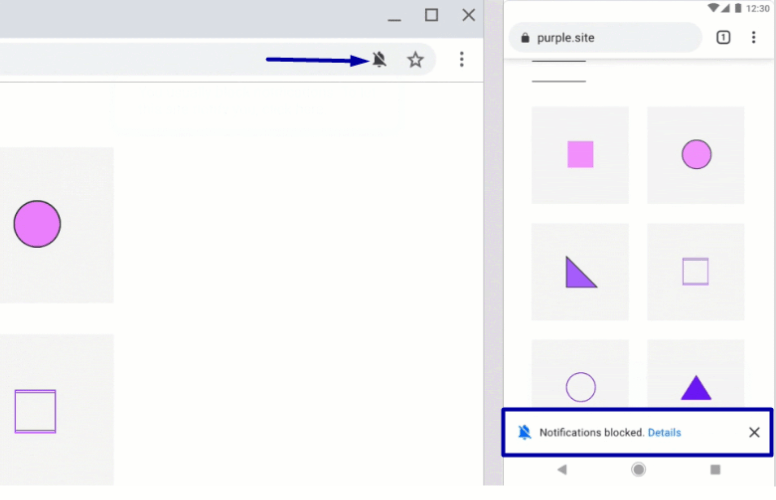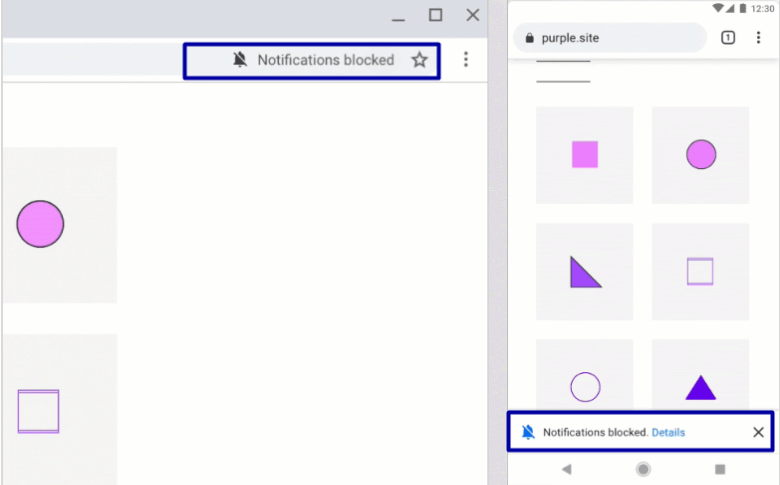 The Chromium team has also launched the "Canary" version of Chrome which has most of the implementation of the new update. You can configure these settings in the pre-release dor the Beta version of the "Quieter notification permission prompt".
You can check the same by visiting the link – chrome://flags/

There could be a few changes once the final version rolls out.
PushEngage Suggestion & Updates for the Chrome 80 changes
PushEngage has prepared some guidelines and some changes in our product, for the new update of the Chrome 80+ browser so that you can continue using your web push channel in an optimal way.
Here's how we have prepared for the browser update –
1. Trigger the opt-in on user action when the user is deriving value – As google has suggested in their opt-in/permission user experience best practices it is best to prompt a user when they are getting value from your site. Example: Search for a flight on your site or breaking news story subscription.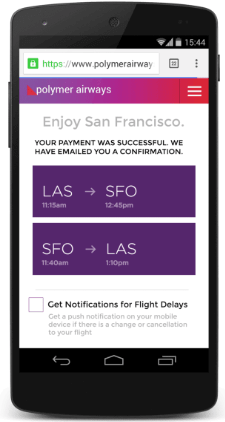 For such custom prompts we do have the Button and Link Element present that can be used to trigger a prompt on any user action, which you can custom integrate on your site. The guide for such code integration is in our dashboard or you can contact our support in live chat or email.

2. Using Single Step Optin or Native Optin for Subscription – Single-step opt-in has the benefit of a higher push subscription rate, but it can lead to customers not knowing fully understanding when they clicked allow.
a) Delay before opt-in: Hence we recommend you should add sufficient delay to the opt-in showing, and if you like show the messaging around the purpose of consent, us it in overlay element. We have both the option of using the delay in seconds or scroll down % as an option to trigger the opt-in. Further, you can configure your delay in mobile devices to a slightly different value than desktop.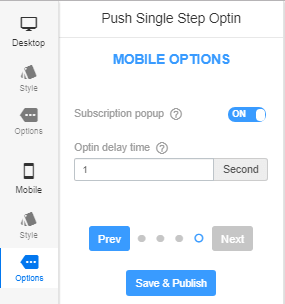 b) Monitor Opt-in Rate with our Advanced Analytics: Further, to prevent a scenario where your site gets penalized for opt-in rate declines, we are building a monitoring system for opt-in rate. As you may know, we are among the few providers giving you opt-in analytics on user actions to user permission/option prompts.
This is in Opt-in Analytics in your PushEngage dashboard. Till the time monitoring becomes available you can check your subscription rate regularly in opt-in analytics. For example, if you set a monitoring alert if the permission opt-in rate falls below 5% we will monitor it on a daily basis and send you an alert if it is below the rate. Then you can decide to take corrective action around you can switch you any other opt-in style if you like. Apart from this you can also compare the data of the subscription rate yourself and can then decide if you wish to continue using the Single-step opt-in or not.

3. Using Bell or Multi-step Opt-in– We are working on enhancing the other opt-in types like Bell option, so you can use it to manage the full life cycle of a subscriber, as well as make it stand out using which your visitors can easily subscribe to the notifications.
On the opt-in overlay, you can add an extra message to prompt the users in case they have a quieter UI they will be shown where to click to enable the notifications if in case it is blocked.
4. The Get Notification Widget/Button – In case if the user has blocked the notifications or if it blocked by the browser by default, we will show the get notification widget and the steps will be mentioned in detail to subscribe to the notifications.
In this way, we help you manage the experience of your website as it relates to web push permissions/opt-in and ensure your subscription rates remain healthy.

If you wish to discuss the best practices or have any questions regarding the new update of the Chrome you can directly contact your Account Manager or send us an email at care@pushengage.com.