Why is Segmentation important?
Segmentation is one of the most important aspects of every marketing plan. It allows you to know your customers and target them with relevant messages. It also helps to increase customer engagement. Proper segmentation of push subscribers can also lead to a higher conversion rate. Segmentation can be based on any attributes like region, language, behavior or device. You can also segment based on the actions user take on your websites like items or products purchased, clicked, or time spent on a product or category or more. In website notification also, segmentation plays an important role in the success of the campaign. With proper segmentation, you can optimize your push conversion rate.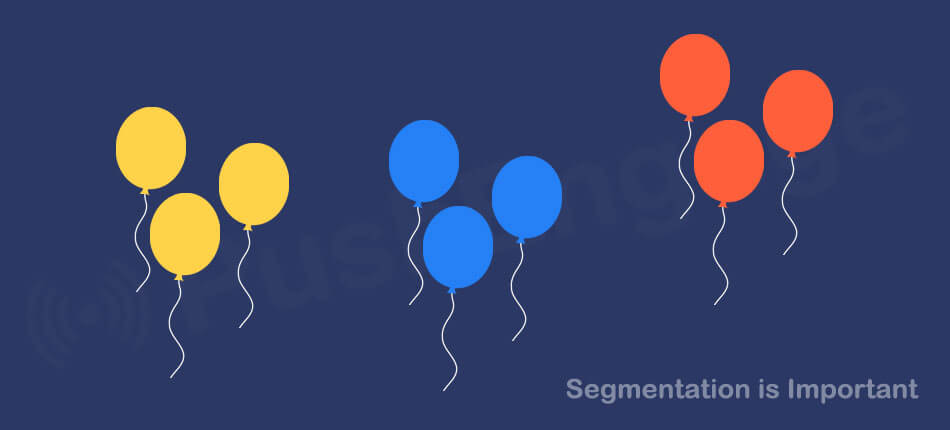 Without segmentation, it's hard to do any kind of A/B testing. If you want to test the content of your push notification, you need to 1st send it to a small segment and see how the customer reacts to it before sending it to the larger segment. The segment also helps to analyze customer better. For e.g., if you want to send a notification to specific geo, with Segmentation you can do that. There helps to profile your customer and create campaigns accordingly. When generating leads on a tight budget, a proper segmentation helps you convert those leads to customers.
You can create dynamic segmentation using GTM. You can also segment dynamically using the PushEngage platform. Once you have users segmented, you can then target with the right kind of notification or personalization. This will result in a higher open rate, CTR, lower unsubscribe rate and higher revenue. Our study shows that with Segmentation, click rates increased by 2x in Web Push Notifications. Also, the notification sent to the targeted segment also leads to a decrease in push notification unsubscription rate.
What customer expects from your E-commerce website?
Every customer expects the website to know them well. When you start interacting with your customers in a more personalized way, it will make them feel special. Rather than shooting the same notification to all customers, sending targeted notification will result in less un-subscription and more engagement. The main goal of any e-commerce business: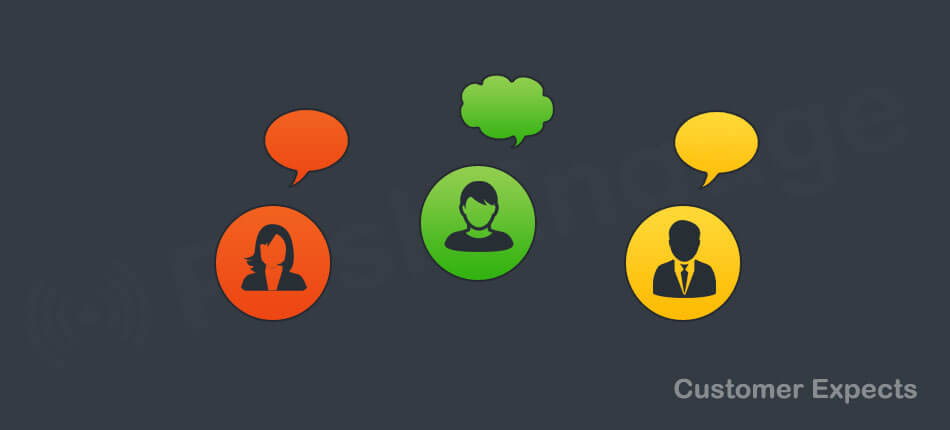 Satisfied customer
Engaged customer
Once you do that the revenue will follow. To do so, we need to segment customers based on different attributes. Once you have a well-segmented customer, you can easily target and send personalized notifications to them.
Different Segmentation Strategies To Use
Based on an e-commerce website design: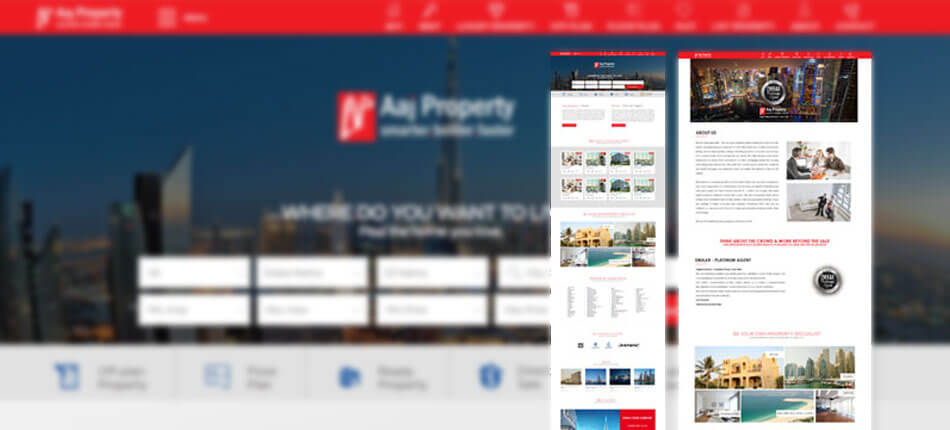 Every e-commerce websites have different categories to display products. Visitors land on your website from different sources like Google search, social media or through referral. You can segment people depending upon from which page he/she subscribes to your push notification service. For e.g. User may be searching for mobile and landed on your mobile page. This is the 1st level of segmentation of subscribers.

How to do that: You can use the URL based segmentation feature of PushEngage. Create a segment name based on your category. Next, create a rule based on the URL and save. Next time anybody subscribes to your notification from any of your category pages, they will be categorized in that segment.
Based on Customer Action
Once the customer is on your site, they browse through different sections and take different actions. You can now segment user based on the action they take:
Cart Abandonment: One of the most common occurrences across all e-commerce websites is Cart Abandonment. Users add the product to the cart and leave the website. As per the report, the average cart abandonment rate is around 67.45%. The probability of converting abandoned cart users are always high.

Create a segment for cart abandonment users and target them. How to do that: You can run an abandoned cart campaign using Push Notification. At PushEngage, you can start abandoned cart campaign either:
Browse Abandonment: Many times a user browses your website, checks out the product, features, price and leaves the page. With PushEngage you can target those customers as well.

Watched Video or Download PDF: As an e-commerce website, you want to provide detailed information about your product. You create an informational video of your product. If any user views or downloads the video, he may be interested in that product. Create a trigger push notification campaign to target users. You can segment these users using on-click segmentation. Target this user group with a different kind of notification, since they are more interested.

Complete Purchase: You will have a user who has completed their purchase. It is always good to send a congratulation notification to the user who has made the purchase. Segment your verified customers and run a separate trigger push notification campaign like Congratulation Campaign, Cross-Sell.

Based on Customer Status
New Visitor Vs Old Visitor: Customer acquisition is always tough. So, whenever you have acquired customers, re-engage with them to ensure they remember you.
For a new user visitor to convert to the customer is always tough. He is yet to have full faith in your website and products and so was just browsing. Put new users in a different segment. Analyze what they do when on the website. For e.g. most of the new users are going to shipping policy, then for new users, send a notification landing them on the shipping policy page which will help to build confidence among new visitors. You can also create a Drip Notification campaign to nurture new visitors on how trustworthy your site is, the various security checks that you have on your website and more. All this is done to build the trust factor among new visitors about your brand.

Never neglect your old or existing customer base. They have already trusted your brand and made the purchase. Create a campaign to show any new product launch or any sale that you are running. You can even start a cross-sell campaign for your old customer, based on what category of product they are interested in. You can also run a review push notification campaign for your verified customer segment.
Average Order Value: As an e-commerce site, you have a wide range of products at a varying price. Create segments based on the Average Order Value.
People in the high average order segment are the ones who have full trust on your website and more willing to do the high-value Create campaigns to send high-value products or products from top brands. They are more likely to convert if the product is good irrespective of the price.

People in the low average order segment are the ones for value for money products. They look for products that are the best under a specific price range. Send notification for products which has got a better review and lower price. They are price-conscious customers and would buy a product that is worth the price irrespective of the brand.
Average Number of Visit: People who are visiting your website on a frequent basis do not need to be bothered with your marketing activities. It may actually act as a deterrent and you may lose a customer. Marketing activities are all about engaging with customers to bring them back to your site and make them feel special. Create segments for frequent visitors and less frequent visitors.
People who are already frequent to your website need to be addressed differently than people who visit on occasions. Frequently visiting users are more confident about your website. You are on top of mind when comes to shopping. Treat them differently. Create loyalty campaigns for your frequent visitors. For e.g. send push notifications offering them extra loyalty points on their purchase to make them feel special. Send free goodies for their loyalty. Loyal customers are hard to get and once you have, offer an extra reason to them for being loyal.

There could be many reasons for people being less frequent in your website. Your aim here is to convert them to loyal customers. Push Notification is a great tool to re-engage with your users. You can plan out a re-engagement campaign to bring back your old or less frequent customers to your website. For e.g. send a notification with discount coupons.
Based on Other Data
Below mentioned segmentation is available as an in-build segment in PushEngage.
Geo: If your website is global or across the country, your user could be from any part. If your website has seasonal products like barbeque (good for winter), ice cream maker (good for summer) and more, you can send a different notification to people under different geo segments.
The more relevant is the notifications; the higher are the chances of success of the push notification.
Device: In today's generation, people are accessing the internet from multiple devices like desktop, mobile, laptop, tablet or others. Having knowledge of which device people use to access your website, will help you to optimize your website for that platform. For e.g., you want to give a new look to your website.
If you find that most of your users are coming from mobile, then you should optimize your website for mobile 1st rather than for desktop.
Time Of Registration: Many times you want to run a special offer to increase your push notification subscription. This offer runs for a specific time period. You may have seen how Amazon runs special promos for those who haven't installed their app. Similarly, you can start promotions to increase your subscription. To do that you need to know who all have subscribed to your notification during a certain period.
How to do that: This is very much possible using PushEngage. At PushEngage you can send a notification based on when the user subscribed to your push notification. You can create a specific notification to be sent to users who have subscribed to your notification from X date to Y date. This way you can segment push subscribers based on time of registration.