Do you want to know the proven ways to recover cart abandonment using push notifications? In this article, we will show you the best ways to recover cart abandonment using push notifications.
Abandoned Cart is a reality in all e-commerce websites where a person leaves a product in his cart without buying. The shopping cart abandonment rate is generally estimated between 65% and 75% for e-commerce sites. This can happen due to various reasons including price variation, high shipping charges, change of mind, ignorance, etc. It is not an easy task to end this completely but you can check for some tactics with which you can make a user make the purchase action complete. To reduce cart abandonment, you can start using browser push notifications. This notification will act as a gentle reminder to the user about a product in his cart. This can ignite an action that can lead to the purchase of the product. If you are facing a drop in recovery from the cart abandonment campaign, then it's time to implement web push notifications. Using push notification you can effectively combat cart abandonment.
According to an infographic by Salecycle, customers abandoned their cart due to the following reasons:-
34% reported they weren't ready to make a purchase
23% discovered a problem with the shipping process or price
18% wanted to compare the advertised price with that of another vendor
15% prefer to make purchases in person
6% did not find a payment option that fits their needs
4% experienced a technical issue during the process
This shows that unless a website does not have options that address the concerns of the customers, the cart abandonment will continue to happen. The urge of any e-commerce platform is to make the user complete a purchase and to minimize cart abandonment. As an e-retailer, one needs to understand:
What product did visitors intend to buy visiting the website?
How was his experience on the website?
Did he complete the purchase? If no, then why?
It's very important to set up the cart abandonment notification on your website. To prevent the loss of customers through cart abandonment, the website must nudge and convince the customer by nurturing him with more information. This can be sending reminders, personalized message and offers to the customers, which often can best be sent through Push Notifications because of their high visibility.
Now check out how you can convert an abandoned cart in e-commerce websites so that your user completes a purchase.
Here are 5 campaign ideas that you can use for cart recovery:-
Sending Abandon Cart Reminders
If your customer visits your website, adds a product to the cart, and leaves without making a purchase, you can start off by sending a notification right away after wait for the first 15-30 minutes. This notification should be like a reminder. For example – "Hey Adam! You just left a pair of trousers in your cart". Adding the name of the user while sending adds more personalization and it can adhere to create an action and that is 'purchase'. You can also add an image of the product he had added in the cart. This can be easily implemented through PushEngage Abandon Cart Push Notification.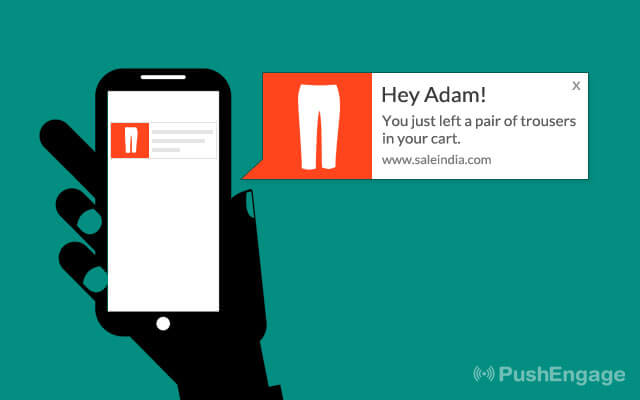 Building up Confidence through Social Proof
Gain the confidence of your user by convincing him of the benefits he will reap when he makes the purchase happen. Sharing the feedback or reviews of the product chosen by them can do help. It will be a reference to a new user and will help to make a decision whether to buy it or not. You can send web push notifications after 15 minutes like "5 more people bought the same product. Look at what they have to say!" Adding a button that redirects them to the content or a blog that shows user reviews and why others bought the product can ease your effort. Again, this is possible through using PushEngage Autoresponders.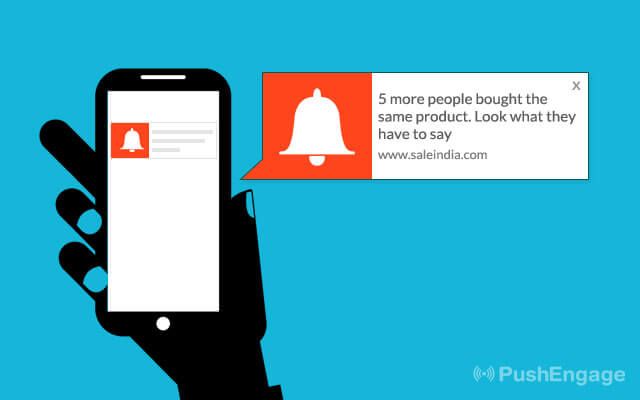 Send them Offers
Building a new customer and re-engaging an older one is not an easy task. You can send them compelling offers like Cash Back on check out, Discounts, Buy 1 Get 1 Free to complete the purchase. Send these shortly after they add the item to the cart.
Show the Urgency
Limited-time sales convert well, as that brings the user on the fence to make a decision. You can use specific words that words like "Hurry Up! Only Two Left in Stock" while sending notifications to show the urgency. This can ignite an immediate action if the user really wants to make a purchase. You can also try sending coupons for a limited time like "Use Code BF60 get 60% off- valid for next 20 minutes".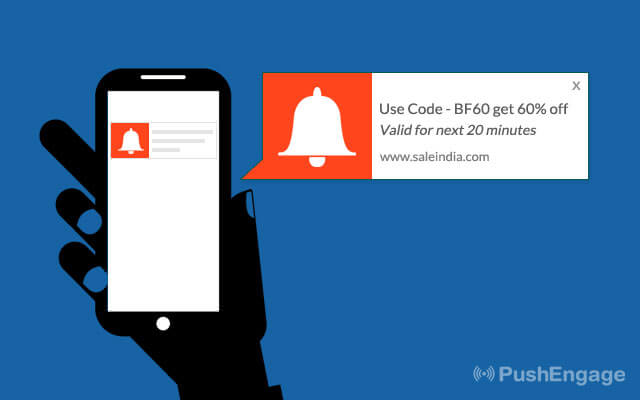 Payment Option as CTA Buttons
As per records, 6% did not find a payment option that fits their needs. With PushEngage you can add two Call To Action Buttons which can redirect users to different pages. With an image of an item they left in the cart you can send them payment options. One can redirect them to where they can use their cards and others which allows them to pay at the time of shipment. You can also ask for their preferred payment option if necessary. On giving multiple payment options customers might consider completing the purchase.
Conclusion – Cart abandonment is bound to happen in every online store. Customers will abandon their cart due to many reasons. So it is important to notify users, not devices, with a personalized tactic to convert them. You can use various kinds of PushEngage Web Push notifications that can be triggered after 10 to 15 minutes of Cart addition as a smart tactic to increase your conversion.