Shopify has made it easy to create an e-commerce website. You can buy the domain and host it on Shopify itself without the need to go anywhere else. They have a lot of free e-commerce templates to get started with. Shopify as a platform also offers Apps to make your life easier. Select the top Shopify apps for e-commerce to get started with. One of the ways to increase re-engagement is Shopify Web Push notifications. It helps you to re-engage customers to increase traffic and conversions. Features of push notification app make it easier to drive traffic to the Shopify store.
Check out the Push Notification playbook for Shopify Store:
People Abandoning Cart
Cart abandonment is one of the most common causes of lost revenue. The user likes the product and add it to the cart but doesn't complete the transaction. You can reduce cart abandonment by optimizing your website. For e.g. include trust badges, show reviews, and many other actions. However, despite all effort cart abandonment may happen. The best way to increase the cart abandonment conversion rate is to use the web push notifications. Implement the cart abandonment tactics using push notification. This is one of the most converting push notification playbooks for Shopify.
In Shopify, you can implement cart abandonment in a single click. All the templates are pre-filled. Activate the cart abandonment campaign and re-engage users. This campaign sends a series of pre-defined web push notifications with the product link and other details. You can also add or edit the templates and run it.
Below is the video on cart abandonment campaign using push notification app in Shopify:
As per the push notification case studies, you can easily get increase the conversion rate by 10%.
Browsed and Left
Using Shopify, it's very easy to beautify the product landing page. You have put high-quality photos with detailed descriptions. Many times people come to the landing page, see the photos and dig thorough the description but left without making a purchase. These are potential lead. If you can bring them back to that page, chances of them buying the product are high.
This can be easily done using the browse abandonment campaign. Activate the campaign from the Push Notification dashboard. It has the entire pre-fill push notification template. Once activated, it will automatically send push notification to those users to bring them back to the product page.
Below is the video of Browse Abandonment campaign on the Shopify platform:
User Subscription
Before getting ahead with all the campaigns, you need to have subscribers. Among all the opt-in types, a single click subscription offers the highest subscription ate. In a single click, users can subscribe to your push notifications. However, to increase your subscription rate, you need to optimize the opt-in.
Users may not subscribe to your push notification just like that. You need to convey the benefits of subscribing to your push notifications. In single click opt-in, you can edit the opt-in message. However, Push Notification has one small but important feature which allows you to convey your message in a single step opt-in.
Use the subscription overlay to let the user know why they should subscribe. Keeping the user informed builds the trust factor and chances of the user subscribing also increases. Below is a sample push notification opt-in with messaging: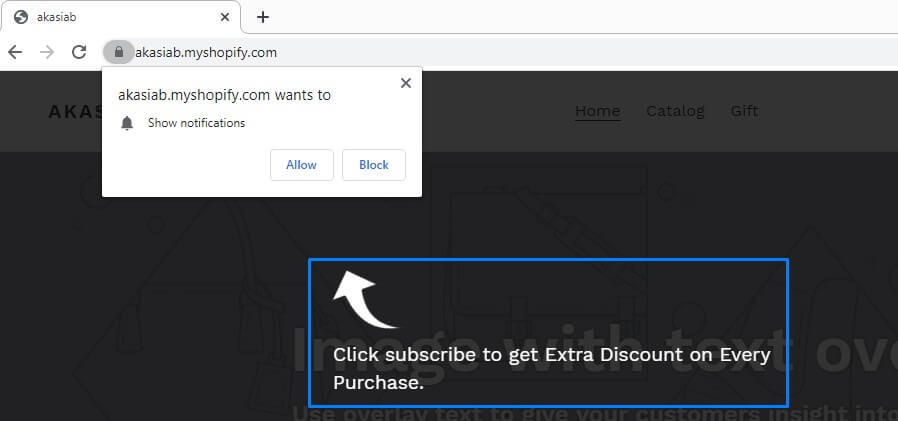 Brand Building
One of the important tasks after creating a store on Shopify is to build the brand. Visitors come to your website and browse through the products. To make the purchase they need to trust your brand. Apart from putting the brand elements on the webpage, you also need to nurture your subscribers to build your brand. Using the Drip Feature you can easily execute this playbook on your Shopify website. See the below video on Drip:
One of the ways is to inform or update users about your website, the product range, the trust factors, reviews, and anything that helps to build a brand. Using a web push notification Shopify App, you can create an on-boarding drip campaign. This campaign will be triggered when any new user subscribes to your push notifications. This playbook helps you to nurture your subscribers to convert them to customers. Below is a sample Brand Building series, you can use for your store: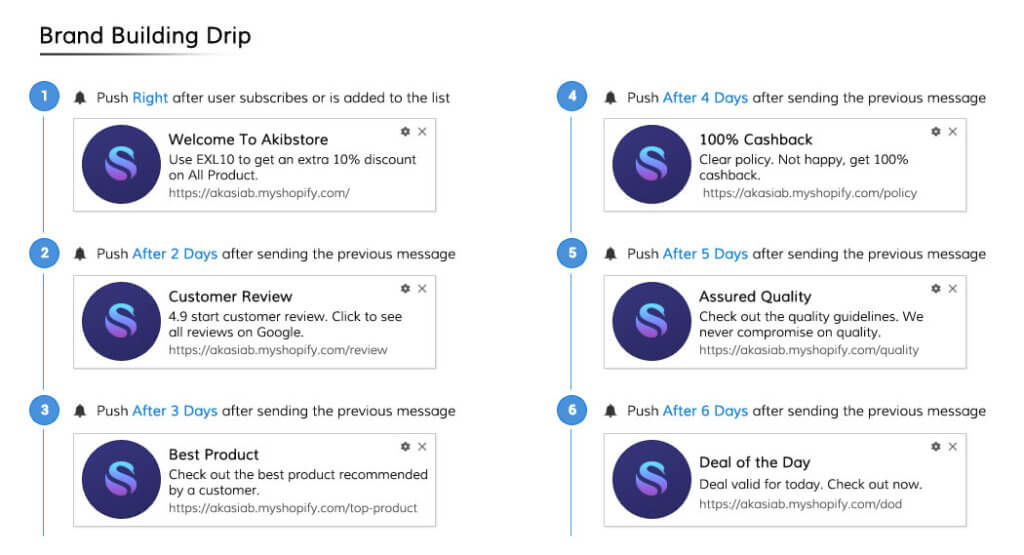 Segmentation
Are all subscribers to your website alike? The most probable answer is no. This means your approach to the subscribers should vary depending upon their interest or any other parameters. Using the push notification app, you can segment your subscribers based on different rules. Some of the effective segmentation technique you can implement for your Shopify Store:
Based on source: Customers can land on any page of your website and subscribe. The page from where they subscribe gives us a hint of which product category they might be interested in.
Based on the action: You have multiple action points on your page. Customers can share your product page with others, watched the video, or save it for later. Segment the customers based on the action they took. This again indicates the interest level of the customer.
Based on purchase: Segment customers based on the purchase they made on your website. You can later re-engage them with similar or complementary products as cross-promotion and increase conversions.

Segmentation helps you segregate customers with a similar set of actions. You can later send targeted push notifications to them. Using this playbook, you can create multiple campaigns to re-engage users.
Flash Sale
One of the ways to increase conversion is to show scarcity. To do this, most of the online websites run Flash sale. This is a time-bound sale. The customer has to make the purchase in that limited period to avail of the discount. For the success of this Sale Event, you need to update subscribers on time. This is one of the most used push notification playbook used by e-commerce website.
Web Push Notifications are delivered right on the browser of subscribers and appear as an alert. When running Flash Sale, send push notifications related to the products on sale. You can even use the segmentation data to send targeted push notifications.

Schedule Event
There are designated sale events that happen annually. Sale events like Black Friday, Thanksgiving, Mother's Day, Valentine's Day, and more happen every year. As a website owner, you have pre-plan your sale activity before-hand.
Using the push notification app you can schedule your sale event. Keep all your creative, landing page, sale details ready, and schedule the push notifications. Moreover, scheduling helps you to focus on other marketing activities without missing to send push notification. Timing is very important during such event and scheduling ensures that the notifications are delivered on time.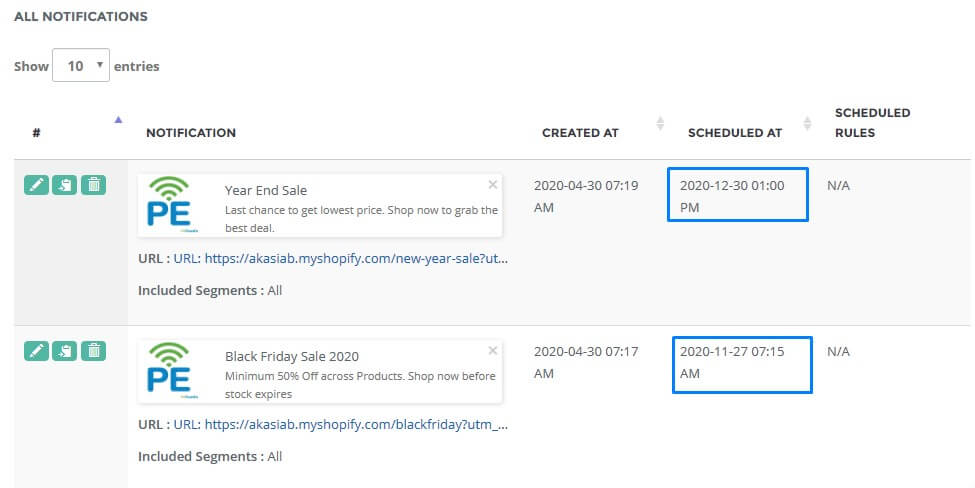 Trigger Campaign
This is the most dynamic push notification playbook for any Shopify store. You have to first identify the right triggers on your website which indicates that the user is interested in your product. The trigger could be user watching the product video, clicking on read more, selecting the product parameters like color, size, viewing product photos, and more.
Based on the user action, you can trigger a push notification. For e.g., if the user is checking the product parameters but didn't make the purchase, the trigger will get activated. It will automatically send a push notification to the user with product details. This way you can re-engage potential customers who have shown some kind of interest for the product.

Implementing the push notification playbook in the Shopify store is very simple. This playbook is a good start to create campaigns for your Shopify store. Make sure to follow the push notification best practices to maximize your conversions. Push Notification is a great tool to re-engage subscribers. In a single click, you can install the PushEngage app on your Shopify stores. All the important campaigns are in-built and you have to just activate them.