[Insider Secrets] How Vegis Gets 10x More Push Subscribers Than Email Subscribers
Vegis is a leading online shop for healthy products based in Romania. They have 6500+ products from supplements, vitamins, organic food, natural cosmetics, and aromatherapy and deliver within 48 hours across Romania.
More Optin Rate than Email
Of Total Revenue from Web Push

Mihai Bucuroiu
CEO, Vegis
The Marketing Challenge
Vegis' traffic was growing rapidly and they were receiving more than 400K visitors monthly. But, they were adding hundreds of new products every month across categories. Since they sell perishable products, they needed to keep the user updated with their latest collections.
In short, they needed a marketing tool that:
Could send instant real-time updates
Was affordable for a small, growing business
Could engage their site traffic
Not being able to send real-time updates meant losing repeat customers or losing their perishable inventory.
That's where PushEngage came into the picture.
How PushEngage Helped Vegis
PushEngage comes with push notification campaigns for eCommerce sites. Vegis started using automated push notification campaigns to grow revenue, repeat traffic, and engagement on the website. Push notifications started to contribute to 2% of total revenue and 2% of total traffic.
Web push became the 9th source of revenue for Vegis. Let's check out how.
Increasing Subscribers
The first step was to grow a list of push notification subscribers for Vegis. PushEngage offers a variety of subscription opt-in types and the one that they chose was a single-step optin.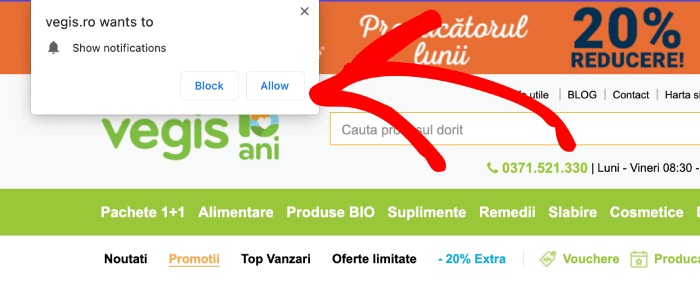 This push notification optin they created was able to grow their subscriber list by 10x more than that of their high-converting email optins. With PushEngage, the subscription rate rose to 5% as compared to e-mail subscription which was at .5%
Pro Tip: If you're getting started with push notifications, you should check out this article on how to style your push notification optins.
Increasing User Engagement
Vegis used different types of push notifications to engage its subscribers. They started with automated push notifications: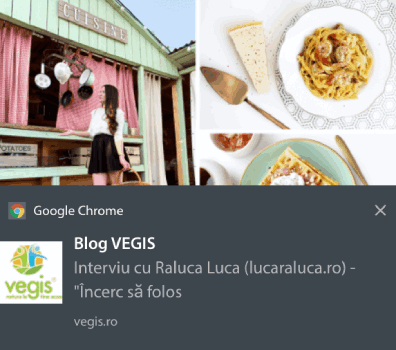 They got a 50% open rate on their push notifications as compared to 12% from email campaigns.
Increased Revenue
Every time they published a new offer on the site, Vegis sent their subscribers an automated notification to promote the sale: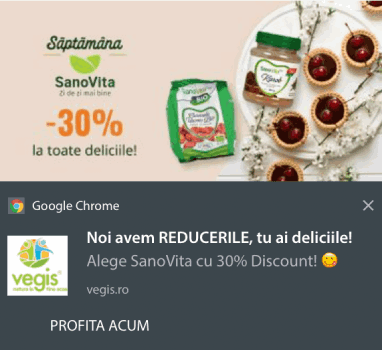 Vegis got some really great results by using custom large images for their notifications. It's one of our top recommendations in our list of push notifications best practices. And they used our tips to generate 2% of total revenue for their business from push notifications.
Increased Repeat Traffic
With PushEngage, got to 2% of total traffic for Vegis coming exclusively from push notifications. And it came from timely notifications and last-minute sales for stock clearance: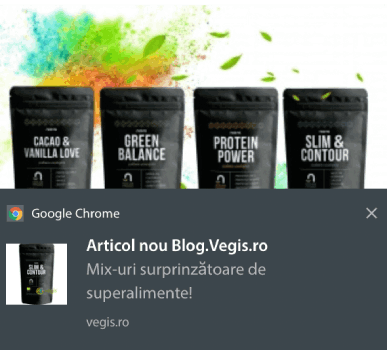 Vegis was able to promote content in real-time with its audience. Using PushEngage's features, they were able to increase brand engagement, push notification open rates, and drive traffic. Since their push notifications make sure that everyone gets to know about awesome deals, Vegis' users are now more engaged and happier than ever.
Cost-Effective Communication Channel
Vegis found PushEngage's pricing to be way more reasonable than other push notification vendors.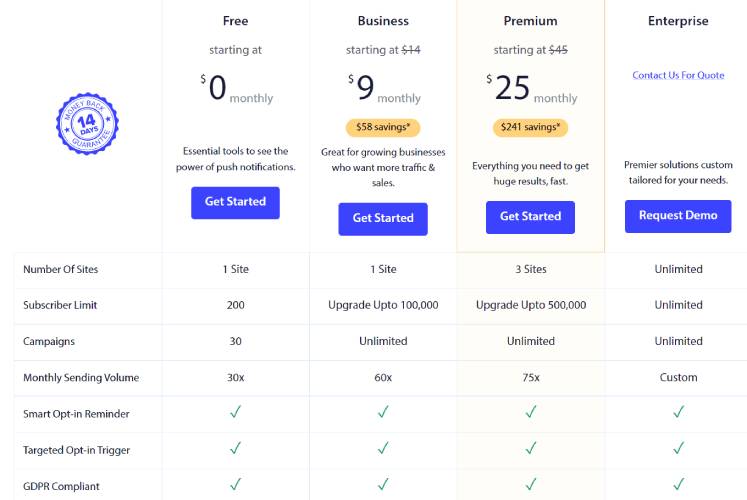 So, it was super easy for them to decide what billing plan they needed. PushEngage offers dynamic pricing based on your subscriber count and the features you need.
The Impact of Using PushEngage
Using PushEngage, Vegis was able to reach out to customers more efficiently and effectively with their promotional deals and offers. They were able to boost traffic, engagement, and sales using automated push notifications.
They were able to:
Update users instantly about new deals and limited-time offers
Increase total traffic to their site.
Get 37% click-through rates
50% optin rates as compared to 12% on email optins
That was the impact of using PushEngage for Vegis. PushEngage is the #1 push notification software in the world. You can use PushEngage to grow your traffic and engagement with the help of automated campaigns. So, if you'd like to grow your business like Vegis, get started with PushEngage today!
Engage and Retain Visitors After They've Left Your Website
Increase the value of every web visit with Push Notifications that are hard to miss.
Forever Free Plan
Easy Setup
5 Star Support