[Insider Secrets] How Ofertia Increased Recurring Users by 39% in 6 Months
Ofertia collects brochures and catalogs from offline stores and publishes them online for desktop and mobile devices. This ensures the customer doesn't lose out on any offer while shopping.
More Optin Rate than Email
Increase in Recurring Users
More Retention than Email

Montse Yélamos
CRM Manager, Ofertia
The Marketing Challenge
Ofertia curates promotional offers and deals from offline stores and publishes them online so that its users can get deals that aren't available elsewhere. Many of the deals and offers they publish on their site are available for a limited time. So, it was really important for them to update their users in real-time.
Not being able to send real-time updates meant losing repeat customers.
That's where PushEngage came into the picture.
How PushEngage Helped Ofertia
PushEngage comes with push notification campaigns for publishers. Ofertia is mostly a curation platform where they make money by promoting deals for offline vendors. Instead of a dropshipping model, they use a simple content publishing model.
When Ofertia started using web push notifications, they saw a spike in user acquisition, retention, and revisits in 6 months. The best part was that they had no previous experience with web push.
Increasing Subscribers
The first step was to rack up push notification subscribers for Ofertia. PushEngage offers a variety of subscription opt-in types and the one that they chose was a single-step optin.

This push notification optin they created was able to grow their subscriber list by 12x than that of their high-converting email optins.
Pro Tip: If you're getting started with push notifications, you should check out this article on how to style your push notification optins.
Generating Repeat Users
Ofertia used different types of push notifications to engage its subscribers. They started with RSS push notifications which are the simplest type of automated push notifications: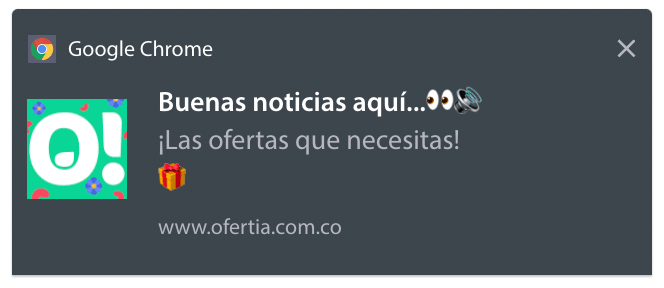 Every time they published a new offer on the site, Ofertia's subscribers received an automated notification from them. Of course, not all their campaigns were completely automated. For higher engagement rates, they also sent out push broadcasts to promote limited-time deals: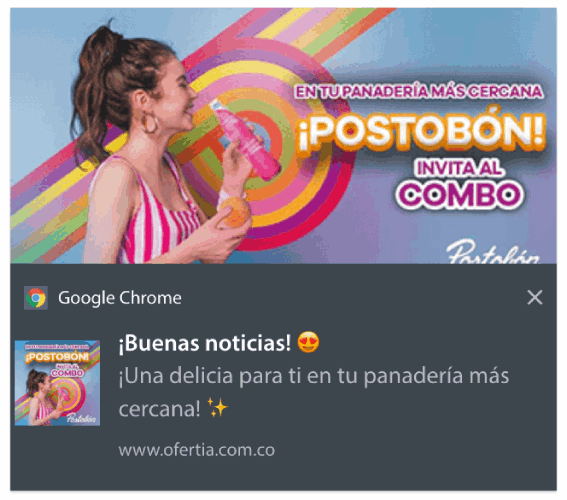 Ofertia got some really great results by using emojis, a custom large image for the notification, and catchy copywriting. These are all part of our recommended push notifications best practices and they took these lessons to heart. The result was a 39% increase in repeat users in 6 months!
Increased Repeat Traffic
With PushEngage, Ofertia was able to get 2x higher open rates for push notifications than for email campaigns. They got more traffic on their site as a result and it led to immense growth in 6 months.
They used push notifications to promote catalogs for well-known local brands: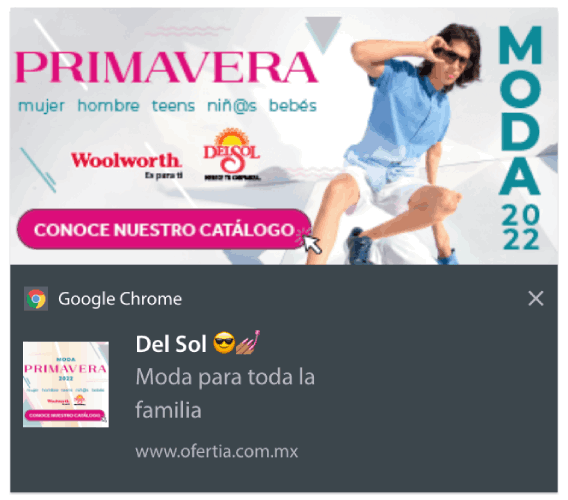 And the same went for their limited time offers as well: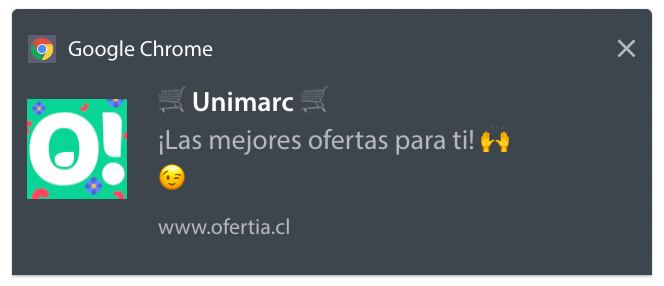 They managed to 10x their retention rates in 6 months using timely notifications.
Ofertia was able to promote content in real-time with its audience. Using PushEngage's features, they were able to increase brand engagement, open rates, and drive traffic. Since their push notifications make sure that everyone gets to know about awesome deals, Ofertia's users are now more engaged and happier than ever.
Cost-Effective Communication Channel
Ofertia found PushEngage's pricing to be way more reasonable than other push notification vendors.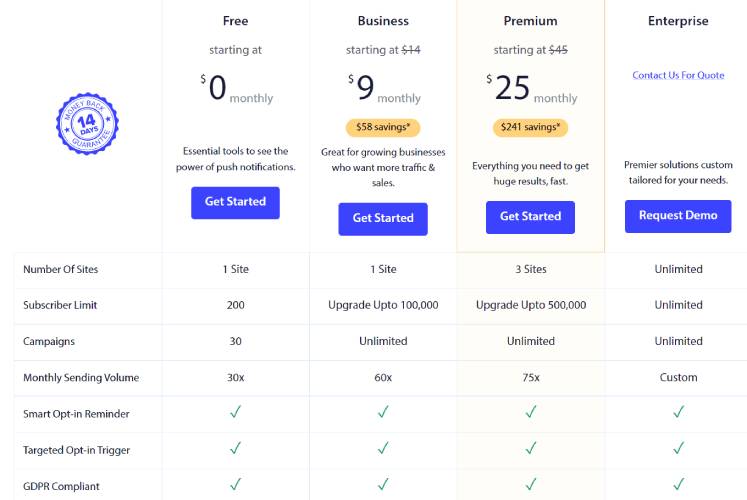 So, it was super easy for them to decide what billing plan they needed. PushEngage offers dynamic pricing based on your subscriber count and the features you need.
The Impact of Using PushEngage
Using PushEngage, Ofertia was able to reach out to customers more efficiently and effectively with their promotional deals and offers. They were able to boost traffic, engagement, and sales using automated push notifications.
They were able to:
Update users instantly about new deals and limited-time offers
Increase recurring users by 39% in 6 months.
Get 12x higher optin rates than email optins
Send mobile browser push notifications for 2.7x higher click rates than desktop browsers
Get 2x higher open rates on push notifications than from emails
Increase retention rates by 10x in 6 months
That was the impact of using PushEngage for Ofertia. PushEngage is the #1 push notification software in the world. You can use PushEngage to grow your traffic and engagement with the help of automated campaigns. So, if you'd like to grow your business like Ofertia, get started with PushEngage today!
Engage and Retain Visitors After They've Left Your Website
Increase the value of every web visit with Push Notifications that are hard to miss.
Forever Free Plan
Easy Setup
5 Star Support