[Insider Secrets] How LoanMart Generated 60K+ Push Notification Subscribers Using Drip Campaigns
LoanMart is one of the leading auto title loan lenders across the United States with 250k+ happy customers. LoanMart specializes in providing car title loans where you can get a loan with your car as collateral.

Justin Cross
Marketing Manager, Wheels Financial Group, LLC
The Marketing Challenge
LoanMart was very clear about its goal. They wanted to communicate with those coming to its website beyond that initial visit. Businesses in the finance sector are super competitive and it's really difficult to get website traffic to convert directly. To increase conversions, LoanMart needed to re-engage with their visitors and bring them back to the site.
Increase repeat traffic for the website
Increase the overall revenue for the company
Re-target customers more effectively
Their goals made PushEngage the perfect marketing tool from day one.
How PushEngage Helped LoanMart
PushEngage has many push notification features that help e-commerce businesses achieve their target revenue. LoanMart started using regular push notifications to inform its subscribers about daily deals and ongoing sales.
Increasing Subscribers
The first step was to get push notification subscribers for LoanMart. So, they started creating push notifications like this one:

LoanMart uses Drip Campaigns effectively. They created approximately 6 months of automated push notifications for subscribers. This way they re-engage customers and slowly convert them into customers over time.
Pro Tip: If you're getting started with push notifications, you should check out this article on how to style your push notification optins.
Generating Repeat Sales
LoanMart was able to re-engage with customers using super-targeted push notifications.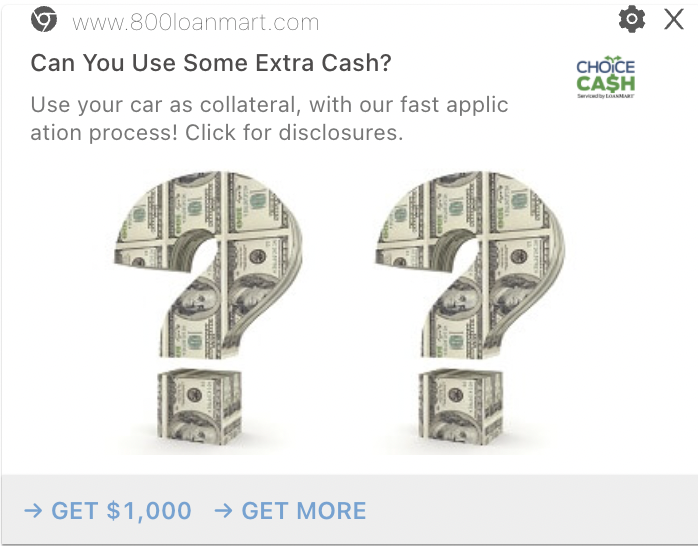 LoanMart operates across about half of the states in the United States. Using geo-segmentation, they were able to target only the relevant subscribers. LoanMart sends notifications only to subscribers from the states they serve. This targeting makes their campaigns more effective and keeps generating revenue for a long time.
Instant Customer Engagement
With PushEngage you can re-engage with subscribers easily and get high repeat traffic.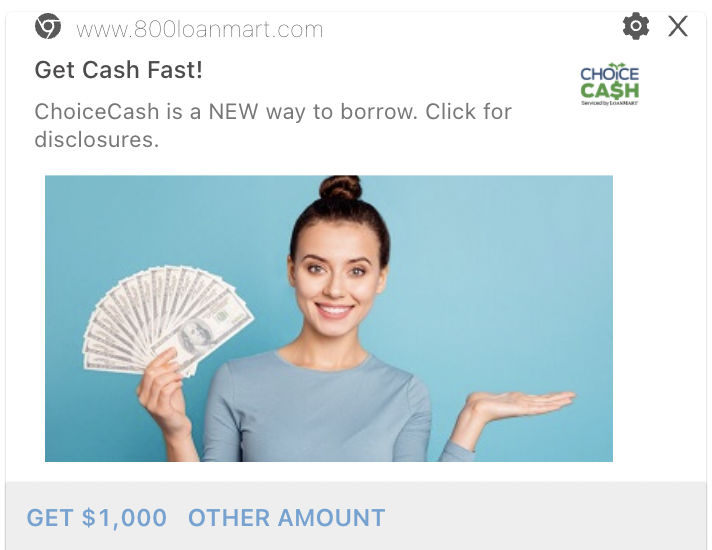 LoanMart was able to generate higher click-through rates for its push campaigns as compared with other channels. CTR for their web push campaigns was 4X times the clicks rates of other re-engagement channels.
Cost-Effective Communication Channel
LoanMart found PushEngage's pricing to be way more reasonable than other push notification vendors.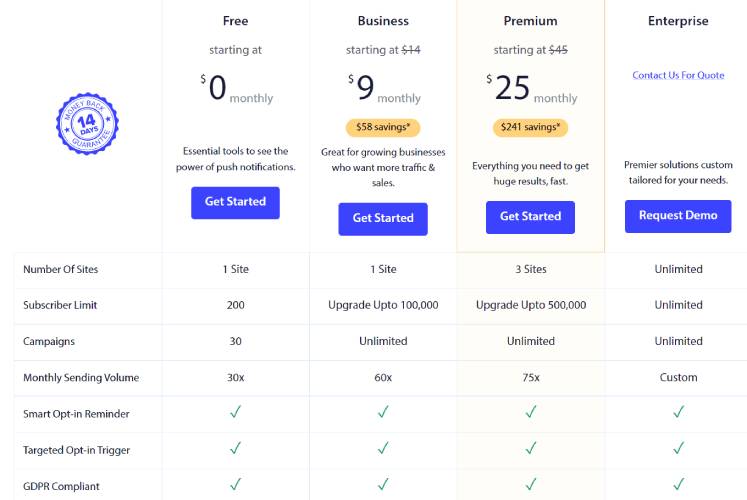 And it was super easy for them to decide what billing plan they needed. PushEngage offers dynamic pricing based on your subscriber count and the features you need.
The Impact of Using PushEngage
Using PushEngage, LoanMart was able to reach out to customers more efficiently. Growing an engaged subscriber base isn't easy in the financial sector. But LoanMart managed to do it using automated push notifications.
LoanMart was able to:
Retain and re-engage subscribers
Convert subscribers into customers
Get a 19.81% optin rate
Increase their subscriber base to over 60,000
Get 4x CTR on push notifications compared to other channels
That was Justin Cross from LoanMart discussing the impact of using PushEngage. PushEngage is the #1 push notification software in the world. You can use PushEngage to grow your traffic and engagement with the help of automated campaigns. So, if you'd like to grow your business like LoanMart, get started with PushEngage today!
Engage and Retain Visitors After They've Left Your Website
Increase the value of every web visit with Push Notifications that are hard to miss.
Forever Free Plan
Easy Setup
5 Star Support