Notice: There is no legacy documentation available for this item, so you are seeing the current documentation.
The analytics section can give you an idea about the trends of your campaigns, subscribers statistics & region.
Three different options can help you understand subscriber analytics –
Summary
Subscriber Statistics
Subscription Opt-in Analytics
Summary for each site can be seen under Analytics > Summary. Here you can see the subscriptions in Day-wise, Week-wise, or Month-wise data in the given date range. This screen will help you see new subscribers, daily unsubscribes & collective views, clicks against all notifications sent in a day.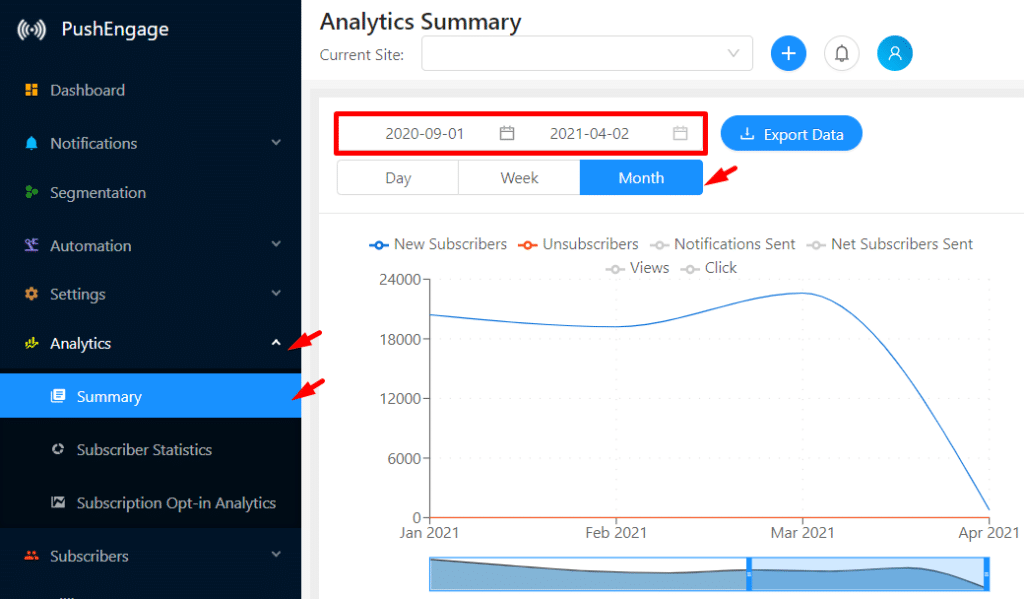 Subscriber Statistics helps you understand the demographics of a subscriber. You can navigate to Analysis > Subscriber Statistics. You can see the subscribers summary in the below segments as mentioned in the screenshot :
1. Country
2. Browser
3. Device
Subscription Opt-in Analytics: To see the data show up in this section, you will have to enable Opt-in Analytics by navigating to Settings > Subscription settings > Opt-in Analytics > check the box & click on Update as shown below :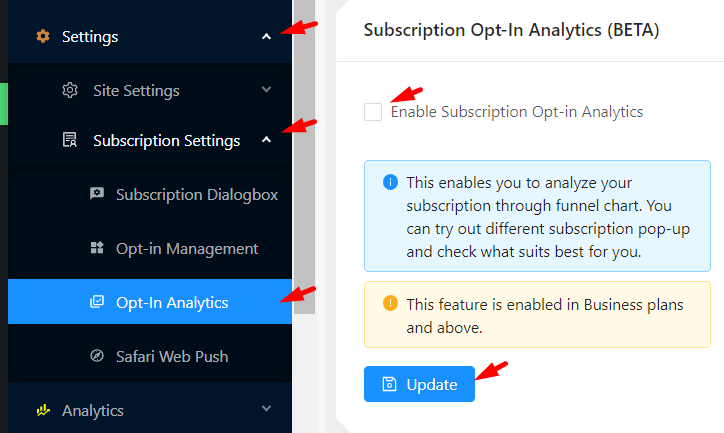 And then, when you navigate to Analytics > Subscription Opt-in Analytics, you can see a funnel view of the opt-in performance. It gives a holistic view of people who clicked on allow, block or close. It also includes the analytics of the recovery widget – 'Get notification widget' which means people who opted in through this method. You can see this data in daily, weekly & monthly view.