Notice: There is no legacy documentation available for this item, so you are seeing the current documentation.
Web Push Notifications enable your visitors to become subscribers. While some people click on allow, a section of visitors clicks on the block. However, we do not want these subscribers to be lost forever. So we give them a second chance to subscribe through our recovery widget.
Before You Start
You should remember only people who click on the block on their first visit to Subscription Opt-in will be shown this widget. It will be a sticky widget unless the visitor has taken an action. Once the user clicks on it and takes an action, you will not see the widget again.
How to Setup Recovery Widget
Two types of Widgets are available. You need to navigate to Installed Plugins. Click on Design and then move to the Widgets Tab.
1. Button Widget
This widget lets you have a sticky button on your website's left or right side. This is how it appears on the website.
2. Bell Widget
The bell widget appears at the bottom of the screen. However, you can customize these widgets the color and position.
Customizing the Widget
For customizing the widget, you will be redirected to PushEngage App Dashboard once you click on Edit.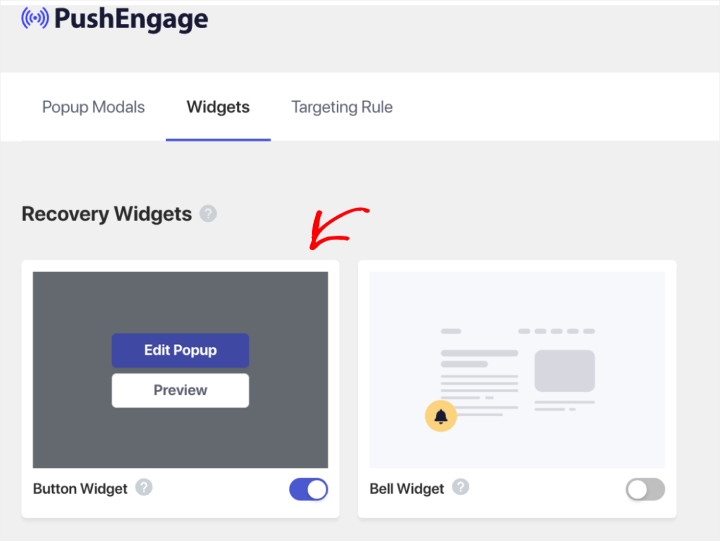 As you get redirected to the App Dashboard, you can decide the placement of the widget, the color that can fit your theme, and the text that will give you maximum recovery of subscribers.
If you click Edit on the bell widget, you can make changes similar to the button widget.
Once you have made the changes, click Save Changes and close the tab.

Note: Once you have made changes it might take 2-4 minutes to reflect the changes on the website.
This way you should be able to recover subscribers. This is all you need to do to enable recovery widgets on your website.
If you run into any issues, please feel free to contact us by clicking here. Our support team will be able to help you.