Notice: There is no legacy documentation available for this item, so you are seeing the current documentation.
Goal Tracking helps you see within the PushEngage dashboard how many goals count you have achieved and the goal value of your campaigns. These goals are visible across all your campaigns – push broadcast, drip autoresponders, and trigger campaigns.
Understanding Goals
Goal tracking is not just limited to Revenue tracking for E-commerce sites but it can be pageviews, bookings, coupon clicks anything that a business defines as a goal.
UTM parameters tell you the percentage of traffic being driven to the website through subscribers clicking on web push campaigns. But a purchase or site visit is not always attributed when a person directly clicks on these campaigns. Some brands or businesses like the flexibility of defining the window for a larger span and the attribution method as campaign view or campaign click.
Depending upon the nature of the business, a view or click of push campaigns can influence the completion of goals.
Enabling Goal Tracking
You must log in to PushEngage Dashboard and navigate to Analytics » Goal Tracking.
Here you will see a checkbox Enable Goal Tracking. This checkbox must be checked, and then you must decide the Attribution method and window.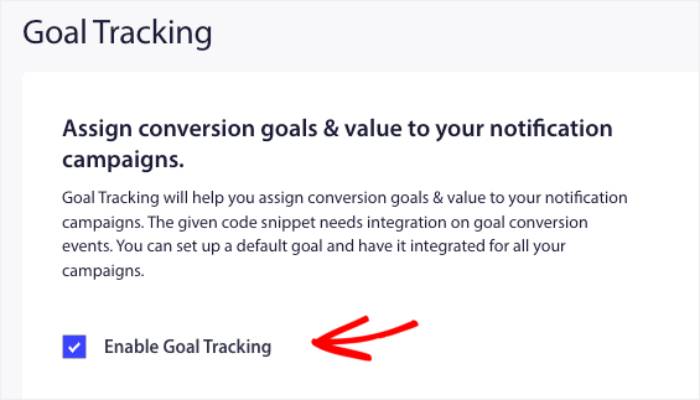 You also need to name the goal and if it is currency. You can choose the right currency from the dropdown to enable it in your dashboard.
Some businesses like to have Last click and 5-7 days, whereas others, like Media/Blog posts sites, keep the attribution method as view and the duration for up to 10 days.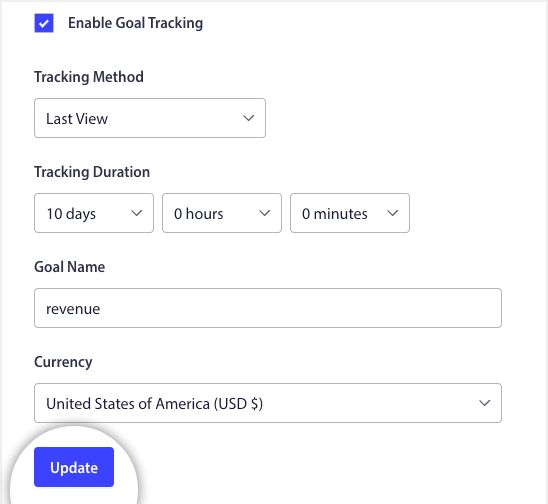 Once everything is set up, please click on Update.
Placing the Tracking Code
The Tracking code is mentioned on the right side of your dashboard. Once you have changed the goal name and currency, it gets updated.
Now you have to copy and send the tracking code to your developer so they can place it on your final conversion event, which could be anything like – a page visit of an article, click of a button, purchase of a product, or booking completion.
There are two important values here –
1. Goal Count: This has to be unit value as many conversions happen; this can keep incrementing.
2. Goal Value: This would be the actual value of the goal. It is mostly helpful for E-commerce, Affiliates, and Travel Sites, where they will also dynamically send this value from their backend so it can reflect in our dashboard and help with better analytics.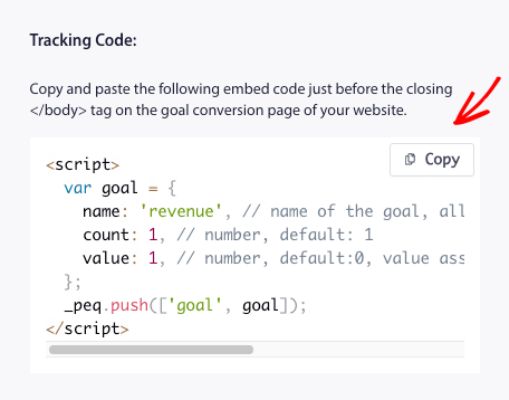 Once both tracking code and goal tracking are set up, all your campaigns must show the value in 3-5 days.
That is it; goal-tracking integration is complete.
If you run into any issues, please contact us by clicking here. Our team will be able to help you.