Notice: There is no legacy documentation available for this item, so you are seeing the current documentation.
PushEngage makes it easy to target your audience based on page visits and the actions they take on the website by sending them personalized notifications. Now, you don't have to depend only on API neither you're expected to be well versed with coding to segment your subscriber base. It can be done using the PushEngage dashboard easily.
How To Segment Subscribers Automatically on Page Visit
Login to your PushEngage Dashboard.
Navigate to Audience > Segments > Custom Segment > Create New
Enter the Segment Name and start adding the Segment Criteria.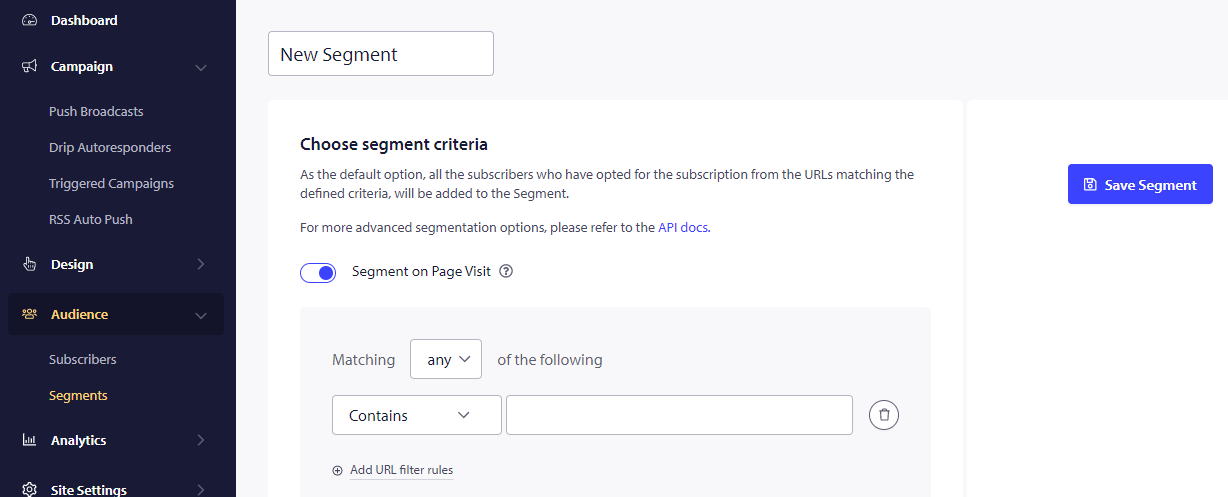 Ensure to enable the Segment on Page Visit Button as only then you will be able to segment the already subscribed and segmented users based on the page they visit.
There are three rules for Contains, Exact Match & Starts with which can be used as per the requirement.
You also have the option to exclude certain URLs using these rules to complete a segment rule.
This is the most basic type of segmentation. Apart from the page visits you can also segment based on action and events happening on your website.
If in case you run into any issues, please feel free to contact us by clicking here. Our support team would be able to help you