Notice: There is no legacy documentation available for this item, so you are seeing the current documentation.
Wix is an amazing platform to start your own website. Integrating Push Notifications on Wix Site is very simple and takes less than 10 minutes. In this article, we will show the exact steps to integrate push notifications on a Wix site.
Below are the steps to install Push Notifications on a Wix
Login to your PushEngage account. Go to Settings –> Installation Settings. Choose your website type as "HTTP" or HTTPS".
A) If your website is HTTP, then select site type as HTTP. You will see the PushEngage Javascript code. Copy the code and login to your Wix site. You have to add this code to your Wix site for integrating PushEngage. Example code is below

Follow the below steps to integrate PushEngage Web Push Notifications in Wix Site:
Wix Account : Log in to your Wix account. Select the Edit site. Click on Add.
HTML iFrame/Embed : Select Embed > HTML Iframe from the list.
Integrating PushEngage Code : Copy/paste the JavaScript Redirect code into the box labelled « HTML / embed code». Click Update.
Code Publish : Right-click on the iframe. You will get an option of Shown to All Pages. Enable it and publish the page.
PushEngage Live : You will see an opt-in like this.

You can select any Dialog box type from Settings > Subscription Settings > Subscription Dialog box.
B) If you are an HTTPS site, then go to your Settings > Subscription Settings > Subscription Dialog box :
Select among any of the dialog boxes except Push Single Step.
Then Select Quick Install to Yes.
See screenshot below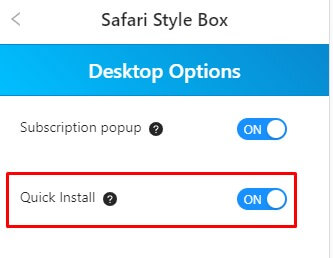 Note – When on HTTPS site try placing the opt-in at the top-center position while editing the website and doing HTML settings as shown :

That is it and you should be live with Web Push Notifications on your Wix site. You will see an opt-in like this.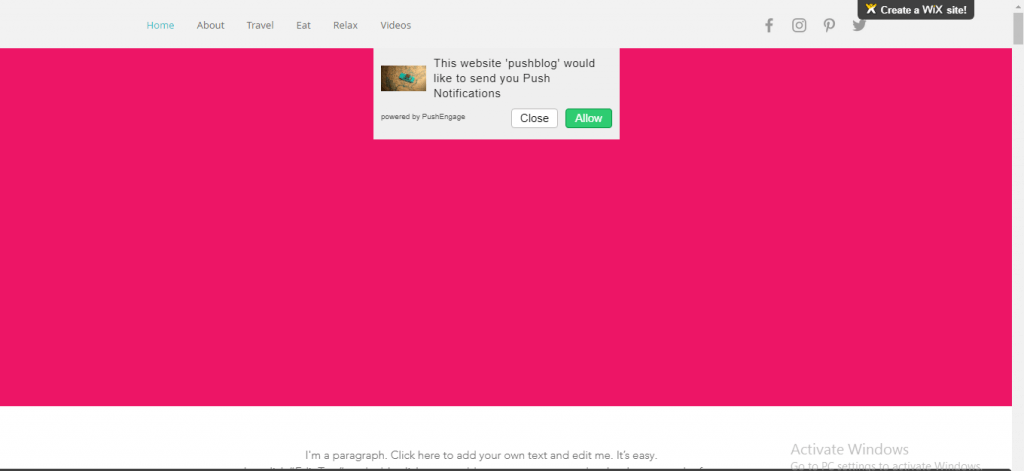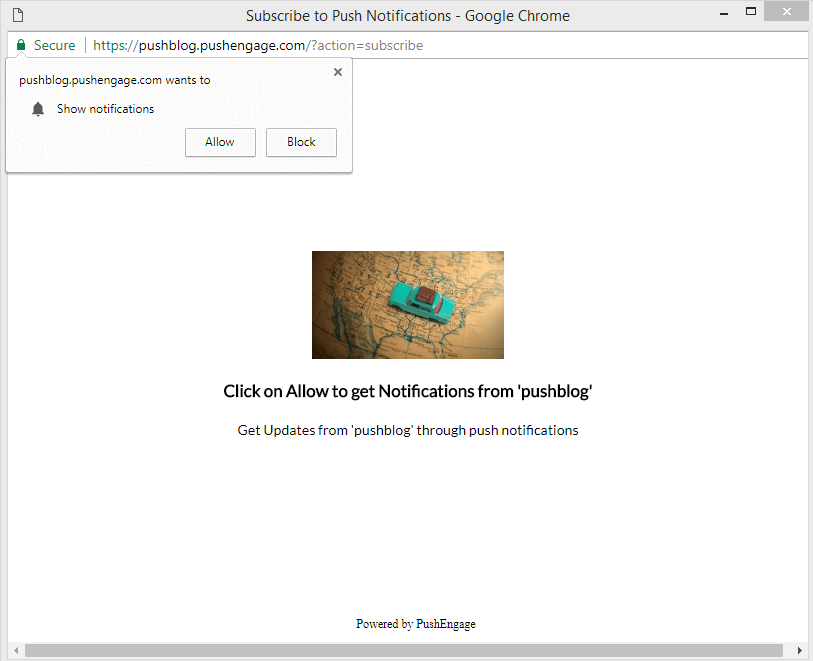 After installing push notifications on the Wix site, you can send a custom notification, segment your users, schedule notifications, notifications in the local language, and many more things with PushEngage on the Wix site. Create campaigns and re-engage customers using web push.