Notice: There is no legacy documentation available for this item, so you are seeing the current documentation.
Squarespace is the all-in-one solution for anyone looking to create a beautiful website. PushEngage supports websites based on the Squarespace Platform. If you want to send web push notifications from the Squarespace, then you can install PushEngage in less than ten minutes.
Here's the steps you would need to follow –
1. Log in to your Squarespace account. Go to settings > Advanced >developer mode > Code Injection.
2. Click on Advanced Settings.
3. Click on Code Injection.
4. Then log in to your PushEngage Dashboard and navigate to Site Settings > Site Details > Scroll down to Click here for Setup Instructions.
Choose Any Site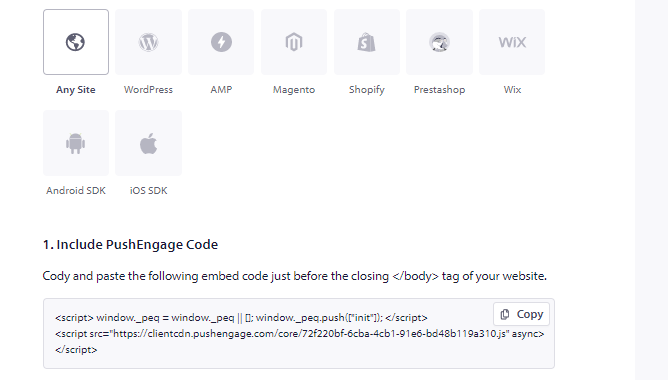 5. Copy the code and insert it in the header section of Squarespace.
This would complete your installation of PushEngage on Squarespace.
If in case you run into any issues, please feel free to contact us by clicking here. Our support team would be able to help you.