Notice: There is no legacy documentation available for this item, so you are seeing the current documentation.
The best thing about the Two-step Opt-in is that you can customize it and you can include a marketing message that convinces people to subscribe.
There are five styles in Two-step Opt-in:
1. Safari Style Box
2. Floating Bar
3. Bell Placed Bar
4. Large Safari Style Box
5. Large Safari Style with Segment
All the above styles can be edited with following details:
On the selected style, you can click on Edit > Options. Here, you can change the Placement of Opt-in, Background Color, Allow Button & Block Button.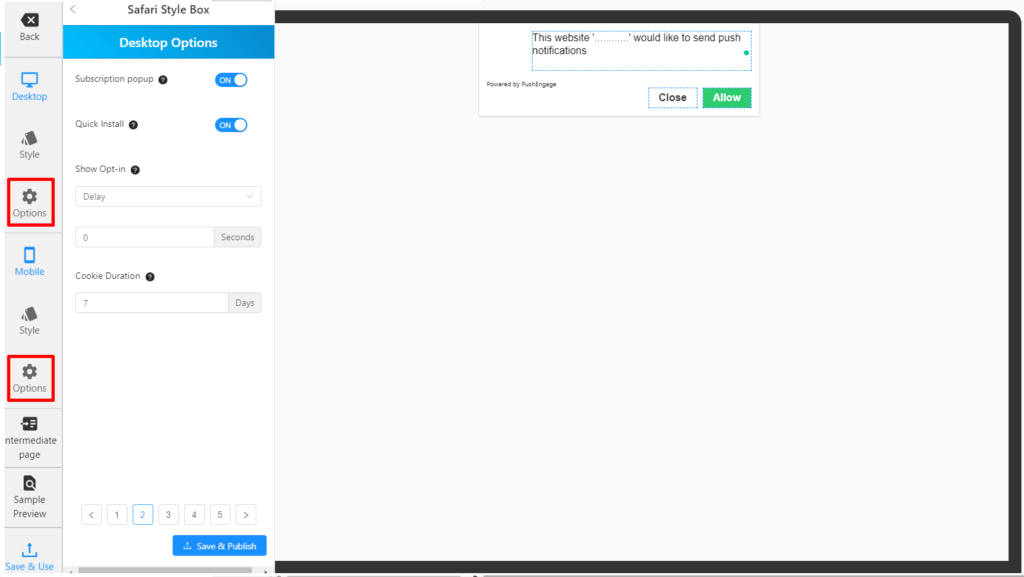 Subscription pop-up: This is the toggle button used to disable or enable showing the opt-in on the pages that are installed with the code. If you turn off this toggle, you will stop collecting subscribers.
Quick Install :
We recommend keeping this option always off. So subscribers are collected on your own domain.
You also need to put 1 file which is service-worker.js in your root folder. This file is available under install settings as package download in the HTTPS option.
Show Opt-in: This is where you can set the rule to either show the opt-in after a delay or after scrolling a certain percentage of the page.
a. Delay – In Seconds
b. Scroll – In Percentage
Cookie Duration – Number of days
Desktop Intermediate page: Here you can edit the color of the background & the text as you prefer.
a. Background Color
b. Edit text
These are the rules that are applied for the Desktop & similarly for the Mobile browser visitors, to see the Opt-in to subscribe.
That is it. Once you have customized the opt-in as per your need, you can save the changes.
Enjoy converting website visitors into subscribers.