Notice: There is no legacy documentation available for this item, so you are seeing the current documentation.
A/B Testing is the best way to analyze which type of content is appreciated more by your Audience. You can experiment with different copies for all audiences or selected sample audience and then send out winner notifications to the rest of them.
Note: A/B testing is only available on PushEngage for the Premium plans and above. If you're already using PushEngage and need to A/B test your notifications, please consider upgrading your account first.
We have two types of A/B Testing –
Regular A/B Testing – The A & B push campaign equally goes to a randomly distributed audience. You can manually analyze the test results and make decisions based on them.
Intelligent A/B Testing – Here, the A & B push campaign goes to sample size for a given duration, and after that time winner campaign gets sent to the rest of the audience.
Login to your PushEngage dashboard and navigate to Campaign > Push Broadcasts > Click on Create New Push Broadcasts > Add A/B Testing.

Enter the notification title, message, URL, and image for both the variations of the notifications. We do recommend using different UTM parameters for both the notifications.
To add a multi-action notification or large image, scroll down and add the variations in the notifications. You can do AB Test based on various parameters –
Notification content
Landing page URL
Large Image & Notification Image
Multi-Action Button
Interaction Types
Once you have created the notification for both A & B. Navigate to the Audience section. You can either choose to send it to all or decide specific audience group while planning the notification.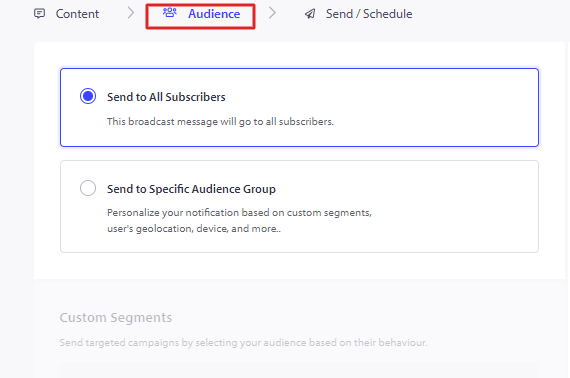 We recommend doing A/B testing for your broadcasts and your segments to analyze the results. You can send out a different template to the same audience group in A/B Testing.
Once your audience is set up, you can move to Send/Schedule Tab. Here you can add sending or scheduling rules.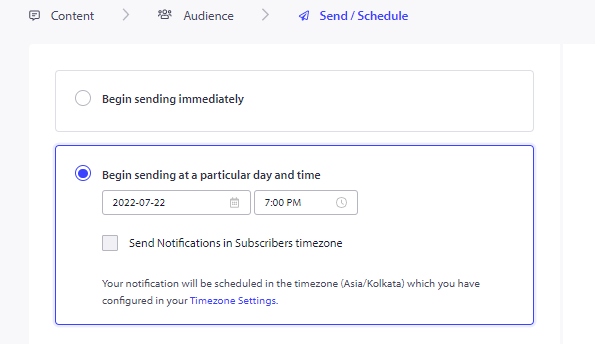 If you send out without specific rules, your A & B notification will go out randomly to 50% of your audiences. You can see the results under Sent Broadcasts and then manually analyze the better-performing campaign. The winner notification can be used further in your regular campaigns.
Setting up Intelligent A/B Test
An Intelligent A/B Test helps you send to a selected audience section and run the test for a defined period. After that duration, the better-performing campaign is automatically sent to the rest of the audience.
You can scroll to the Intelligent A/B Testing section and slide the toggle On.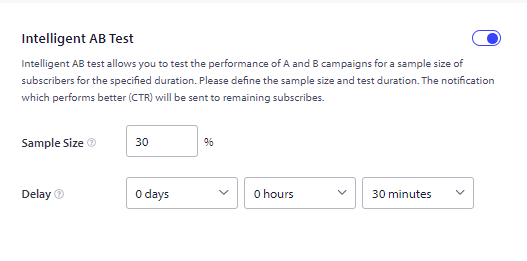 You can define sample size as 30% and run the test for a short while for that sample size of your subscriber base.
If the duration is 30 minutes after that time, the winner campaign between A & B will go to the rest of the 70% audience automatically.
Few best practices for A/B Testing –
You can segment your users based on their demographics, buying patterns, or site actions. Then you can send an A/B test notification. It would help you achieve better results in getting higher conversions on your goals.
We recommend you to not overuse A/B Testing by using it before every campaign. It should be a test you run in proper intervals. Plan to run a test with a large number of variants, and ensure you are targeting a large audience. It would give you better results.
If in case you run into any issues, please feel free to contact us by clicking here. Our support team would be able to help you.