Notice: There is no legacy documentation available for this item, so you are seeing the current documentation.
This article will help you know how you can recover your website visitors who want to subscribe to your notifications after denying them initially. By enabling the recovery widget, you can give second chance to visitors to become a subscriber again who clicked on the block when they first visited the website.
Step 1 : Navigate to Design > Widgets > Recovery Widgets.
Step 2: Select the type of widget to be shown – Button or Bell icon. Enter the Text, background color, Bell/Button color & the widget's position according to your requirement & click on Update.

Note: The widget will appear when users click deny for push notification permission. Please wait for 2 minutes after the change to go live.
Bell & Button Widgets
You can choose a Bell or a Button widget. On either of them, your site visitors can subscribe to your notifications. The button widget is suggested over the Bell widget since there is no need to hover over the icon to see the text message you will add to push them to subscribe again.

Below is the preview of the recovery widget.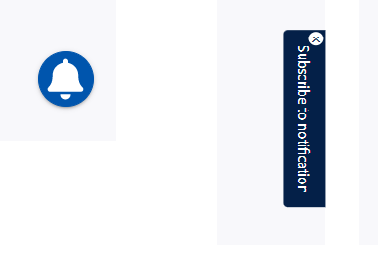 If in case you run into any issues, please feel free to contact us by clicking here. Our support team would be able to help you.