Notice: There is no legacy documentation available for this item, so you are seeing the current documentation.
If you no longer need your PushEngage subscription, you can easily cancel it at any time. In this article, you'll learn how to cancel your PushEngage subscription.
Before You Start
Here are some things to know before you begin:
Canceling a subscription will stop your account from auto-renewing at the end of the current billing cycle.
Once your subscription has been canceled, you'll still have full account access and campaign functionality until your account expires at the end of your current term.
Canceling your subscription does not automatically process a refund if you are still eligible for one. If you are still within the first 14-days of purchase and want a refund, please contact our support team to process a refund.
Cancel Your Subscription
You can cancel your PushEngage subscription by following these steps :
Navigate to the Billing page in your dashboard.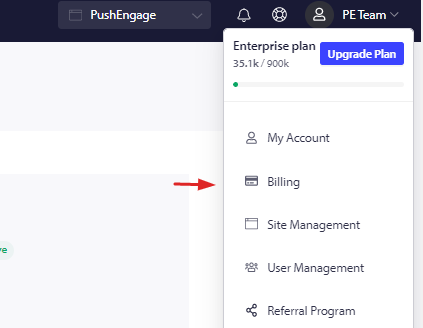 Scroll down to the bottom of the Billing page and select the Cancel Subscription link.

Follow the prompts to complete the cancelation process.
If you have a question, you can send an email to us at care@pushengage.com, and reach our support team.