Notice: There is no legacy documentation available for this item, so you are seeing the current documentation.
PushEngage gives you the liberty to manage your list by removing the cold subscribers who have stopped engaging with your campaigns. Removing cold subscribers is essential for having a cleaner list that helps you manage your billing. You do not have to pay for subscribers who are not engaging with your campaigns.
In this article, you will learn how to clean up your subscribers' list by choosing various filters.
Once you log in to the PushEngage dashboard, click on Audience and then navigate to Subscribers section.
For cleaning up your cold subscribers you will choose from two filters :
Basic Filters
Advanced Filters
Understanding Basic Filters
You can choose the filters listed below and define the duration in days.
Subscribers who did not Click – This will include any subscribers who did not click on any campaign in last 30 days.
Subscribers who did not View – This will include all the subscribers who did not view on any campaign in last 30 days.
Subscribers who did not Receive – This set is most recomended as it will contain subscriber who have neither clicked or viewed on any campaigns in last 30 days.
This filter will not exclude your most recently added subscribers. We request you to be careful while adding this article.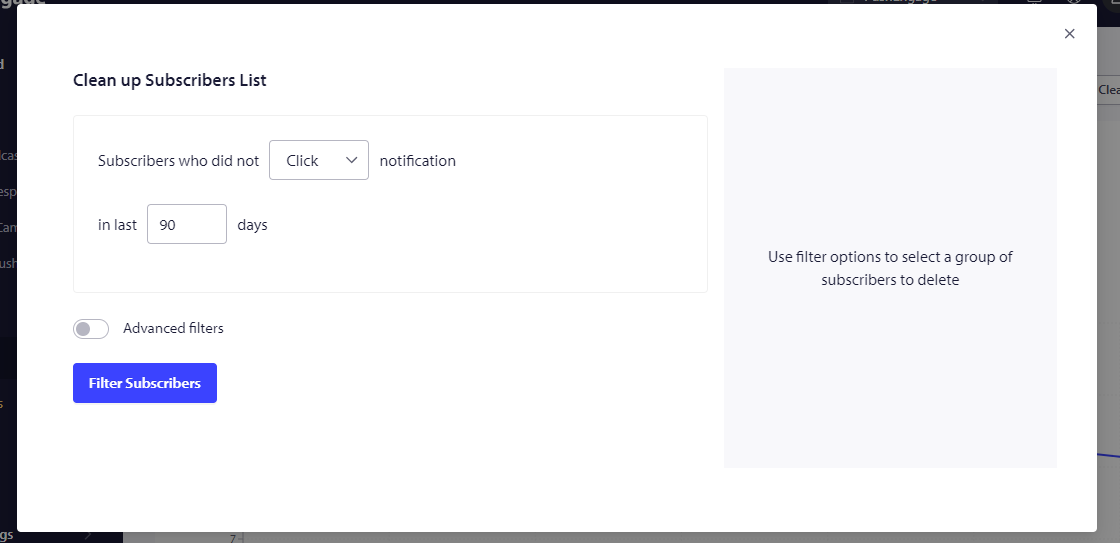 Understanding Advanced Filters
Here you can choose a combination of the following filters – Attribute, Browser, City, Country, Device Type, Segment, State, Subscription Date, Last Click Date, Last Sent Date, Last View Date, Total Click Count, Total Sent Count, and Total View Count.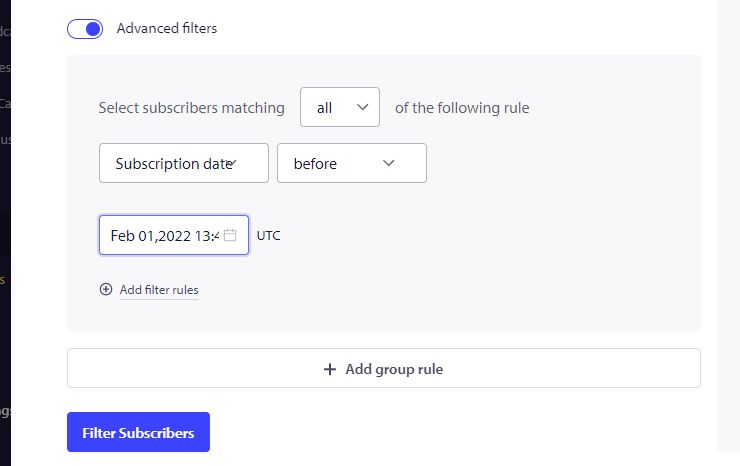 Best practices while choosing the Filters
Always choose 6 or 3 months prior subscription date so you can avoid removing most recently subscribed users.
Total sent count filter should be used to specify the a limit for analysing engagement over 10 or 50 campaigns.
3. Once you have finalized the filter. You can preview the filtered subscribers.
4. Type DELETE to confirm the removal of the filtered subscribers.
If in case you run into any issues, please feel free to contact us by clicking here. Our support team would be able to help you